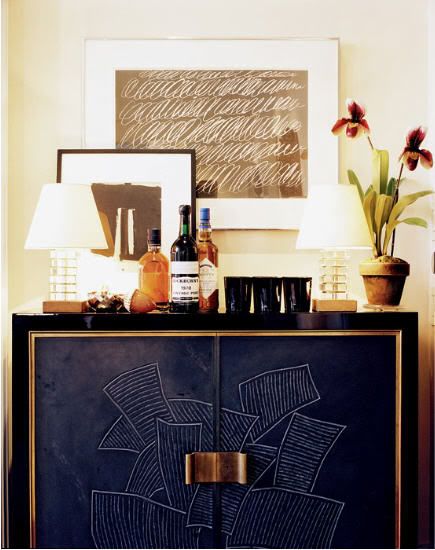 HOME BARS are something that have come and gone for decades.
I think those retro 60's bar carts look like shit, they're too small for the rooms of today. You think its cool, but it's stupid….really..
Then there's those "Phony Barron-y" ones with tufted faux-leather, walnut Formica tops and brass accents; you know, those huge-ass, in-home ones that scream "saddle up to the bar ol' buddy and tie one on." They look like they're from the "Club Basement" at the Soprano mansion.
Then there's the 'faux' bars with fancy cut crystal decanters with silver name-tags with "RYE" on them (empty!) and tacky Waterford "Lismore" pattern glasses sitting about....ugh...sooo early 90's.
OH….by the way…all that 60's shit will be in your garage in another 2 years so don't spend a lot on it, its already tres passé… (Sorry Wearstler and Adler) Twenty-some years ago I rented an old, rambling 30 room ramshackled country place; there were four huge public reception rooms, each with a fireplace and beautiful views of the water, let alone a huge wrap-around screened porch. In the early 60's the owner, a Dutchman, added a proper bar adjacent to a sitting room in a large niche.
It had a nicely tricked-out back-bar, a sink, the bar tops were beautifully worn antique Delft tiles.
Each time I entertained EVERYONE crowded in front of that bar, no one sat in any other room! People always vied to be bartender. In retrospect, It truly was a wonderful element of that house; a happy, cozy place, the 'heart' of the home, oddly.
Weekend guests would sit at the bar playing backgammon, watching TV, listening to music and happily talking for hours. There was super comfortable upholstery a few steps away...but those wooden stools were the seat of choice.

Now, with our more casual lifestyles, I find it's ALL about making things convenient and simpler. Two years ago, having no proper bar, I put a 'bar tray' out for a dinner party at home, I immediately noticed how much more relaxed the evening was, people easily got up to fix themselves another drink, I didn't have to run to the kitchen to refill them, etc.
HERE'S HOW TO DO IT!
FIRST: Determine what kind of drinker you and your friends are.

- Do you like a drink each evening, before dinner?
- Do you have large cocktail parties often?
- Maybe you're in the program and all your friends drink.
- Do you have small, intimate dinners at home of 6 or10?
- Do you have groups over for cards in the evening and like a few drinks?
- Are you a boozy mess that passes out early and guests need to fend for themselves?
SECOND: What kind of drinks do you and your friends prefer?

- Whiskey, Bourbon, or Scotch drinkers?
- Vodka and juice drinks?
- White and red wine mostly, but just a few?
- All over the place; beer, wine, hard liquor, grain-alcohol plugged watermellons, etc.
THIRD: Where will this bar be in your home?