Having lived quite comfortably with the beautiful Palm Beach Georgian look for five years with no plan to change it anytime soon...a friend and I were walking around the design center, w
e oooh'd and ahhh'd at various congeries of traditional goods in the standard showrooms of choice, Brunschwig, Clarence House, etc. Then we wandered into the always wonderful DONGHIA showroom and I blurted out loud..."Im changing everything!" to my companions surprise.
I'd had an epiphany! Yes, I'd been comfortable in my cozy antique English world I'd created and re-invented over and over for myself...but I was done. (que: harps and angels)
My very first homes were contemporary...but, with my business based in Washington, DC and contemporary interiors considered infra dig - I "did" traditional. Washington, the (self-described) "Power Mecca" of the universe was all about looking "established." I played the game, bought the best of each item, and it was lovely...Now, at 51 years old I dont give a shit, I want what I want.
The ensuing catharsis of getting rid of all that antique furniture and swanky tsotchke's was pure bliss.
I've been asked time and again these three questions:
1. How can u sell all your good stuff? It's all so nice.
Yes, I know, now its going to look nice again, just with different stuff!
2. Are you moving away?
Nope
3. What about your family?
I'm gay, what family, my dog??
So, I laugh and say Im tired of it and people kinda get a look in their eyes like "umm OOookayyy"
Gentiles are never supposed to get rid of antiques, its just not in the DNA....I guess thats where the total incomprehension comes from. Also, when I was a kid I remember someone pointing their finger and saying "never love your possessions" and I never have - it's just stuff.
Now, follow this closely...Im doing "Moderne," as in
Modernism
not "mid-century modern" (chrome, lucite, shag). It's more early-to-mid 20th century; lean and sleek with fine details and, not a lot of "eye-catching" geegaws and shit around. Geometric patterns not organic ones; sophistocated finishes not rustic or traditional ones.
I began by reading dozens of historical and period design books, magazines, hunted the internet, looked at auction sites, etc. A trip to New York, Paris or London is always good for inspiring the designer in us all too.... Los Angeles, feh.
Firstly, I made a list of what I wanted in my new look:
(enumerated by priority)
1.) COMFORTABLE SEATING:
People should feel welcome and comfortable in the
space, not like they were in a showroom or some precious 'no-touch' room
2.) LESS MAINTENANCE:
No more furniture polishers, painting restorers, etc.
3.) LIGHT AND BRIGHT: I have to have lots of daytime bright light!
4.) ACCOMODATE: The ability to change artwork without setting the
whole
'decor' off balance each time.
5.) A BAR IN THE LIVING ROOM: Which sounds tacky..but, I entertain constantly and don't always have a helper. An accessible bar makes
guests feel comfortable; it's easier on me as they can help themselves if I'm b
usy, or I wont miss the conversation while in the pantry preparing
drinks.
6.) OUTDOOR FOCUS: More focus on the gardens outside
7.) PIANO: A baby grand piano in the living room (never had one before)
8.) SEATING: Lots of seating for cocktails and buffet dinners
9.) READING SPOT: A comfy place for me to sit by the windows (facing out) to
read or nap.
10.) NEUTRAL PALATTE: I truly love white interiors; each time I go for color,
I always return to neutrals - call me boring, but it makes me feel good and thats
what MY home is all about. Personally, I think the art, people and my garden should be
the colors in my home.
Next, I'll show you the images of what inspired me to come up with what I ultimately did.
It all started with a desire for a "Malibu-meets-Zanzibar" look, but once I got looking around I found it too ubiquitous as EVERYONE has tree stump tables, chrome or bronze pieces, Wenge wood furiture and African accents now.
It's kinda like buying a certain type car - you think you'll be the only with it, then you buy it...and then you see them everywhere...
HERE'S WHAT I WAS INSPIRED BY ORIGINALLY
THE DONGHIA ROOM THAT BEGAN THE WHOLE FRICKIN' THING
IT WAS ALL SMOKEY AMETHYST AND TAUPE - SOOO CHIC
"MALIBU MEETS ZANZIBAR"
The look I thought I wanted at first
THE NEXT LOOK I THOUGHT I WANTED....
Pretty and elegant...a bit too stiff and too many antiques.
This is clearly influenced by Michael Taylor in the early 80's
A Bauhaus moment...clean and refreshing
No Occidental or Oriental influences which I love!
Not particularly inviting however...
This looks groovy and cool at first, but after fifteen minutes
you realize
it looks like every other Boutique hotel in the world!
Who in the hell wants that??
WHERE I AM FINALLY GOING....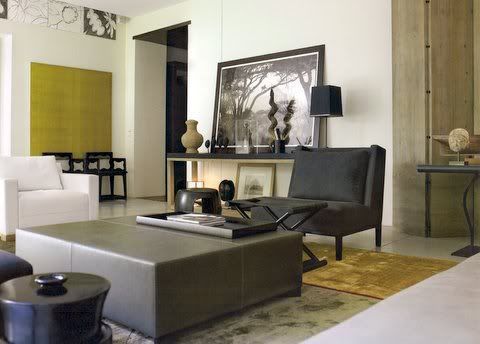 This Christian Liagre living room has been in my "special folder"
for a few years; artful, comfortable, and
most importantly it
embraces pure "Moderne aesthetics"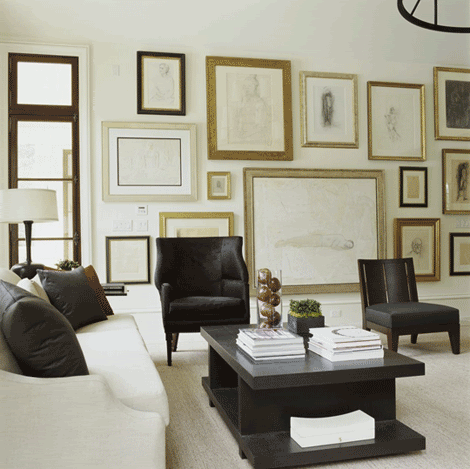 This room above is so pretty to me, Atlanta designer Bob Brown used my favorite palatte - neutrals. Notice the antique framed wing chair and old etchings yet the space feels purely fresh and new
This room to me is so

F%$#&%G hot

, OMG!!!
It's one of my all-time favorites...everrrr
This is the feeling I hope to accomplish (not so grand tho).
Stylish, moderne, inviting yet clean and sophistocated.
No orange-tinted Lucite, shag or chrome...Modern art, classic pieces of furntiure and a simple palatte
This missive is to nowhere imply what I'm doing is right for your home,
it's simply showing you how to take the steps at finding what
YOU want for YOUR home.
Next week I'll show you how to draft/draw your rooms, which in turn will show you how much space you have. Once you have a floorplan we'll lay out furniture by scaling it in, which removes the risk of costly mistakes.
You can do it, I'm here to help!