How to Draw Your Rooms to Scale!
I'm sure there's a collective groan about this as the thought of "mechanical drawing" is daunting...all those 3/16" and 1/8" = WHAT? measurements? ...ugh...
But, I have to tell you scale drawing is absolutely the most important part of Interior Design...yes, DRAFTING!
Here's why: You go to your regional Design Centers "Open House Sample Sale"... you spend hours schmying through each showroom hoping to find the perfect sofa. Then, you find one, it's even in a fabric you love... and OMG it's half price; it was $9,000, now its $4.500...what's better than that?
You pay and arrange the delivery - almost wetting your pants as you can't wait to tell all your friends "I got this killer sofa - half-off, it's a schmancy-ass brand, yadda, yadda, ya...."
It arrives and guess what? It doesn't fit....whaaaaat?
You scream at the delivery guys Darrell and his other brother Darrell "it has to fit...why doesn't it fit?" They make a quick exit anxious to get back in their truck and laugh at your dumb ass...
So, obviously you freak out...pushing it all around the room; no, not here; damn-not there either; shit what about there?
Had you drawn up your room and taken the scaled plans with you whilst looking for your new sofa it would've been a savings of $4,500…not a loss. Explain that to your spouse who saw nothing wrong with the old one....
Get the picture???
DONT TRUST YOURSELF "GUEST-IMATING" WHETHER
SOMETHING WILL WORK OR NOT...EVER!
The secret to a great room is scale! When things are perfectly scaled – it's all in harmony; a well scaled room is not obvious, nothing looks awkward or out of place....or like a mistake. An

out

-

of

-

scale

room is immediately obvious...
LET'S DO THIS!
YOU'LL NEED
(All of which can be purchased at crafts stores like Michaels)
1. Plain, unlined white paper, photocopy paper is fine. NOT a spiral notebook. Not too much, a few sheets.
2. An ARCHITECTS SCALE ruler (not some K thru 6th grade ruler)
4. Clean, white rubber eraser
5. Masking type tape (Scotch type won't pull off the paper easily)
6. A clear plastic RIGHT TRIANGLE
7. A standard Home Depot style 30' TAPE MEASURE (not a cotton dressmakers tape)
8. A small pad or roll of VELLUM or TRACING PAPER
9. A broad flat surface; a desktop or kitchen counter are fine.
10. A camera or camera-phone
11. Good lighting; directly over head or centered on your drawing (if it's too much to the side it will cast a shadow, and in a drawing that could be misread)
13. A generic plastic furniture template
STEP 1:
FIRST we measure our existing spaces before we do anything.
We need to know what we're working with from the get-go!
- Take a sheet of the white paper, a pencil and the measuring tape.
- Draw freehand the approximate boundaries of the room; don't stress over how well of an artist you are, this is what we'll draw our "scale" drawing from.
- Measure the walls from the corners to the inside edge of window (shown below) and door casings as the trim and casings may change but the actual opening won't.
- Measure the door heights, and how high each door is to the ceiling (make a note if there's crown moulding or not, and then note both measurements, with and without the moulding)
- Measure the rooms overall size each way, and the ceiling height
- Take photos of the room one toward each corner (from opposite corner) and one large shot looking in each direction and photos of any architectural elements that remain
THIS IS WHAT YOURE DRAWING
SHOULD LOOK LIKE
A QUICKLY-HAND-SKETCHED FLOOR PLAN WITH
THE MEASUREMENTS WRITTEN NEXT TO THE WALL T
HEY REPRESENT
STEP 2:
Now we take our freehand drawing and the photos and we're going to draw them to scale.
- Take another plain sheet of paper and tape it to the work surface (make sure surface is absolutely free of soil, any debris, even the smallest crumb). Tape the four corners down with about a 2" piece of masking tape.
- Take your ruler or triangle and lightly draw one continuous straight line across the bottom of the entire page, about an inch off the edge (shown above). This line is very important as this is what all dimensions are to be kept square by.
- We'll consider the line at the bottom the wall you would primarily enter through into the room. The drawing should read as if we're actually walking into the room.
This is very important because when we decorate we need to consider what is seen first, how it affects the overall flow and concept of the room.
In the drawing above guests walk through the northern wall from the foyer, which are the two 48" openings shown on the plan.
- Take your architects scale ruler and measure (in 1/4") the overall size vertically and horizontally (shown above as 22'10" vertically and 16'6" horizontally). Draw this outline in very lightly, we'll fine tune these lines later. By drawing these overall peripherals we have a guide to make sure we have all our other measurements correct and square.
- From there begin to draw the other walls - increment by increment as shown on drawing #1. Keep them all super square by using your triangle aligned with the bottom line you drew first.
The drawing below is an accurately scaled floor plan
of our room as it is NOW, before any changes;
it shows us precisely where the windows and doors are.
STEP #3
Now that we have a scaled floor plan we can make the architectural changes
If you'll remember from last weeks missive in my new living room (which is the plan we're working with here) I wanted a bar, a piano and lots of seating.
In order to do that I've had to make some small architectural changes
THE BAR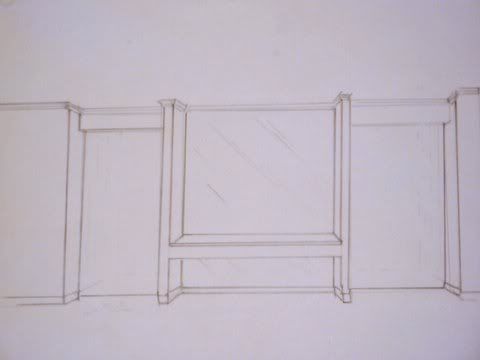 Thumbnail sketch of bar/shelf, no scale
This is the plan of the bar/shelf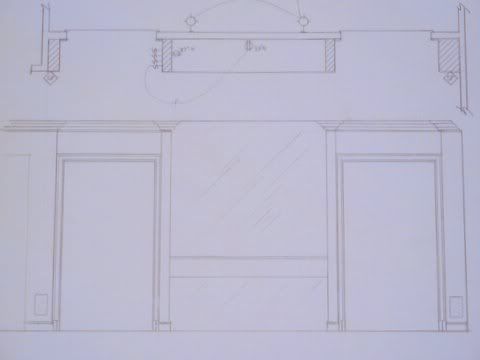 This is the ELEVATION
1/4" = 1'0" Scale
NOW I DREW IT INTO THE FLOOR PLAN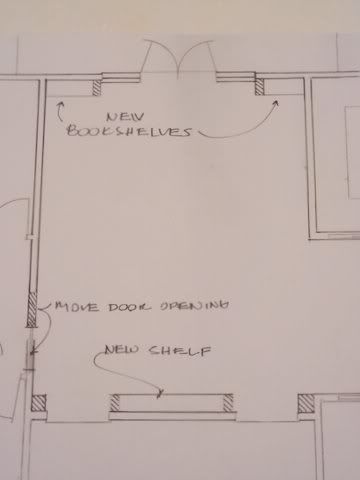 - Notice, I padded out some areas on either side of the foyer doors to make it perfectly even from the Living Room. Notice the "cross-hatch" marks which means "new wall."
- I also moved a door on the lower left side wall so I could put a longer sofa in the living room to accomodate more seating.
- Something occurred to me while I was doing this work, I had no place for the hundreds of books I own which I like to keep near, so I added built-in
bookshelves to match the "bar/shelf" which is all made of sheetrock.
Here is what it all looks like once it was built, unpainted.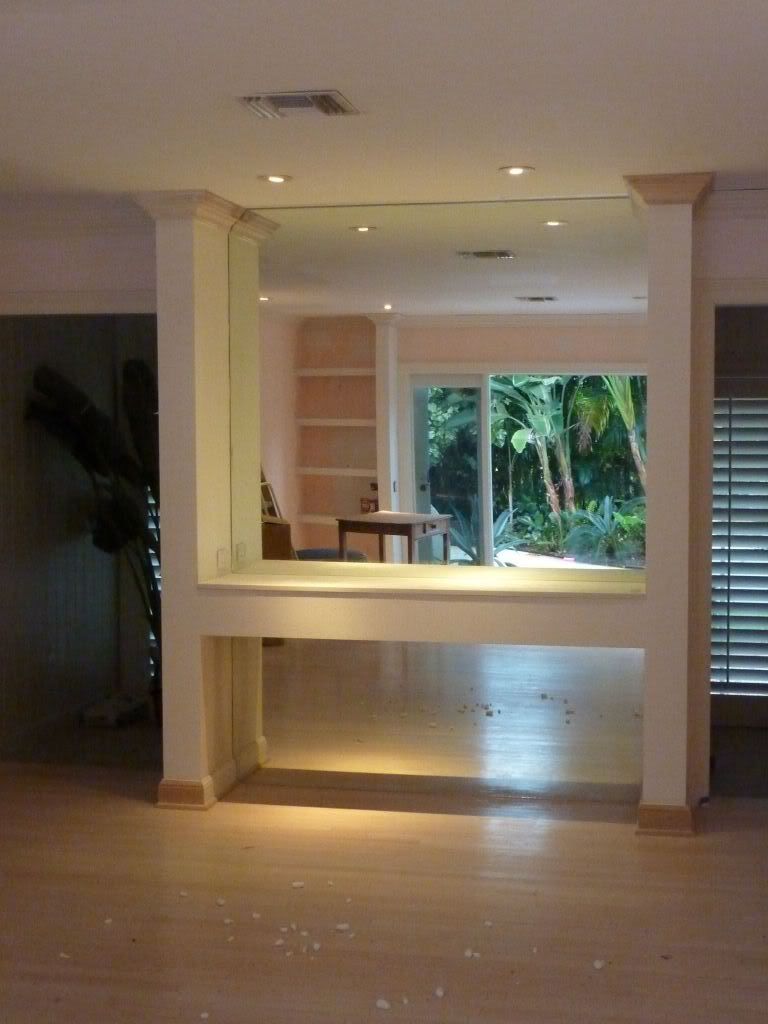 The top is white Caesarstone; the back wall above and below the shelf is mirrored to reflect the garden; the vertical walls are made of sheetrock. Notice the crown and base mouldings were eliminated in-front of the mirror to compliment the illusion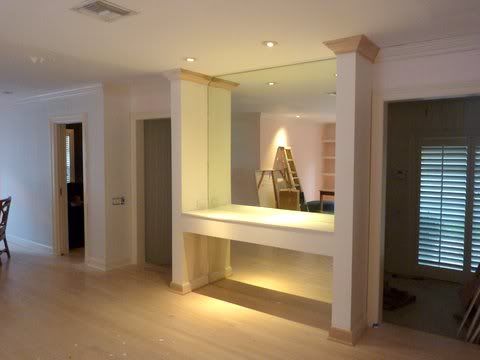 Here's what the bookshelves look like now,
they'll have their backs mirrored too
That concludes our drafting missive. I know this is hard to understand, if you have any questions, please don't hesitate to email me for more help on this subject.
Next week, we'll place the furniture in the room and show you how the textiles play a part of the furniture selections.
You Can Do It, I'm Here To Help!