I must say... it takes A LOT to shock me...
Last weeks missive on "scale drawing" was read by more than three-times the average of a weekly missive. Personally, I thought it would be boring or too hard to follow, so I'm happy you found it useful. Afterall...a good designer MUST know how to draw to scale.
LESSON FOUR
"HOW TO DECORATE"
This Week We'll Learn How to
Place Furniture In A Scaled Floor Plan.
We're using my own home in Florida and decorating it to my own taste.
However, I encourage you to express your own style and design sense; I'm simply showing you how to do the details. Hopefully, its been very clear heretofore as I want you to discover YOUR inner decorator. Focusing more on the techniques and lessons than the actual look or textiles will widen your mind and design skill set!
We'll begin with the scaled floor plan we learned
how to draw last week.
Now, what's happening in this room?
How will it be used and who lives there, etc.
CONSIDER THE FOLLOWING ISSUES:
1.) Do elderly or physically challenged people live in your house?
- Elderly people trip on soft, spongy carpets and transitions
- Wheelchairs do not roll across soft carpets easily
- Elderly people dont like low-deep upholstery (hard to get up)
- Many people need accessible bright light to read by, etc.
- Physically challenged people need wider accesses
2.) Do you currenty have pieces that you want to reuse?
- An old rocking chair that was Granny Grits?
- An heirloom painting of a family member?
- Persian carpet that you love and want to work with?
- Existing curtains that still look great?
3.) Do you have any comfort issues, e.g.:back, hip, eyes, etc.?
- People with back problems often prefer an upright chair
- People with weak hips, knees or equlibrium issues dont like to sink deeply
into soft upholstery.
- Is this the TV room, if so how do you prefer to sit when watching?
- Does this room get a lot of bright glaring light?
4.) Maintenance
- Do you have help who will fluff the down cushions every day?
- Do you have slobs for friends, constanly spilling food and drinks?
- Do you have help to dust those ebonized floors everyday?
- Do your pets get on your furniture, whether its ok or not?
- Do you have direct sunlight?
- Will your kids use this room for entertaning their friends?
- Do your pets shed hair and dander badly?
- Are your pets older and having pee-pee issues?
5.) WHAT DO YOU WANT IT TO LOOK LIKE IN THE END?
- Pretty, masculine, girly, simple..
- Modern, traditional, ecclectic, luxe, etc.
- Colorful, monochromatic, pale, vivid, etc.
- Homey, sexy, cool, sleek, artsy-fartsy, organic, etc.
THOSE QUESTIONS NEED ADDRESSING!
Here are the answers for my house,
afterall it is all about me...
- No physical challenges (yet).
- I want to work with nothing I've used before.
- I'm tall but I prefer upholstery thats not too deep; I find deeper is OK for a
family room where you curl up, but this is my main living room, which is mostly
used for guests. No one wants to sit with their knees above their face.
- I always sit in straight chairs when I have guests, dunno why.
- No TV! It's my alternative reading room, I'll
listen to music here.
- I will have lots of guests in this room, possible spills, etc.
- It has lots of light! No glare issues, dont
care if somthing fades.
- No animals (for now)
- No daily help to fluff down or dust dark floors, only weekly.
- I want it to be spohistocated; light; very few patterns
which
wont compete with contemporary art.
- I want it super inviting and comfortable for guests.
NOW WE HAVE INFORMATION TO WORK WITH, WE KNOW HOW WE'RE GOING TO USE THE ROOM AND WHAT I PERSONALLY LIKE.
The next step is to work out a furniture and seating plan which accomodates all the occupants needs (

dat be me!).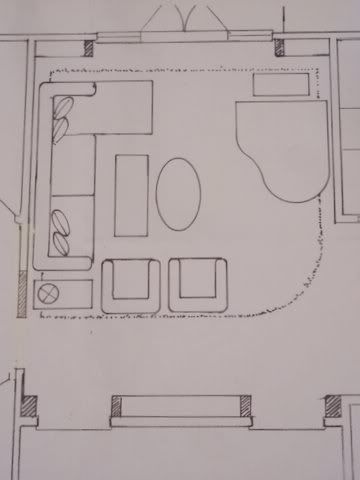 Our 1/4" seating plan, using a furniture template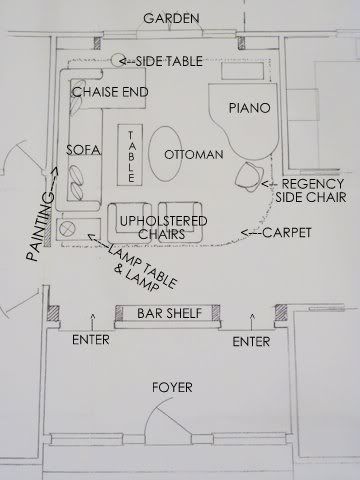 THE NEXT STEP IS TO SELECT ITEMS FOR OUR ROOM: UPHOLSTERY, TEXTILES, TABLES, etc.

NOTE: You must layout the seating plan before you select the pieces, that way youre not wasting time looking at pieces you cant use.
THE ITEMS I CHOSE AND WHY
PAINTING: This is what I love; action, structure, bold strokes, tension and of course....beige, white and black...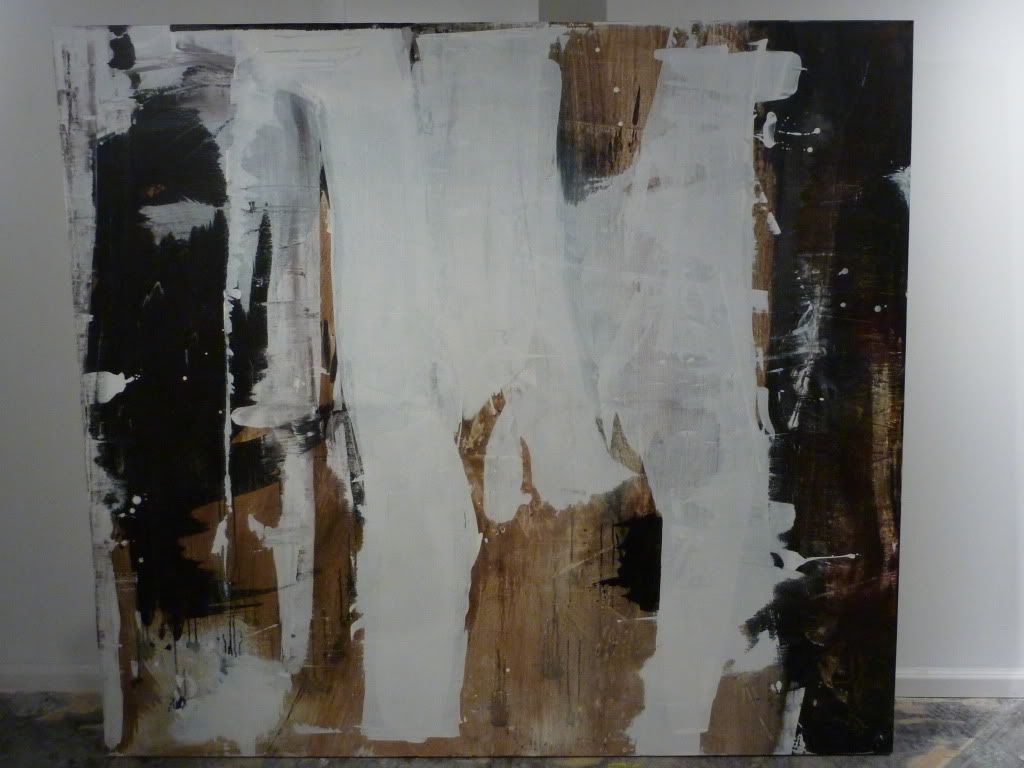 Painting (bad color photo)
SOFA:A style designed in the 1930's by French designer
Jean-Michel Frank
; it's architectural, masculine, comfortable and a classic design, not trendy or ubiquitous. Franks original frame design was larger. I've tweaked it to include a chaise end-unit which doesnt have a back to block the view into the garden. I can sit there reading, or many people can sit on it during a party. It will be upholstered in a mushroom colored linen, the three loose back pillows will be in the same fabric but in a dark espresso color. The feet are stained espresso.
Sofa (shitty photo, right?)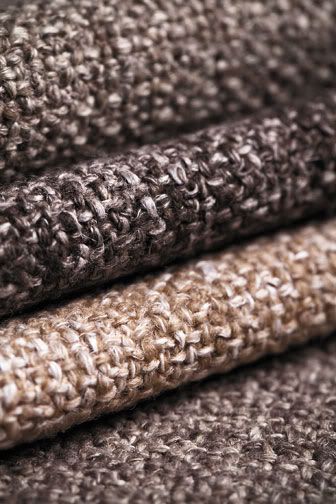 Linen / Mushroom and Espresso
TWO UPHOLSTERED CHAIRS: I took the same Frank-style frame and customized it to match the sofa frame. Personally, I feel too many different frames cause visual clutter; I wanted all the upholstery to be a component of the design, not each a single focus item. They too will be covered in the mushroom colored linen with espresso feet.
COFFEE TABLE: This has been hard to find! Cocktail tables are sooo overdone these days. They've become the size of pingpong tables and so chunky that they look like pianos with the legs chopped off. I wanted a sensual, lithe table, one that will feel old and new at the same time. No glass, dark wood, stone, crome or brass... I finally had to design this one myself; it's fabricated of wood and will have an off-white taup-ish Parchment finish.
(I had to draw this up to scale(!) in order to have it made)
OTTOMAN: The elliptical ottoman (which I found in a resale shop for $200, brand new!) will be upholstered in a stone colored Mohair upholstery with no trim details. The legs and base will be finished in a "Venetian" gilt finish (sort of a 'pale' silvery-gilt finish)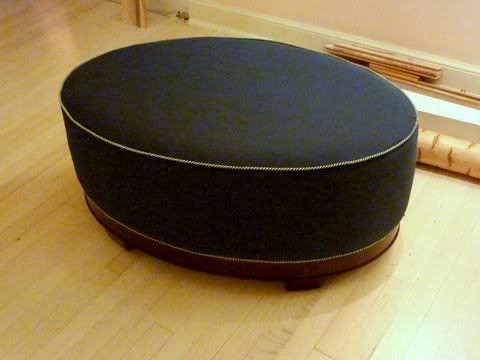 Ottoman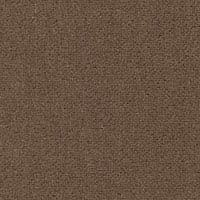 Mohair
RUG: The geometric patterned carpet is custom made from whats called "broadloom," which essentially means with "raw edges," and can be made any size, or installed wall-to-wall. That keeps it MUCH cheaper; if it were to be a custom rug it would be two-times the cost. It will be in taupe and off-white colored wool. Notice the rounded edge on the rug, thats done because it would be an awkward square corner sticking out into the room.
I chose the subtle, neutral geometric pattern as there wont be any pattern anywhere else, it gives the room some snap without taking the oxygen from the room.
The first image below is a patchwork of white cowhides with a Greek-key pattern carved into its fur...it's totally killer.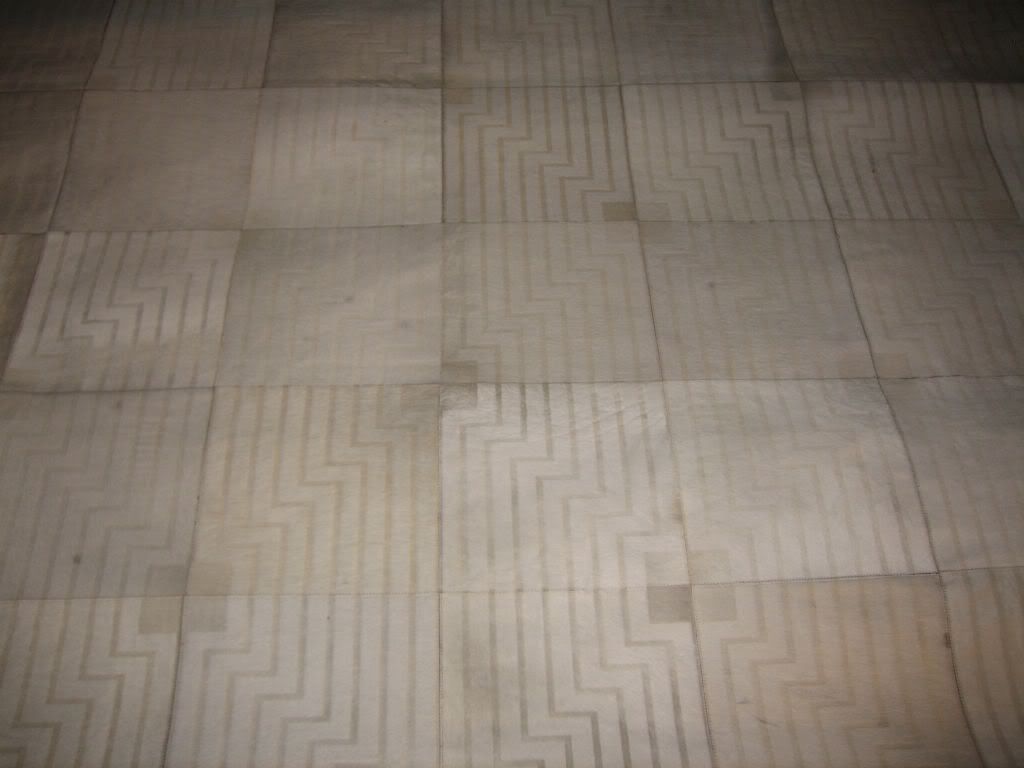 However, I'd rather use that same money to buy a Maserati...
DAMN, it was ex-pen-sive!!!
So here is the final choice,
similar but in wool and more durable for a lot less!
LAMP TABLE: I found a fabulous period moderne table in dark walnut from the online interiors clearing house ONE KING'S LANE (.com)which has weekly "Tastemaker Tag Sales." My table was from Los Angeles interior designer Waldo Fernandez's.
It was only $600. including shipping from LA!
I liked it because it was very square and architectural which works with my sofa and I can stack lots of books under it, a round table would've been OK too.
(

sorry, no image

)
LAMP: This beautiful Grecian urn style lamp is from William Yeoward, it's in an off-white, matte finish with a pale mushroom thaibok silk shade.
ACCENT CHAIR

:
This awesome 50's "Regency" influenced chair which I found in a resale shop was only $125. I knoooowwww...
It will be covered in a latte-colored, wet-look vinyl with brass nailhead trim. The seat will be built-up with a "loose" seat cushion.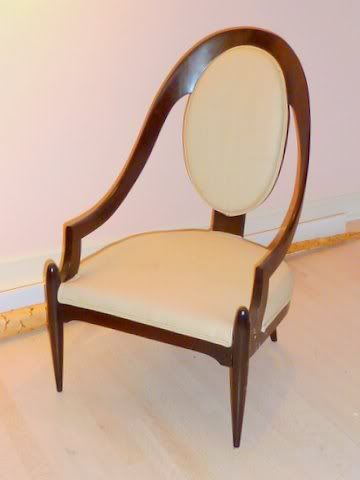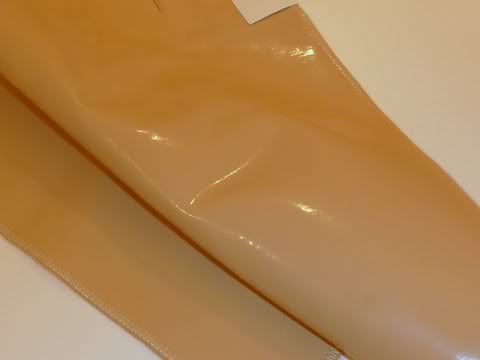 ACCENT TABLE: These beautiful mirror top tables with their hammered gilt metal legs are really stunners. It will go beside the chaise to put a drink on. It's from Crate & Barrel for $199. In the Design Center it would be $1,500.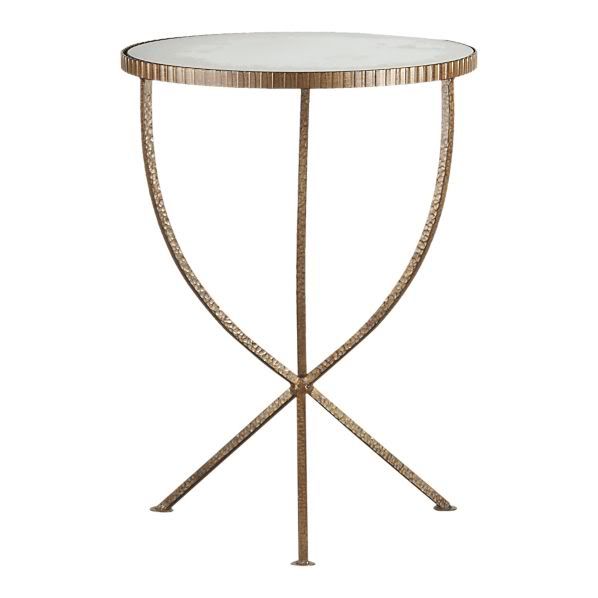 CURTAINS:
The curtains are going to be a very light weight open weave that will be hung on distressed brass poles from wall to wall, theyre not for privacy, obviously, but to give the room some softness.
THROW PILLOWS: The occasional throw pillow is always a way to add a snap here or there. I'm not big on lots of loose things or too many fabrics, or God forbid the heinously overused animal print... but, I LOVE this leopard and just might have to find a use for it....
THOSE ARE THE PIECES AND WHY I CHOSE THEM