WORKING
with
DRAPERY
and
UPHOLSTERY WORKROOMS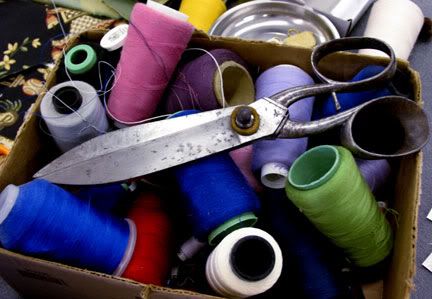 A beautiful room often contains amazing items that can't be bought at a furniture store or wholesaler.
Curtains, pillows and most "dressmaker" type items are the most difficult for the novice to articulate let alone find someone to fabricate.
There's nothing more elegant on a sofa than a pair of large, sumptuous, down-filled PILLOWS made with a textile that feels good to touch and has a delicious cord inset into the seams. That can be the icing on the cake for a lot of rooms.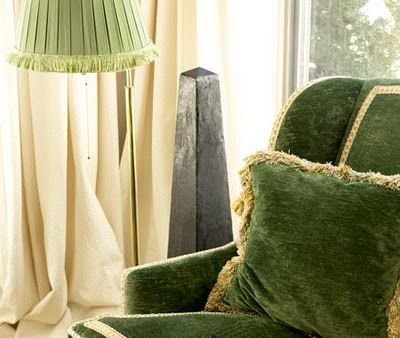 Windows are important and pre-fab curtains arent all that....
How gorgeous are a pair of CURTAINS or a SHADE at the windows?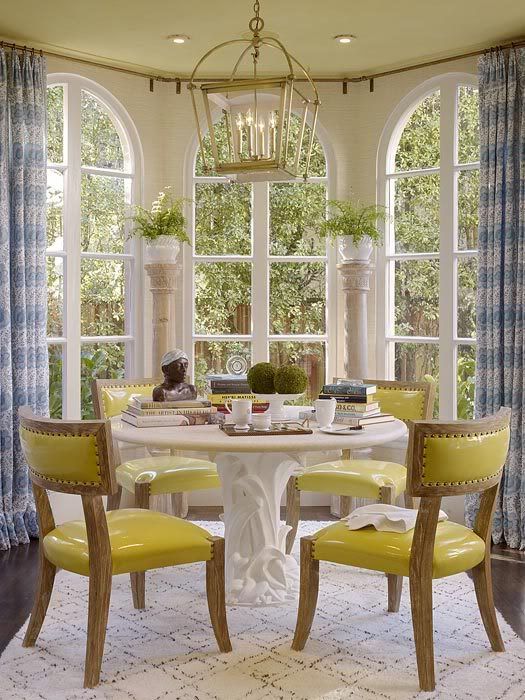 If you dont need curtains, perhaps you have Plantation shutters, but your room still needs some "softness," what about a pee-in-your-pants SKIRTED TABLE in a fabulous silk or simple linen?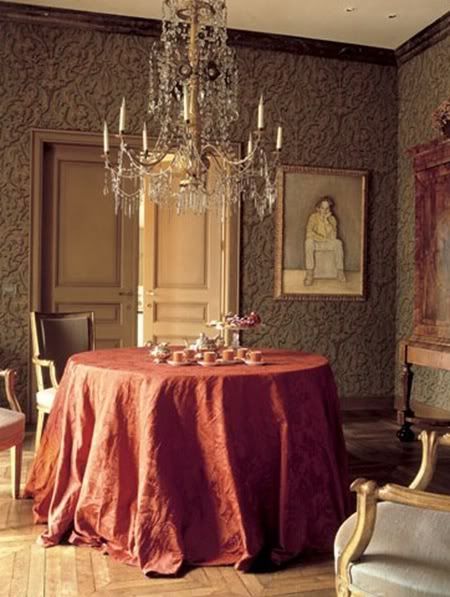 Bedrooms with dressmaker details are awesome!
A beautiful upholstered headboard with a matching dustskirt and Pillow-squares are, and will always be classics! It can be contemporary or traditional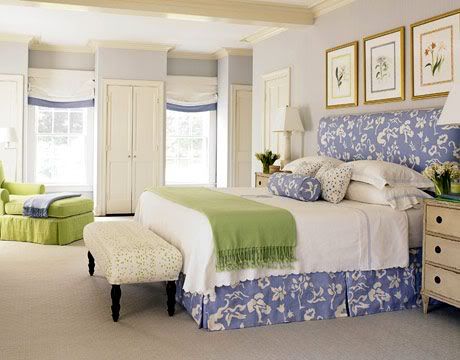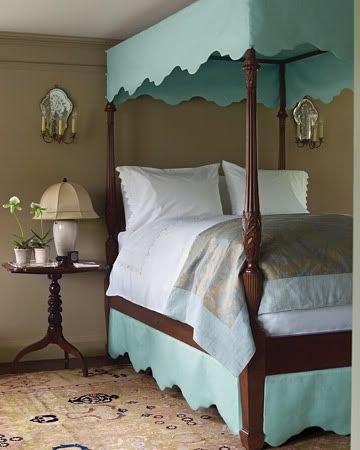 Once you decide what fabric you want at the windows, which pillows and all the other things that involve frabrication workrooms how do you "git er dun"?

QUESTIONS TO ASK YOURSELF
PILLOWS: What kind of pillows do I want?
- CORNERS: Square*, Turkish, knotted(with cord), rounded, tucked
- ZIPPERS: Yes or no*
- FILLER: If used inside - always down* Fiberfill if used outside.
no foam, ever.
- EDGES: Self welt, or fringe or cord* inset into seams
- STYLE: Boxed, flat round, ball, knife edge*

CURTAINS: What style is best for my space?
- LENGTH: Full, cafe, partial; depend on your windows and what room
- BREAK: (fabric on the floor) Never more than 1.5"
- LINING: Lined, interlined, unlined (depends on the textile)
- TRIM: Leading edge*, bottom, none, picture framed
- HARDWARE: Poles, iron, brass, wood, hidden
- VALANCE: Boxed, balloon, soft, throw
- WIDTH: Stationary side panels, traverse curtains, wall-to-wall

TABLE SKIRTS: Which is best for my room, if any?
- HEIGHT: 28", 30"* or 32"
- DIAMETER: Never more than 42" for a side table
- LENGTH: ALWAYS to the floor
- BREAK: Never more than 2"
- PLEATS: Boxed, shirred, Austrian
- FRINGE or TAPE: "Fringe" is very 90's lookin, tape is more tailored. A skirted table needs something at the bottom, or it looks like a caterers cloth. NEVER used a jumbo welt - very pedestrian!
- TOPPER: A smaller cloth that drapes over the main cloth, can be square, round or decorative edged in a contrasting fabric.
- SCALE: Dont make a super-large skirted table for the center of a hallway or between chairs, it will look like a buffet table at a wedding

BED SKIRTS:
- TYPEx pleated, tailored, shirred
- TRIM: Tape trim is best
- LENGTH: Break on floor 1/2", barely brush floor, NEVER not touching floor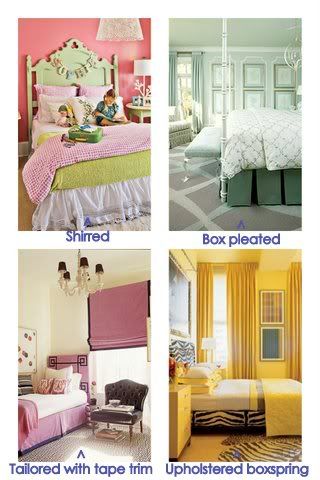 FIND A WORKROOM
How? Where?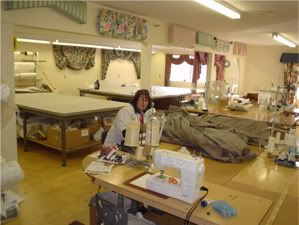 1.) Ask your (good) friends; check on Angie's List; look in theYellow Pages; call a local designer you may know (or not) and ask if they'd share their workrooms number.
2.) Once you find a workroom, go in and look around, touch the upholstery, feel the pillows, look at the way its made very CLOSELY!
3.) Tell them what you want as best you can. If youre not sure, take photos from magazines or use examples in their workroom.
4.) PROPOSAL: Ask for an invoice or proposal for the items to be made before work begins.
Proposals should always contain the following information:
- YARDAGE: Quantity they suggest, dont second guess them.
- SIZE: (Bed - twin or king; Pillows - 20"x20," etc.)
- TRIM: How is it's to be applied and how much is requested
- FILLER: (down, fiber, cotton batting, etc.)
- HARDWARE: Supplied and installed by workroom? Get specific info; ask for a photocopy of what you have selected from their resources.
- INSTALLATION: By whom? It's best to have the workroom install the curtains.
- COST: Breakdown for each item on proposal (pillows $30, curtains $40)
- SPECIFIC DETAILS: add all specific details (trim applied along leading edges, or turkish corners)
- FABRIC: Who supplies the fabric, you? them? another supplier?
- FABRIC ARRIVAL: When do you expect the fabric to arrive if youre supplying it.
- WHAT FABRIC: Make note on the proposal (by name, colors or manufacturer) which are to be used and where and how. It's best to return the proposal to the workroom with a small snip of the fabric attached.
- WHAT TRIM: Make a note on the proposal (by name, colors,or manufacturer) what is to be used and where and how. Attach a small piece of the trim to the proposal.
- PRICE: Negotiate, but dont be an obnoxious jerk.
- DEPOSIT: Place a 50% deposit on the entire cost for each item. Dont deposit any more than 50% everrrr!
- FINISH TIME: Ask the workroom to include the ETA on the proposal
- PAY BY CHECK: Write on the proposal your check number, deposit paid, and the date you signed and mailed it back
5.) MEASURING: Let whomever is going to fabricate your curtains, bedskirts, etc. measure them.
This stuff is the fun part and it's also the frustrating part if you dont know the vocabulary or the how-to's, but now you do!
You can do it, I'm here to help!