A small stool or bench with no arms which decorators charge a lot of money for and use anywhere they need an extra seat; flanking a fireplace; the end of a bed; under a sofa table; on a porch, etc.
These above are more true-to-form of an original taboret, the crossed folding-style legs, the loose cushion on top
This is more of an ottoman above but serves the same purpose
These amazingly useful small seats can range from Rococo to modern. My all time favorite one was from Pace, the uber-expensive, well-designed modern furniture manufacturer which went out of business in 2001. Their taboret was one solid piece of glass which was an inverted "U" with a slight swail in the seat was perfection. It was useful, artistic and yet not another decorative piece in the room. Similar to the one below, but much more elegant.


WHERE AND HOW TO USE A TABORET
A wonderful way to fill up the empty space under an open
console or fill a blank wall.
I like them as catch-alls; the place for the shopping bags,
purses, the outgoing mail, etc.
LIVING ROOMS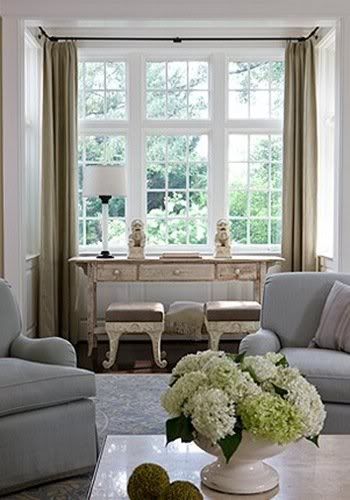 They can be that one moment in a room with you use something totally over the top and wonderful!
These traditional Living Rooms above use them to pull a
grouping together successfully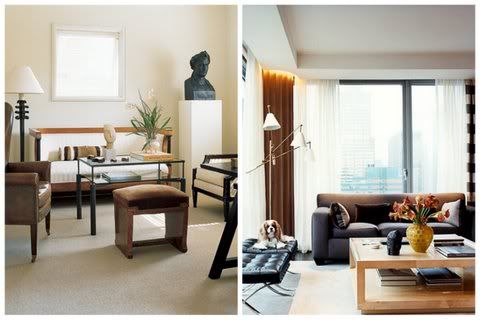 Their use in contemporary homes is just as practical and dont fill the space leaving a clean less-cluttered look.
The ones in the right photo are in front of a window which is a smart use of something with no back which won't obscure the view.
These pairs above can be tucked under a console or table as shown and pulled up quickly in the event more seating is needed.
(These above are actually ottomans, by definition)
When placed in front of a fireplace they do several things;
they offer additional seating; they dont obscure the view of the fire and they look nice in front of a black hole in the wall when there is no fire.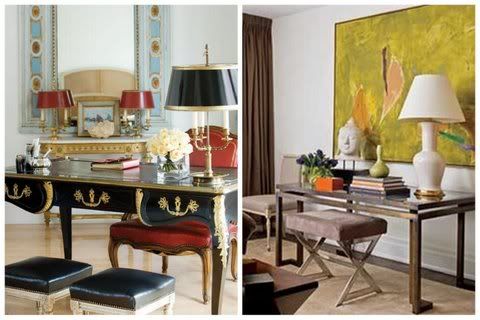 Their use by a desk is also helpful as they can be used as pull-ups. You can lay your files on them or, you can do as I do...put your feet up on them whilst working at your desk.
OCCASIONAL DINING AREAS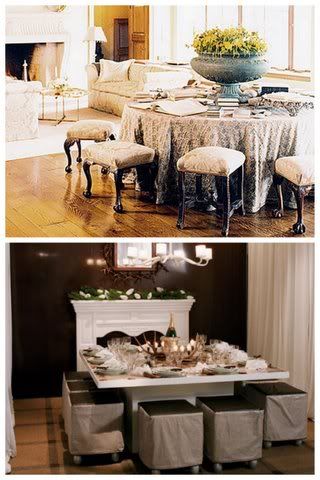 These stools are no place to sit for a seven-course meal, but its a nice auxilliary place for an extra large crowd. Or, as demonstrated in the bottom photo, a very small dining space can seat more people with increased maneuverability having seats with no backs.
BEDROOMS
This pair of upholstered ones have removable lids to put
an extra blanket in. They double as a comforter or bedspread rest. Theyre also convenient when putting your shoes and socks on.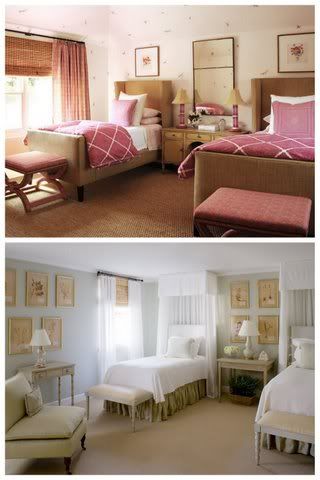 Guest Rooms
Theyre great for the luggage or the extra blankets and pillows
your guests may need. If you intend them to be used for luggage upholster them in a leather or vinyl as luggage is often dirty.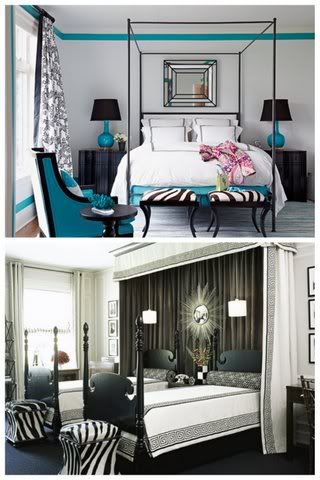 A little Zebra in the bedroom might make the animals randy!
Notice these tabouret's also hide the end of the bed which usually isn't
so attractive.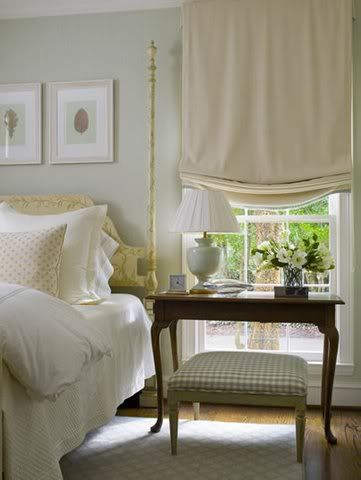 This lovely square one half-way under the table is so chic!
Everyone has stuff they need while in bed, books, papers, etc. You can
lay your robe on it when you get in bed.
But, best of all for animal lovers..
A tabouret is a disguised step-up for our favorite bed buddies!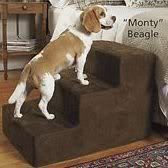 (Now you can throw out those cheezy foam doggy-steps covered in Ultra-suede!)
BATHROOMS
Does this need elaboration??
It's just so piss-perfect! It adds that elegant touch and makes the room feel cozy.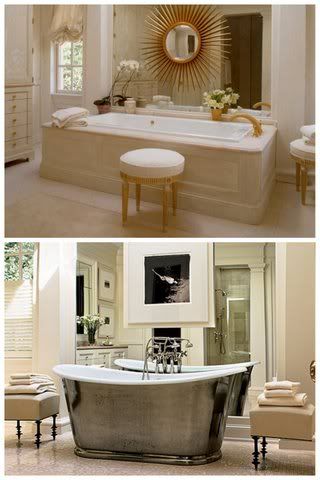 These beautiful baths, both by Thomas Pheasant show how
perfect a tabouret can be used in a bathroom, whether for towels
or just a place to sit.
If nothing more it can add a touch of whimsy or softness to your space
The juxtaposition above of the contemporary with the traditional just shows that its not only a decoration as much as its a practical object.
It's up to you whether its decoration or utilitarian!
OUTDOORS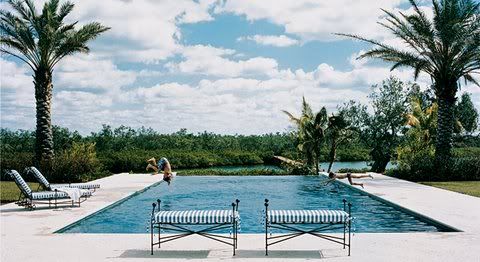 How fabulously chic is that?
A place to put a basket of towels or for your nanny to sit and watch the kids swim while you're in the cabana slurping down sloe-gin fizzes...
It just fills in the space and makes it look more interesting.
You can do It, I'm here to help!