(GE DELUXE BUILT-IN APPLIANCES 1960)
The appliance world is flooded with zillions of choices, it's nothing to spend a $100,000 on appliances for a kitchen. The basic Amana or GE appliances just don't make the cut anymore, now everything has to be the HUMMER version - the super huge-ass 8-burner range. Really?? WTF, who are you cooking for, a school?
Refrigerators can cost more than a car which is totally weird, because if you think about it, a $500. refrigerator does the exact same thing a $10,000 does - it keeps the food cold.
Dishwashers on the other hand - you get what you pay for.
If you're a serious cook who enjoys cooking - then get a commercial type range, otherwise you're spending unwisely.
As my finger stays constantly on the pulse of whats new, stupid, awesome and of course, fabulous...I'm going to help you navigate the plethora of kitchen appliances and help you understand better what you really need over what you reallllly want.
This MASTER CLASS on appliances is by no means endorsing any of the products shown here. I'm simply showing you different examples of whats available, and if I've had a history with them what my personal experience or impression has been.
Click the

orange

name of each manufacturer to be linked to the product!
RANGES AND COOKTOPS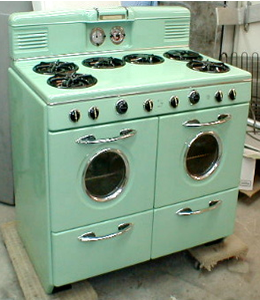 (1947 Western-Holly in Turquoise)
WHAT KIND OF FUEL?
GAS?
Gas ranges are the tool of choice for many professional chefs and home cooks.

Faster heat-up and quicker cool-down periods as compared to electric ranges.

Gas ranges also provide accurate temperature control, as the visible flame is easy to adjust.

Gas ranges with sealed gas burners for easy clean-up.

Ranges come in freestanding, drop-in and slide-in styles.

Pots can remain on the burner after you turn the flame off as it cools immediately

Gas is often less expensive than electric

Get a range with a simmer burner

Get a range with "dual-fuel" which will allow for a self-cleaning oven.

Electronic igniters save gas as they don't require a pilot light

If you have a small kitchen, gas will heat up the room substantially.

Read more: BEST GAS RANGES
ELECTRIC?
READ THE LINK BELOW ON INDUCTION COOKING
FREESTANDING RANGES
THE SUPER
MAC-DADDY
RANGE FROM
BLUE STAR
WITH 6 BURNERS, 2 OVENS, SALAMANDER-BROILER AND GRIDDLE
PERSONALLY, I THINK THIS IS THE KIND OF STOVE YOU ONLY HAVE IF YOU HAVE A PERSONAL CHEF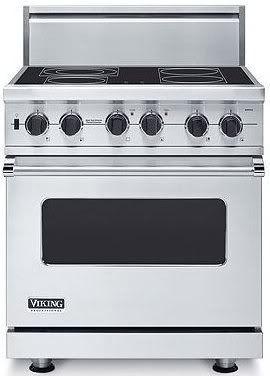 VIKING RANGE
SLEEK ELECTRIC INDUCTION PROFESSIONAL-LOOKING 30" WIDE RANGE
THIS OFFERS THE PROFESSIONAL LOOK IF GAS IS UNAVAILABLE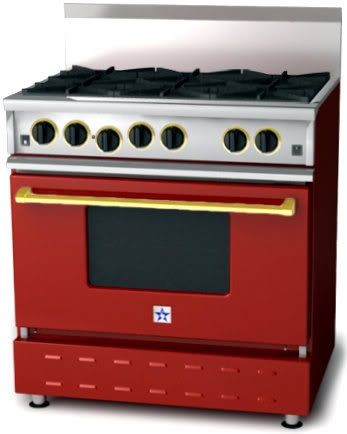 BLUE STAR
36" COMMERCIAL QUALITY RESIDENTIAL RANGE. IN RED, WHICH IS ONE OF THEIR 190 CHOICES OF PAINT COLORS WITH BRASS ACCENT'S OPTION
A 36" WIDE STOVE IS A GOOD SIZE, THE COLORS AVAILABLE FROM THIS COMPANY CAN MAKE THIS A LOT OF FUN IN ANY KITCHEN. I DON'T LIKE THE BRASS AS IT LOOKS LIKE A TACKY GOLD CHAIN AROUND THE NECK OF A HOT GUY
PREMIUM BRAND
La CORNUE
36" WIDE RANGE IN TURQUOISE WITH NICKEL TRIM
SOOO CHIC, YET SOOO EXPENSIVE. OWNING THIS RANGE IS LIKE OWNING A ROLLS ROYCE, THERE'S REALLY NO REASON OTHER THAN IT'S GREAT TO LOOK AT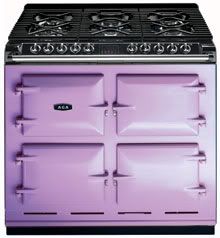 PREMIUM BRAND
AGA
36" WIDE RANGE IN CUSTOM COLOR LILAC
6 BURNERS AND 3 OVENS
AGA IS THE RANGE I'D LOVE TO OWN ONE DAY, IT'S A "COOKER" MORE THAN A RANGE. COOKING ON IT WITH THE "FRENCH" BURNERS IS A WHOLE NEW EXPERIENCE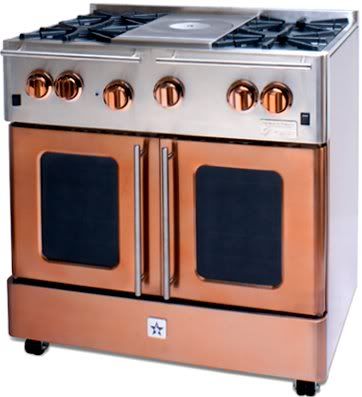 BLUE STAR
36" CUSTOM FINISH COPPER WITH "FRENCH" BURNER (CENTER) AND COMMERCIAL STYLE DOORS TO ACCOMMODATE FULL SIZE RACKS
BLUE STAR IS A SERIOUS MODEL OF PROFESSIONAL APPLIANCE IT HAS A COOL LOOK AND STANDS APART FROM ALL THE OTHER STAINLESS MODELS. THE 30" AND 36" RANGES ARE ALSO SPACE-SAVERS AS THE OVEN IS IN THE SAME UNIT. I THINK I'D TIRE OF THE COPPER THOUGH.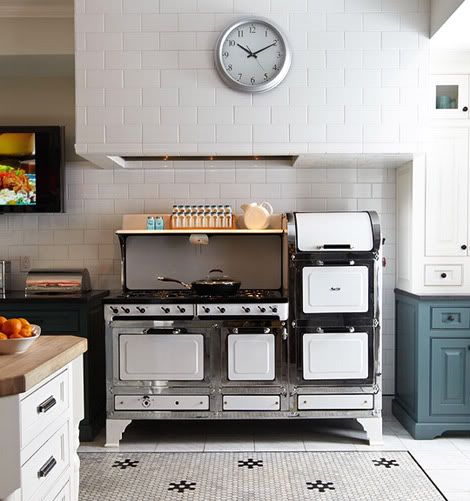 VINTAGE RECYCLED RANGE LINK >
ANTIQUEAPPLIANCES
LOVE THIS LOOK! IN AN OLD FARMHOUSE OR FUNKY WEEKEND HOME IT'S PERFECT
REBUILT APPLIANCES ARE OFTEN JUST AS GOOD AS NEW ONES, NO CHEAPER THOUGH.
KITCHENAID
30" WIDE STAINLESS STEEL STANDARD RANGE WITH SEPARATE BROILER AND OVEN, AVAILABLE IN GAS OR ELECTRIC
THE STOVE WE ALL GREW UP WITH HAS GOTTEN A FACE-LIFT. IF YOU'RE NOT A COOK WHY DO YOU NEED MORE THAN THIS??
SEARS KENMORE
30" WIDE STAINLESS STEEL "SLIDE-IN" RANGE.
AVAILABLE IN GAS OR ELECTRIC
THIS IS MORE INTERESTING BECAUSE YOU DON'T HAVE THE BACK PANEL WITH THE CONTROLS, IT LOOKS LESS LIKE A PLAIN OL' STOVE
GE PROFILE
30" WIDE "DROP IN" RANGE (HAS NO BASE, RESTS IN A BASE CABINET FROM THE CABINET MAKER)
I PREFER THIS TYPE OVER THE ABOVE TWO AS IT LOOKS MORE EUROPEAN AND BUILT IN. THE ELECTRIC INDUCTION COOKTOPS ARE AMAZING AND DO NOT HEAT UP THE ROOM
COOK-TOPS
GE MONOGRAM
36" WIDE PROFESSIONAL COOK-TOP IS INSTALLED IN A CUSTOM BASE CABINET BY CABINETMAKER
THIS IS A HANDSOME COOK-TOP, GE IS VOTED ONE OF THE BEST APPLIANCES IN THE INDUSTRY TOO. IF YOU'RE SHORT ON SPACE THIS ISN'T THE WAY TO GO AS YOU ALSO THEN NEED TO HAVE WALL OVENS SOMEWHERE ELSE IN THE ROOM.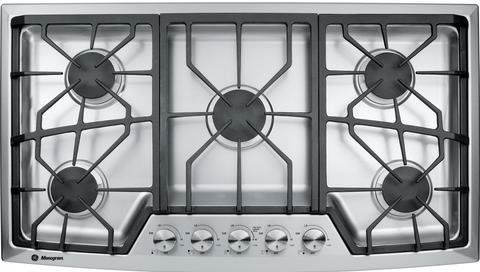 GE MONOGRAM
36" WIDE STAINLESS STEEL COOK-TOP WITH 5 BURNERS
THIS UNIT HAS CONTINUOUS A GRATE WHICH MEANS YOU CAN EASILY SLIDE YOUR HOT POT OFF TO ANOTHER BURNER WITHOUT LIFTING IT UP. THE CENTER BURNER IS HIGHER POWERED AS WELL.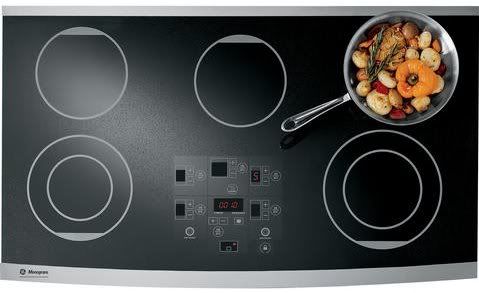 GE MONOGRAM
36" INDUCTION COOK-TOP BLACK GLASS WITH STAINLESS TRIM
I LOVE THIS LOOK, VERY SLEEK AND ALSO COMES IN A STAINLESS STEEL COLORED GLASS! EASY CLEANING COMBINED WITH AMAZING TECHNOLOGY, THIS IS THE iPad OF ELECTRIC COOKING
LINK >
HOW INDUCTION COOKING WORKS
VENTILATION
(1954 VENT-A-HOOD, IN WHITE)
THESE HOODS BELOW ARE BASIC "UNDER-CABINET" HOODS,
THEY ARE A SINGLE UNIT WHICH VENTS UP THROUGH THE CABINET
(LEAST EXPENSIVE)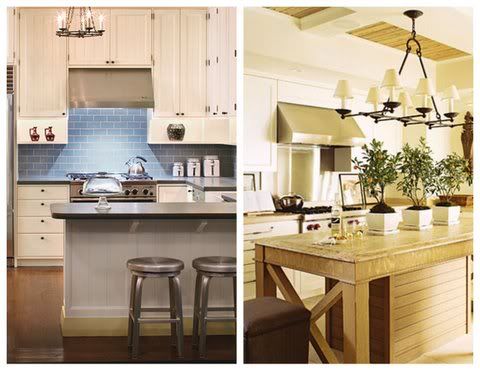 VENT-A-HOOD RANGE HOODS
THE HOODS BELOW ARE CUSTOM BUILT INTO A "PLENUM" WHICH
IS THE CUSTOM MADE EXTERIOR THAT SURROUNDS A SEPARATE EXTRACTOR UNIT INSIDE
BROAN RANGE HOODS
THESE HOODS ARE A PREMIUM PRODUCT WHICH ARE AVAILABLE IN MANY COLORS SHAPES, CUSTOMIZED TO YOUR SPECIFIC DESIGN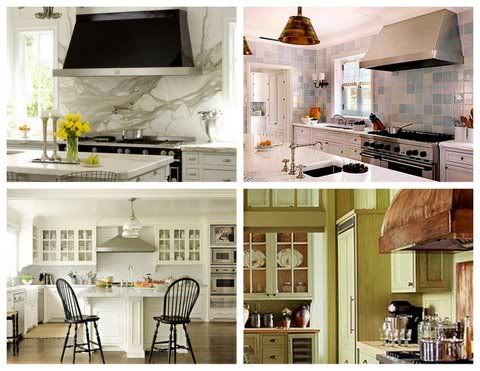 VIKING RANGE HOODS
La CORNUE RANGE HOODS
"ISLAND" HOODS ARE DESIGNED TO BE SEEN AND USED FROM ALL FOUR SIDES SUSPENDED FROM THE CEILING. BELOW ONE IS IN A CUSTOM PLENUM AND THE OTHER IS A SELF-CONTAINED UNIT IN STAINLESS STEEL
PLENUM STYLE SELF-CONTAINED
VIKING RANGE HOODS
A POP-UP EXTRACTOR IS USED FOR ISLANDS AND AREAS WITH LIMITED SPACE
IT'S RAISED WHEN NEEDED AND DROPS DOWN INTO THE BASE CABINET WHEN NOT.
THEY WORK EXTREMELY WELL AS THEY'RE RIGHT AT THE LEVEL OF THE COOKING SO ODORS DON'T BECOME AIRBORNE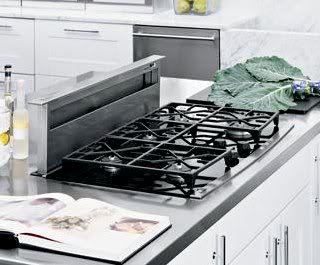 GE PROFILE DOWNDRAFT
OVENS, BROILERS AND GRIL
LS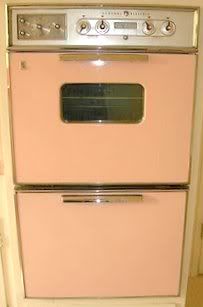 (1964 GE DOUBLE OVEN IN PETAL PINK)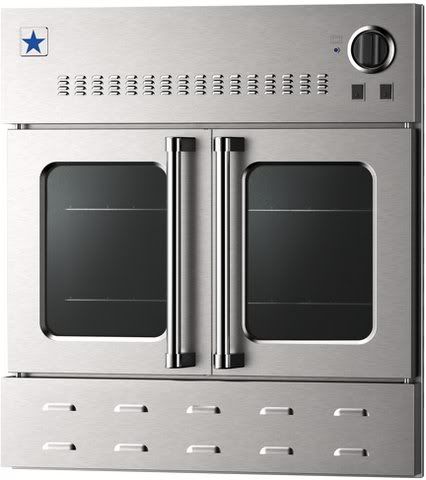 BLUE STAR
36" WIDE STAINLESS STEEL WALL OVEN WITH COMMERCIAL STYLE DOORS
AVAILABLE IN 190 COLORS
OMG IS THIS HOT LOOKING OR WHAT? THE PRIMO PROFESSIONAL LOOK. DOES IT DO ANYTHING A SEARS IN-WALL OVEN CANT...PROLLY NOT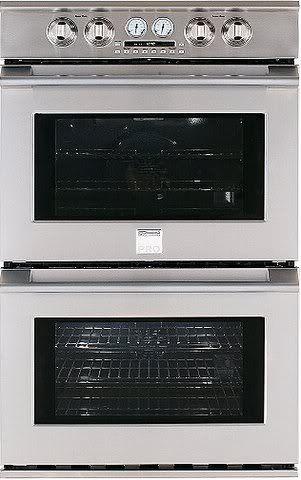 SEARS KENMORE
PRO-LINE 36" WIDE STAINLESS STEEL DOUBLE WALL OVEN
I JUST SEE THIS AS A SLEEK LOOKING ATTRACTIVE OVEN, NOT INDUSTRIAL, ETC.
AS MUCH AS IT DISGUSTS ME, I'VE LOST THE SALE OF A HOUSE I WAS FLIPPING BECAUSE IT HAD SEARS (TOP-OF-THE-LINE) APPLIANCES. THE BUYERS THOUGHT I CHEAPED OUT USING SEARS...ODDLY, THEY WERE THE SAME PRICE AS GE, BUT I LOVE SEARS ALMOST IMMEDIATE-RESPONSE SERVICE DEPARTMENT!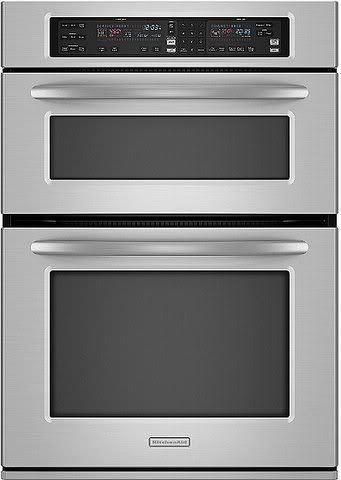 KITCHENAID
30" WIDE STAINLESS STEEL WALL OVEN AND MICROWAVE
PROBABLY THE MOST PRACTICAL OVEN FOR THE EVERYDAY COOK, A WIDE SINGLE OVEN AND A MICROWAVE WITH A BROWNING ELEMENT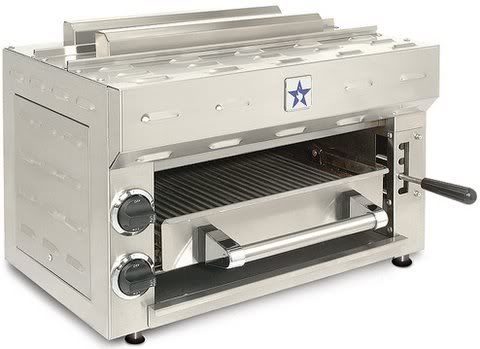 BLUE STAR
FREESTANDING INFRARED SALAMANDER BROILER
IF YOU'RE GOING TO HAVE THIS CHANCES ARE YOU'RE GOING TO HAVE A LARGE PROFESSIONAL RANGE TOO. I'D RATHER HAVE THIS INCORPORATED INTO THE RANGE THAN ON A COUNTER SOMEWHERE. THESE ARE THE MAC-DADDY OF BROILERS TOO
INFRARED COOKING EXPLAINED
BLUE STAR
FREESTANDING INFRARED CHARBROIL INDOOR GRILL
AGAIN, IF YOU'RE GOING TO HAVE ONE OF THESE GET IT INCORPORATED INTO RANGE
YOU'LL NEED A SERIOUS RANGE HOOD TOO
MICROWAVES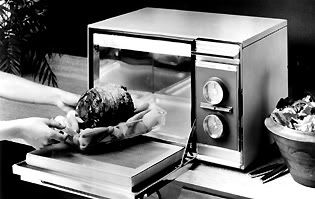 (Amana "Radarrange" 1968)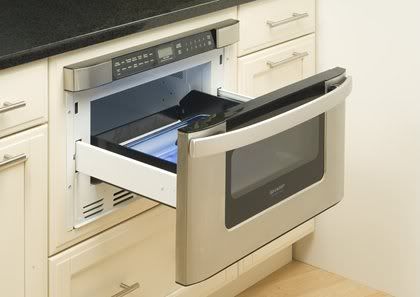 SHARP
MICROWAVE DRAWER, AVAILABLE IN 24" & 30" WIDE MODELS
I THINK THESE ARE VERY COOL, I UNDERSTAND THEY'LL BE MANUFACTURED WITH INTEGRAL FRONTS SOON. HOWEVER WHEN USING THEM I FIND THE ANGLE AWKWARD TO USE. PERSONALLY, I LIKE A MICROWAVE AT LEAST AT 36" HIGH UP TO FACE LEVEL.
GE PROFILE
BUILT-IN MICROWAVE, AVAILABLE IN 27" OR 30" WIDE MODELS
AVAILABLE WITH CONVECTION
NOW THAT'S A SERIOUS MICROWAVE! I HATE ALL THAT SWOOPY DESIGN WORK AS IT DRAWS TOO MUCH ATTENTION TO THE APPLIANCE, SQUARE AND RECTILINEAR IS ALWAYS BEST.
GE
OVER-THE-STOVE MICROWAVE OVEN WITH BUILT-IN EXTRACTOR VENTING
THIS IS AN UNBEATABLE MICROWAVE, ITS SPACE EFFICIENT, EYE LEVEL AND OFFERS VENTILATION. IT'S JUST NOT GOOD FOR HIGH POWERED GAS COOK-TOPS AS IT'S EXTRACTION CAPABILITIES AREN'T STRONG ENOUGH
GE MONOGRAM
COUNTER-TOP MICROWAVE IN STAINLESS
THIS BASIC MICROWAVE CAN BE INSTALLED IN A SPECIAL CABINET SO THAT IT APPEARS TO BE BUILT-IN. I DISLIKE MICROWAVES ON THE COUNTERTOP.
REFRIGERATION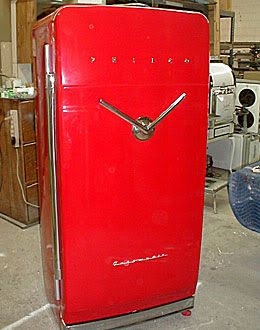 (1954 PHILCO V-HANDLE)
FREESTANDING
FREESTANDING REFRIGERATORS ARE ABLE TO STAND ALONE OR BE POSITIONED BETWEEN CABINETRY
SIDE-BY-SIDE OVER-UNDER
VIKING
FREESTANDING STAINLESS STEEL REFRIGERATORS
THESE ARE GREAT, I'M ON MY THIRD ONE OF THESE AND I LOVE IT, VERY WELL DESIGNED INTERIORS AND SUPERIOR CONSTRUCTION. THE STAINLESS FRONTS ARE A HUGE PAIN IN THE ASS TO KEEP CLEAN THOUGH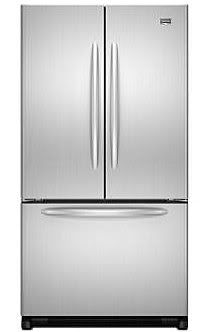 MAYTAG
FREESTANDING 36" WIDE "FRENCH-DOOR" STAINLESS STEEL
PERFECT FOR THE STANDARD HOME; NOT TOO EXPENSIVE, LOOKS SMART AND THE DOORS ARE GOOD FOR NARROW PULLMAN KITCHENS OR TIGHT AREAS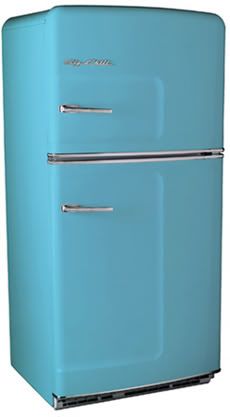 BIG CHILL
RETRO STYLE REFRIGERATOR
HOW FUN IS THIS? AVAILABLE IN 8 COLORS!
IF I WERE A RETRO KINDA GUY, OR HAD A BEACH HOUSE I HAVE THIS ENTIRE LINE OF APPLIANCES
SUBZERO
48" WIDE FREESTANDING COMMERCIAL STYLE REFRIGERATOR
THIS IS THE SHUT THE F--- UP FRIDGE! THE ABSOLUTE LAST WORD IN COOL(ING)!
THE DESIGN IS AWESOME AND THE GLASS DOORS ALLOW YOU TO LOOK AROUND INSIDE BEFORE YOU OPEN THE DOOR TO SAVE ENERGY. I ALSO LOVE THE DIRECT ACCESS TO THE FRUIT AND VEGGIE BINS
BUILT-IN REFRIGERATORS
A BUILT-IN REFRIGERATOR IS ONE THAT IS FASTENED INTO PLACE AND CAN HAVE PANELS APPLIED TO THE FRONT TO MATCH THE CABINETRY
SUBZERO
72" BUILT IN REFRIGERATOR TWO COOLING COMPARTMENTS AND TWO FREEZER DRAWERS IN STAINLESS STEEL
IF YOU HAVE A HUGE FAMILY, ENTERTAIN ON A BIG SCALE, A HUGE-ASS KITCHEN AND FREEZE A LOT FOOD - THEN THIS IS FOR YOU, BUT A SIX FOOT WIDE FRIDGE IS A LOT OF FRIDGE
SUBZERO
42" BUILT-IN ICE-AND-WATER IN DOOR
APPLIED PANELS ON FRONT TO MATCH CABINETRY
LIKE ALL SIDE-BY-SIDES THIS HAS GOOD AND BAD ATTRIBUTES; FIRST AND FOREMOST THE "APPLIED FRONT PANELS" ARE OUT ! IT'S INTEGRAL OR NOTHING NOW. SECONDLY, IF YOU ENTERTAIN AND SOMETIMES WANT TO PUT A LARGE PLATTER OR POT OF FOOD IN THE FRIDGE IT DOESN'T FIT. ON THE OTHER HAND YOU HAVE A GOOD AMOUNT OF FREEZER SPACE. GOOD FOR THE TAKE-OUT, FROZEN DINNER HOMEOWNER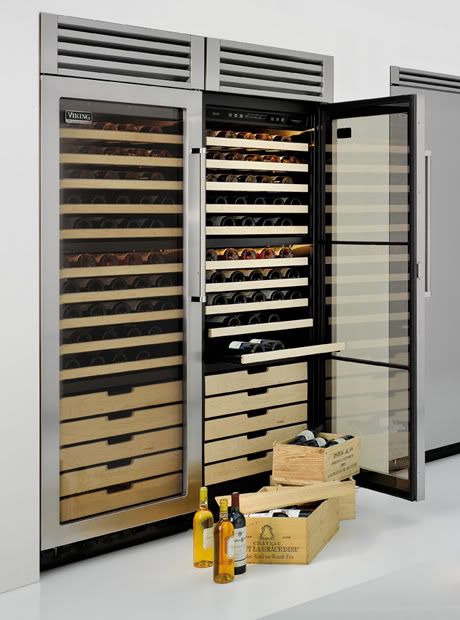 VIKING
DOUBLE 27" WIDE WINE COOLERS IN STAINLESS STEEL
ALL I CAN SAY IS DAYUM! YOU GOTTA BE A MAJOR OENOPHILE TO HAVE THIS BABY
BUT GO FOR IT, BEATS PAYING AN OFF-SITE WINE STORAGE FACILITY!
AND, IF YOU HAVE THIS KINDA WINE, YOU CAN AFFORD THIS COOLER....
CABINETRY PANEL STAINLESS STEEL
GE MONOGRAM
UNDER-COUNTER WINE OR BEVERAGE COOLERS
AVAILABLE IN 24" OR 18" WIDE MODELS
THESE ARE BRILLIANT! THE WINE COOLER IS PERFECT FOR THE BASIC WINE DRINKER AND THE BEVERAGE COOLER KEEPS THE KIDS OUT OF THE MAIN FRIDGE! THESE ARE PERFECT FOR GUEST HOUSES, SMALL HOME BARS, POOL HOUSES, ETC.
INTEGRAL REFRIGERATORS
AN "INTEGRAL" REFRIGERATOR (OR ANY APPLIANCE) IS ONE THAT IS MANUFACTURED TO BE COVERED WITH PANELS WHICH MAKE THE APPLIANCE INDISCERNIBLE FROM OTHER CABINETRY
SUBZERO
27" WIDE UNIT WITH CABINETRY FRONTS.
UNITS ARE AVAILABLE WITH FRIDGE OVER FREEZER, ALL FRIDGE OR ALL FREEZER
THIS IS THE BOMB! THIS IS A DESIGNERS DREAM IN REFRIGERATION. THE BEST PART IS AS STYLES AND MODELS CHANGE YOURS WILL ALWAYS BE PERFECT AS IT'S HIDDEN, YOU DON'T HAVE TO WORRY ABOUT WHAT WILL REPLACE STAINLESS IN 5 YEARS!
LIEBHERR
INTEGRAL 48" WIDE FRENCH-DOOR FRIDGE-OVER-FREEZER WITH CABINETRY FRONTS
AMAZING FOR CLEAN-LINED DESIGN CAPABILITY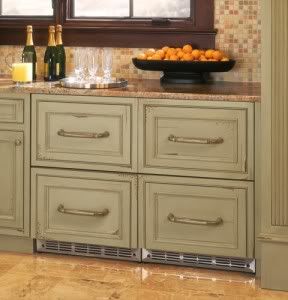 SUBZERO
INTEGRAL REFRIGERATED DRAWERS WITH CUSTOM PANELS
UNITS ARE AVAILABLE IN ALL FRIDGE, ALL FREEZER OR ONE OF EACH WITH AN ICEMAKER
THESE DRAWERS ARE SO PRACTICAL, ORIGINALLY DESIGNED TO HAVE THE FRUIT AND VEGETABLES NEXT TO YOUR PREP COUNTERS. THEN, EVERYONE REALIZED THEY CAN HAVE A HIDDEN DRAWER FOR ANYTHING COLD ANYWHERE IN THE HOUSE, MASTER BEDROOM, CABANA, BAR, KIDS BEDROOM WING, ETC.
SUMMIT
24" WIDE 3-DRAWER FRIDGE UNIT IN STAINLESS
AVAILABLE IN AN INTEGRAL MODEL
THIS IS A LESS EXPENSIVE MODEL AND THE THREE DRAWERS SEEMS MORE PRACTICAL FOR SOME REASON - PERSONAL PREFERENCE I GUESS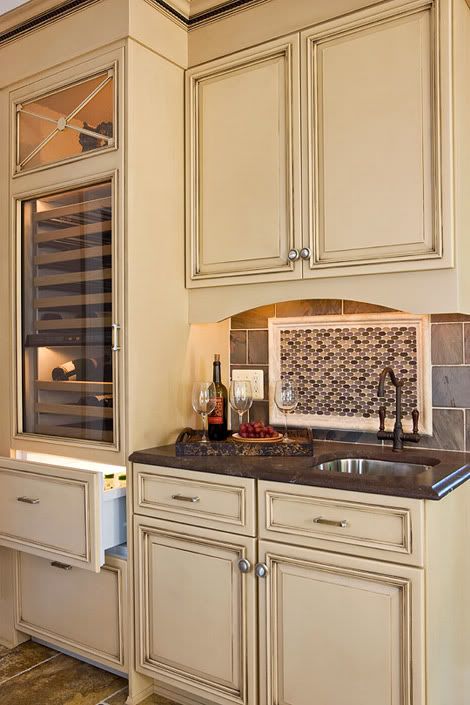 ZERO
27" WIDE INTEGRAL WINE COOLER WITH FRIDGE DRAWERS
CUSTOM PANELS APPLIED TO FRONT
LOOK HOW SMART THAT IS!!!!
DISHWASHERS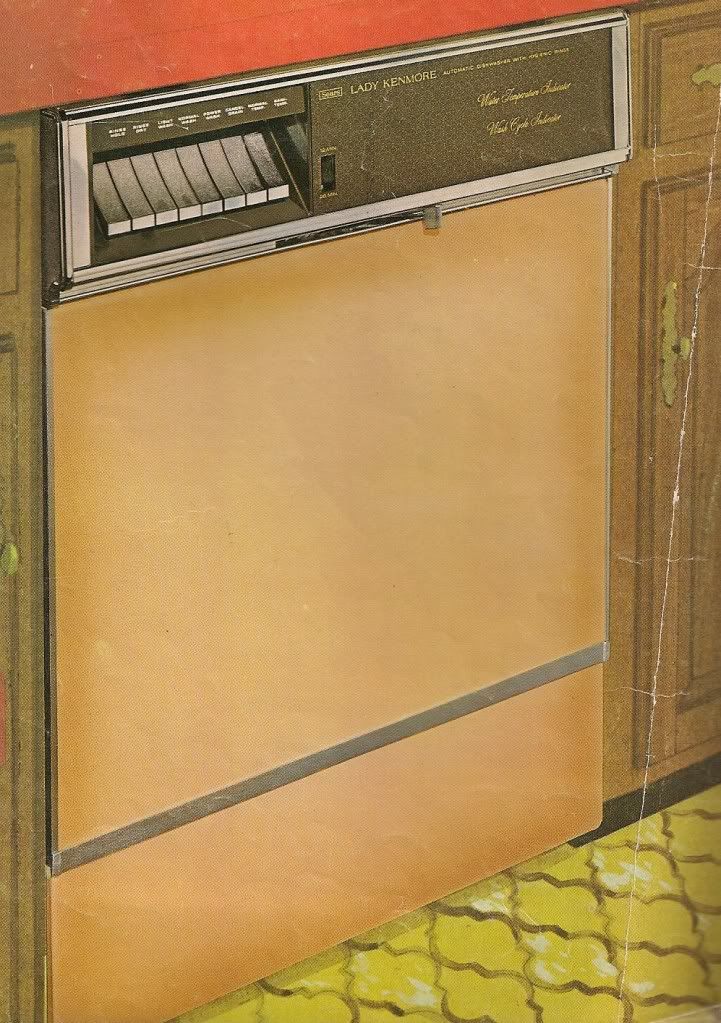 (1972 LADY KENMORE DELUXE, HARVEST GOLD)
GE MONOGRAM
24" WIDE STAINLESS STEEL DISHWASHER
UP-GRADED HIDDEN CONTROLS ON TOP OF DOOR
THE BASIC MACHINE, NOT BAD, AND A LESS EXPENSIVE UNIT W/O THE FRONT PANELS
BOSCH
24" WIDE
INTEGRAL
DISHWASHER WITH MATCHING PANEL FRONT
I HAVE THIS VERY MODEL, AND I'VE USED IT IN THREE OF MY OWN HOMES AND I LOVE, LOVE, LOVE IT! IT'S DEAD-QUIET AND EFFICIENT, WORKS QUICKLY AND HAS VERY PRACTICAL AND USEFUL INTERIOR CONFIGURATIONS. GET THE UNIT WITH THE LIGHT INDICATOR TO TELL YOU WHEN ITS FINISHED, NOT THE IRRITATING BEEPER.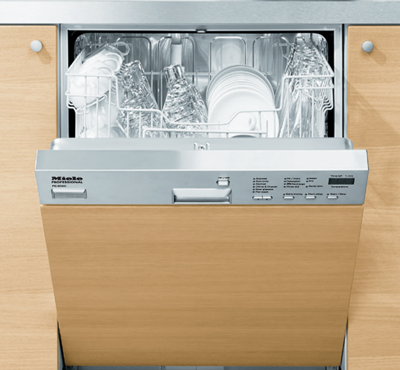 MIELE
24" WIDE SUPER-FAST CYCLE (30 MINUTES!)
MIELE MAKES A GREAT DISHWASHER, BUT I'VE USED ONE IN THE PAST AND FIND THEIR INTERIOR CONFIGURATIONS IMPRACTICAL AND FLIMSY. ALSO, THEIR SILVERWARE RACKS ARE A TRAY THAT SLIDE OUT AND YOU HAVE TO PLACE EACH INDIVIDUAL PIECE OF SILVERWARE IN A SPECIFIC SLOT...RIIIIGHT, I GOT TIME FOR THAT....NOT!
GE PROFILE
18" WIDE
INTEGRAL
DISHWASHER WITH MATCHING PANEL FRONT
A WONDERFUL UNIT FOR A SMALL APARTMENT OR A PAIR OF THEM IN A KITCHEN WHERE THERE AREN'T A LOT OF DISHES GENERATED EACH DAY, BUT YOU HAVE CAPACITY FOR A PARTY. THEY'RE ALSO GOOD FOR A GUEST HOUSE.
FISHER-PAYKEL
24" WIDE TWO-DRAWER DISHWASHER WITH STAINLESS FRONT
AVAILABLE IN
INTEGRAL
MODELS
I HAVE FRIENDS WITH THESE AND THEY SAY THEY LOVE THEM... BUT, I'M STILL NOT ON BOARD. I THINK THEY'RE GOOD FOR SINGLES HOMES OR APARTMENTS...JUST SAYIN'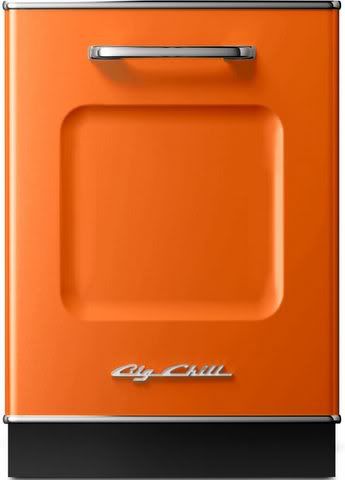 BIGCHILL
24" WIDE "RETRO-STYLE" DISHWASHER
AVAILABLE IN 8 COLORS
THIS IS SOOO COOL, REALLY PERFECT FOR A RETRO OR PERIOD STYLE KITCHEN
WARMING DRAWERS & PLATE WARMERS
(DOES THE SAME THING, RIGHT?)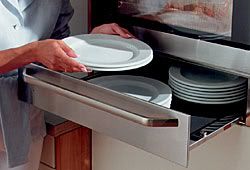 MIELE
30" WIDE PLATE WARMER
PLATE WARMERS ARE PRACTICAL AND CONVENIENT, A TAD EXTRAVAGANT, BUT COOL IF YOU ENTERTAIN A LOT OR SLOW TO GET MEALS TO THE TABLE. I LIKE THE IDEA, ESPECIALLY BECAUSE IT CAN BE STACKED WITH THE OVENS, ETC. IT ALSO CAN HAVE AN INTEGRAL FRONT - A LOT OF MONEY TO DO WHAT A STANDARD OVEN CAN DO ON LOW....
DACOR
27" WIDE WARMING DRAWER WITH INTEGRAL FRONT
I'VE HAD VIKING WARMING DRAWERS BEFORE AND MAYBE I JUST NEVER LEARNED THE TECHNIQUE BUT IT WAS RARE THAT IT WORKED WELL. FOOD DRIED OUT, OR KEPT COOKING... IT'S GOOD FOR FRIEND CHICKEN OR FRIED FOODS, DELICATE SAUCES AND MEATS ARE A DISASTER. THIS COULD WORK AS A PLATE WARMER TOO, AND DO DOUBLE DUTY.
THE BEST USE OF A WARMING DRAWER IS FOR TOWELS IN A BATHROOM....NOW THAT'S DECADENT!
ICE MACHINES
FREESTANDING
U-LINE
CLEAR ICE MACHINE 15" WIDE
UNITS WITH INTEGRAL FRONTS ARE AVAILABLE
I'M NOT A FAN OF ICE MACHINES AFTER HAVING THEM AND BEING ON A FIRST NAME BASIS WITH THE EVER-PRESENT REPAIRMAN....
SCOTSMAN
15" ICE MACHINE STAINLESS FRONT
AVAILABLE IN INTEGRAL DESIGN
MARVEL
15" BUILT-IN ICE MACHINE
OF ALL THE ICE MACHINES, THIS TYPE IS THE MOST TROUBLE FREE! IT'S ESSENTIALLY A FRIDGE-TYPE ICE-MAKER WITH A DEEPER BIN. THERE'S NO DRAIN TO DEAL WITH, NO QUANTITY TO USE EVERY DAY BEFORE IT GETS BACKED UP, ETC.
ALL MANUFACTURERS MAKE THIS TYPE TOO
BON APPETITE!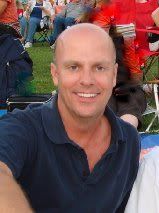 You can do it, I'm here to help!
202.669.8669
jpdsodpb@aol.com