SWIMMING POOL DESIGN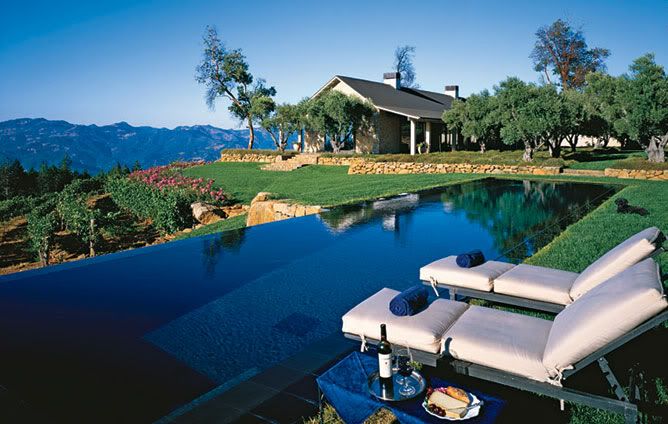 (Architect: Howard J. Backen)
The Glamour of a
Residential Swimming Pool
With global warming we dread the impending heat and how to find relief from it. Town & Country Magazine suggests we join schmancy Beach Clubs that have expensive memberships... I say keep that money into your own pocket, and increase the equity of your home!
During the scorching summer months there's nothing better than diving into a pool to cool off... the cooler-than-body-temperature water extracts the body's heat and naturally relaxes you.
Kids will have their friends over, you can wake up in the morning with a dip, and you and your partner can get jiggy in it after the kids go to sleep... Pools are an unusual luxury: They're romantic, athletic, sensual, and a wonderful venue for entertaining. The summer months are the perfect time to hold an alfresco dinner party or a child's birthday party. Here are my tips for designing and getting the most out of your pool.
LET'S BEGIN WITH
TRADITIONAL STYLE
P
OOLS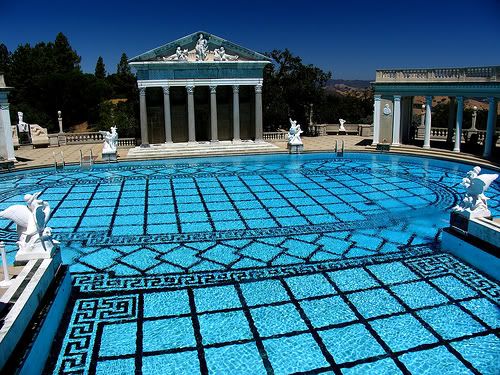 William Randolph Hearst's "Neptune Pool" is one of America's most famous. It overlooks the mountains and ocean at his estate in California, "San Simeon." It is surrounded by ancient Greek Temples that he disassembled and brought to the US. If you look close enough, you can see Ellie May and Jethro under the arcade....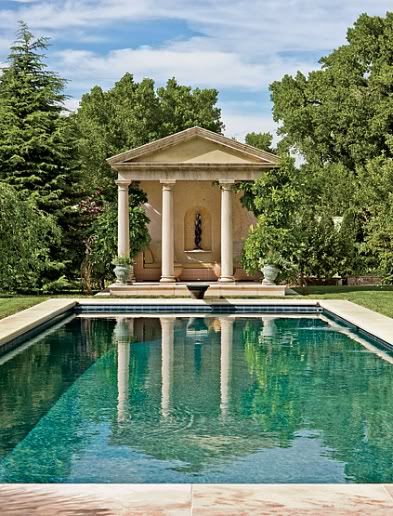 This classic early 60's pool with its deep greenish-blue bottom and Tennessee Limestone coping will always be chic! The Grecian style temple facade is stunning, a perfect visual focus.
(Michel Biehn: Menerbes, France)
I think this is what we all want....a pool in Provence. It's small, elegant and works well with its surroundings. It could use some flowers or something to zhuzh it up a wee bit.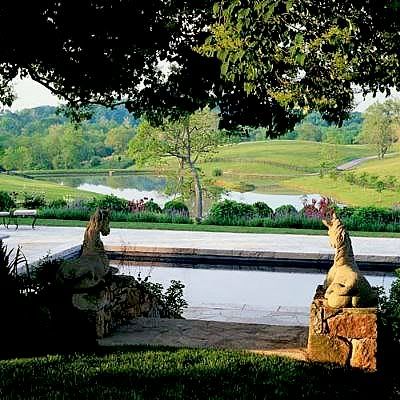 (Landscape Designer: Donna Hackman)
This pool has been sited perfectly overlooking the ponds and hills on this Virginia farm. The gateway to the pool with the field stone knee-walls surmounted by the stone horses is perfectly apropos for the region. The darker bottom doesn't make a turquoise slash through the landscape either.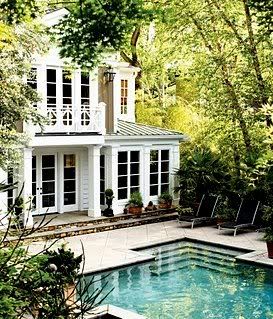 (House Beautiful)
I used this photo because I like the steps. When my friends and I are in the pool we always like to sit in the water, semi-immersed and talk for hours...and these steps offer that possibility.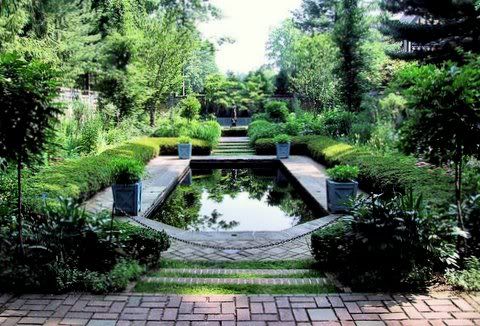 "Dipping" pools and pools that look like ponds are hot now, this beautifully designed pool has both and fits so well in its lovely garden setting.
(Richard Arentz Landscape Architecture)
This handsome suburban pool surrounded by blue stone coping and cleft stone patio fits well into its woody setting.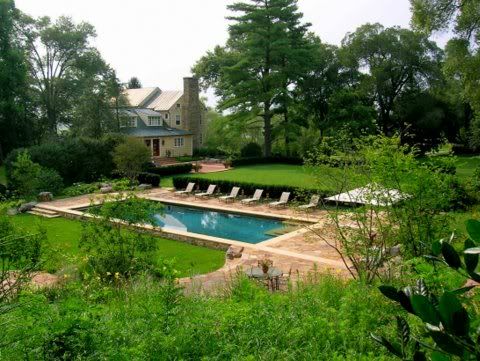 (Richard Arentz Landscape Architecture)
This large pool accommodates the owners entertainment needs at their Virginia country home. It's got lots of room for sunning, dining and stand-up cocktail parties.
Another feature which I think is very important, it's close to the house, but out of the line-of-sight from the main house during the seven months it's not in use.
Ain't nothing uglier than a pool that's closed up for the winter!
This Hampton's ranch house was totally revamped and a simple pool was installed on axis for entertaining as the centerpiece.
Simple is always a good choice!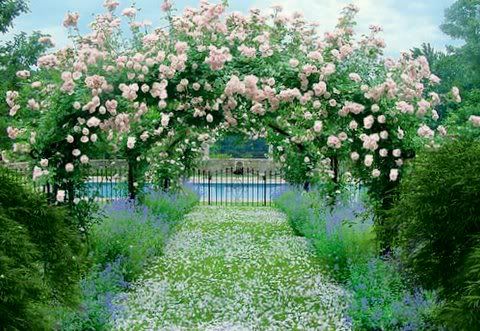 This Greenwich Connecticut pool is a destination!
The walk through beautiful allee' under the rose covered arches only adds to the experience of arriving at the pool.
A perfectly sited pool in the English countryside at the home of David Hicks, now his daughter Allegra's.
A small dipping pool surrounded by cobblestones giving the appearance of a pond.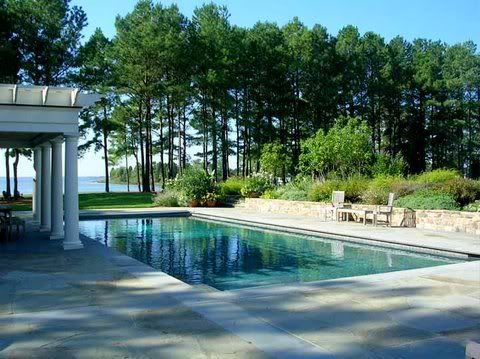 (Richard Arentz Landscape Architecture)
This waterside weekend home on Maryland's Eastern Shore has it's pool within easy reach of the kitchen and adjacent porch. However, it's kept to the side of the property so the winter views of the river are not across a closed-up pool.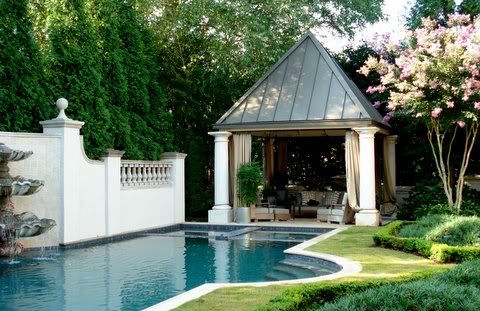 This pool is sited close to the lot-line which provides more garden space. The wall, which is the visual focus of
the pool area serves two purposes; it provides privacy from the neighbors as the pool is closer than normal and it
has a wonderful three-tier fountain that offers a soft water sound to mask the neighbors Hillbilly Rock music.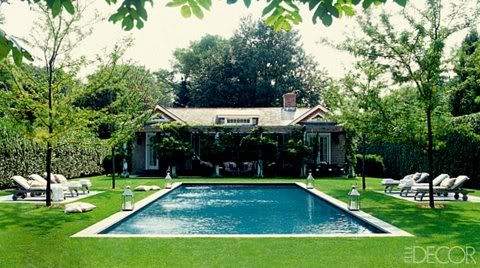 This clean and simple Hampton's pool is a tried and true design; centered, no patio and dark bottom. Yes, it's been done to death, but there's a reason - it works! Notice: the sun chaises are on hard surfaces for ease of lawn care.
(Private Residence: Canaan, NY)
This pool area is only a small part of this huge estate's awesome non-stop gardens. The "pool garden" is sited within the elliptical perennial beds. It's close to the house and it has a shady, vine-covered pergola for sipping wine and enjoying the ever-blooming garden
FREE-FORM POOLS
I totally dig this pool! Its a bit campy but it's fun. Needs a darker blue bottom though....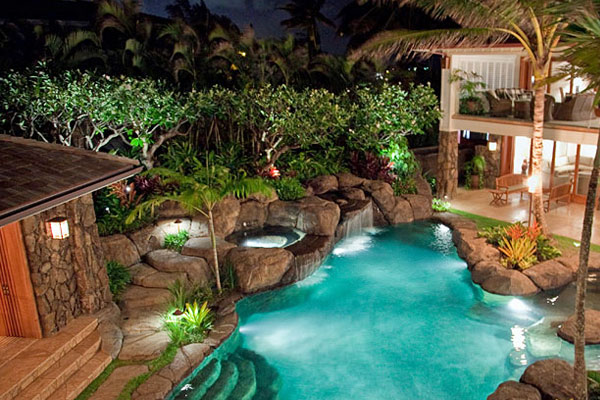 This natural rock pool which is in Hawaii would look like kaka in Southampton..but it's pretty cool in Oahu. Remember, their are regional limitations to what works and what doesn't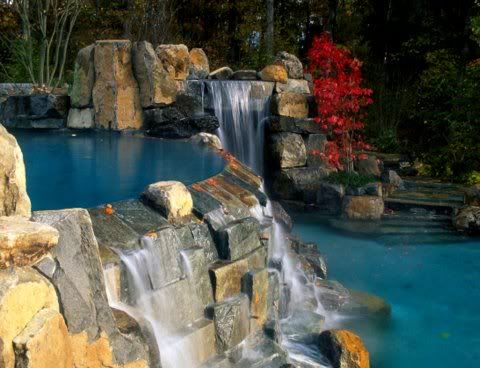 (Richard Arentz Landscape Architect)
This awesome stony cascade of many pools is off the chain. It has a grotto under that waterfall too, GOTTA
LOVE THAT!
(Jade Mountain Resort, St Lucia)
This killer infinity edge pool's design is made of intersecting circles. The interior is multicolored iridescent tiles. Subtle details don't usurp the view!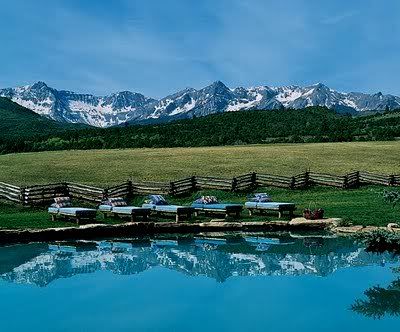 Ralph & Ricky Lauren's pool at their "Double R Ranch" in Telluride, CO.
The simple stone-edged pool with a dark blue bottom surrounded by grass and weathered teak chaises looks rustic and is totally appropriate for this area.
(Pebbletec Corp.)
I love this pool, it feels so calming and natural. When I renovate my pool this is how I want it to come out
POOLS FOR LIMITED SPACES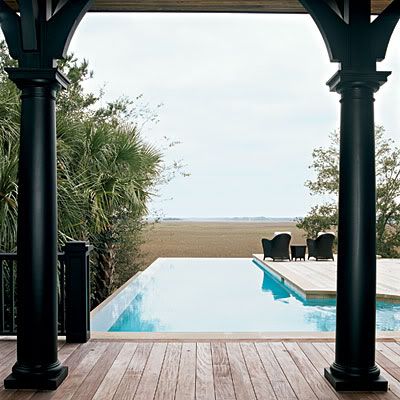 (Mike Finlay Architect)
This home nestled among the marshes in South Carolina had to watch it's "Impermeable Surfaces" quotient (Wetlands Act), so this vinyl liner pool was devised and surrounded with cedar decking so it didn't interfere. A brilliant compromise!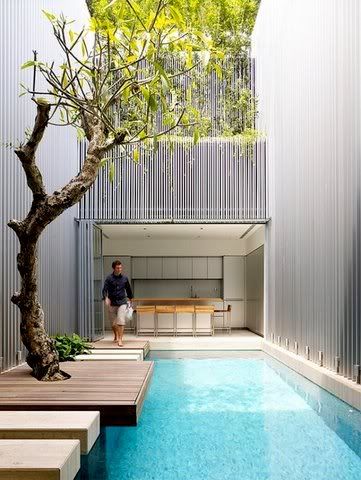 This narrow urban townhouse in New Zealand has made the entire rear garden the swimming pool and has brilliantly created the path to the carriage house to look like huge stepping stones
LOVE IT!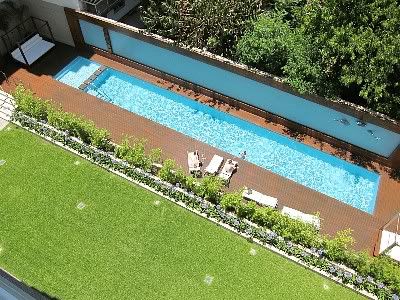 This long narrow rear garden was utilized well with half as a lap pool, and half remaining open garden for children to play and dogs to poop
This home in Thailand is built on a mountainside and had no room for a pool on the deeply pitched slope, so they added a long narrow dipping pool with a built-in bench for admiring the view. The teak decking makes the pool feel like an integral part of the house.
Designer Geoffrey Been's pool at his small Honolulu home abuts a privacy wall between he and his neighbors.
The simplicity is what makes this awesome. Most people would have huge-ass dolphins spewing into the pool, fancy tiles and cherubs holding urns of flowers....feh!
Remember: Less is more...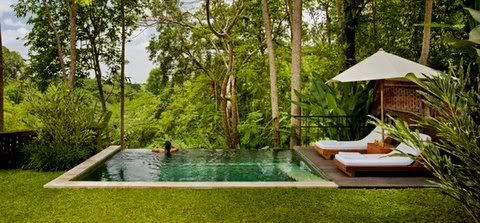 (Como Uma Ubud)
This small, infinity-edge pool in Bali is pure bliss.... the understated bamboo deck with the two teak sun-chaises make it an intimate moment.
(Elle Decor: Brazil)
Look what a few rocks and cement can do....can this simple little pool look any more inviting?? OMG, i
t's perfection!
Don't mind that rock, we'll just work around it...
POOLS WHICH OFFER ARCHITECTURAL INTEREST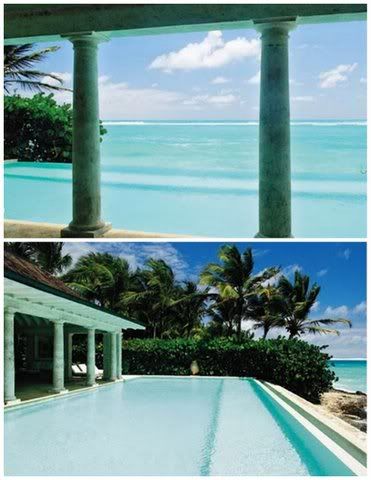 (Oscar De la Renta's home in Dominican Republic)
This large pool is amazingly designed with an infinity edge that appears to fall directly into the
Caribbean from the loggia
(Designer: Todd Black)
What, this Moroccan Fantasy is in Key West?!? I love the steps around the pergola that just descend right into the pool. Sooo freekin' chic and well done!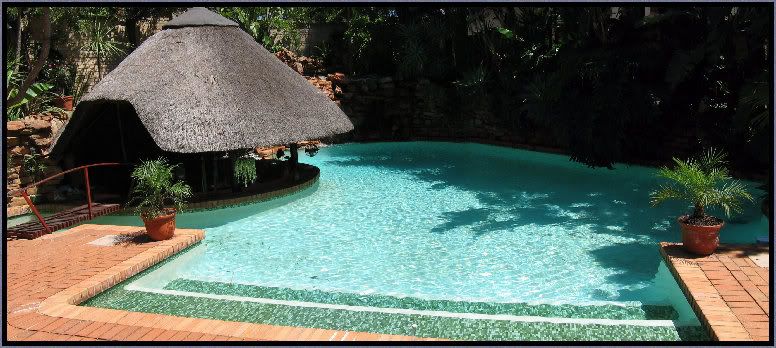 (Source: Unknown)
This pool in Florida with the swim-up Tiki bar is so "out-there" it's cool....Ordinarily, I find things like this too fake looking, but this one I like as long as it's in Florida, or another tropical region.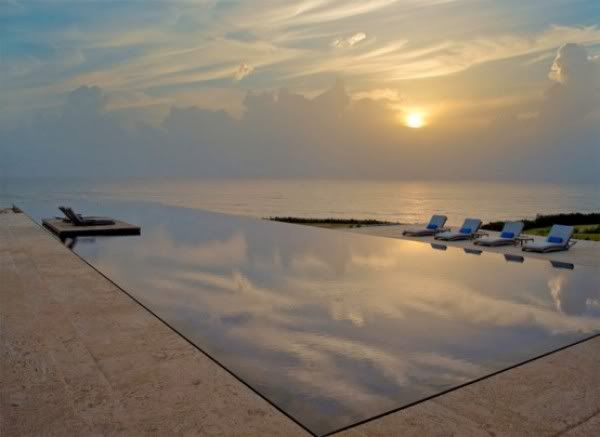 "Pee-in-your-pants"
That says it all.......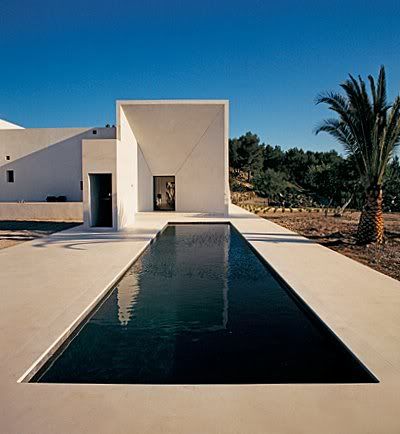 (Source: Elle Decor)
The rectilinear lines of this pool work in tandem with this contemporary home. It's suitable for laps, and adds a softening water-feature to an otherwise severe hard-scape.
(Richard Arentz Landscape Architect)
This elegantly simple pool with the mountain views subtly drops down into the limestone pavement with gradual steps on all sides. This design is at once traditional and contemporary. The fountain heads offer texture and interest to the waters surface.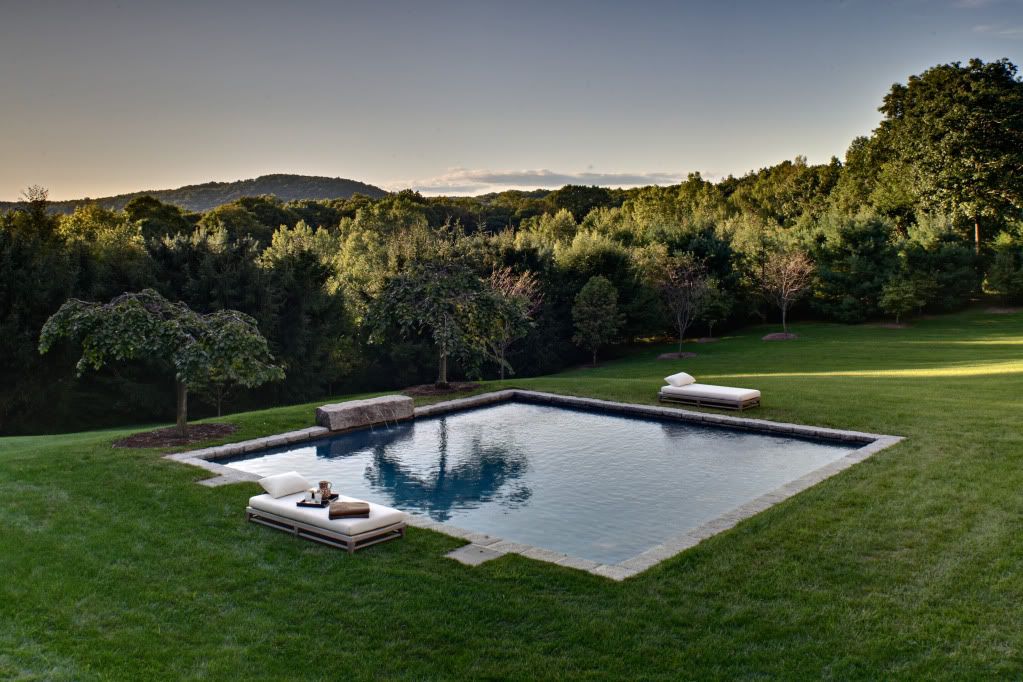 (Designer: McIver-Morgan)
Overlooking the mountains in Connecticut this pool puts the "S" in simplicity. A simple square set between the house and the woods with no embellishments, only the cleft stone coping and a huge granite rock which is artfully drilled so that three small rivulets fall gracefully into the pool.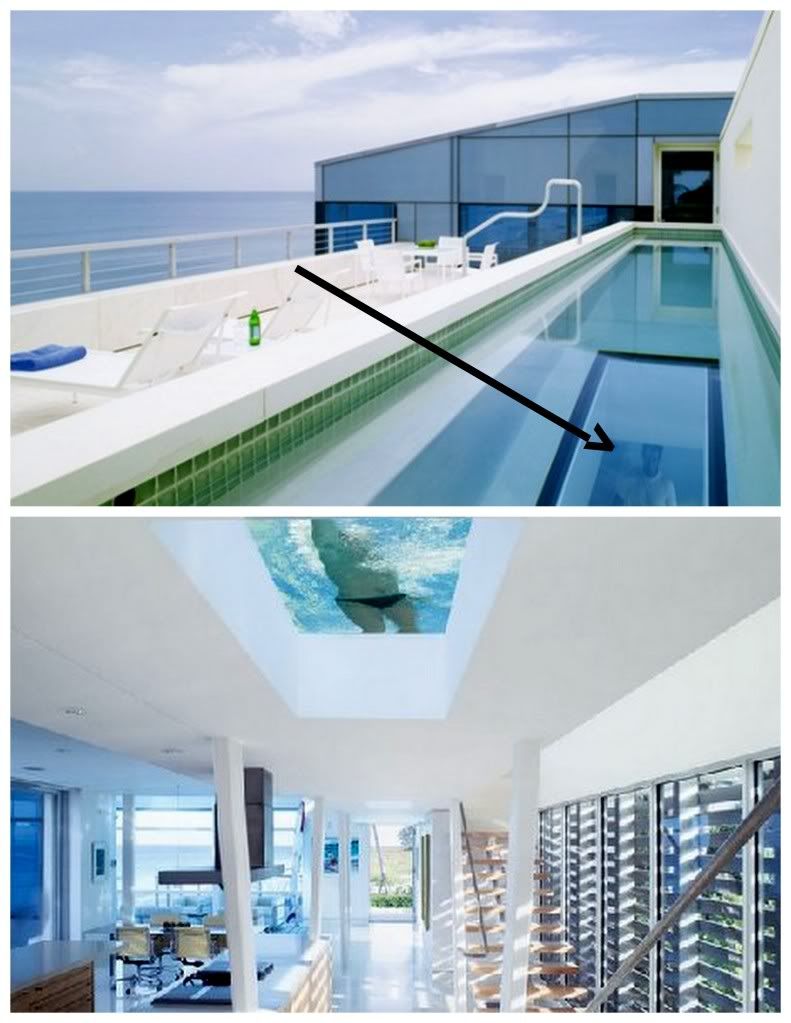 (Architects: Hughes-Umbanhowar)
This ocean front home has one of the most unique pools ever! You enter the house under the glass bottom pool. The sundeck and pool area are on the upper floor of this home, creating amazing visual and light plays through the space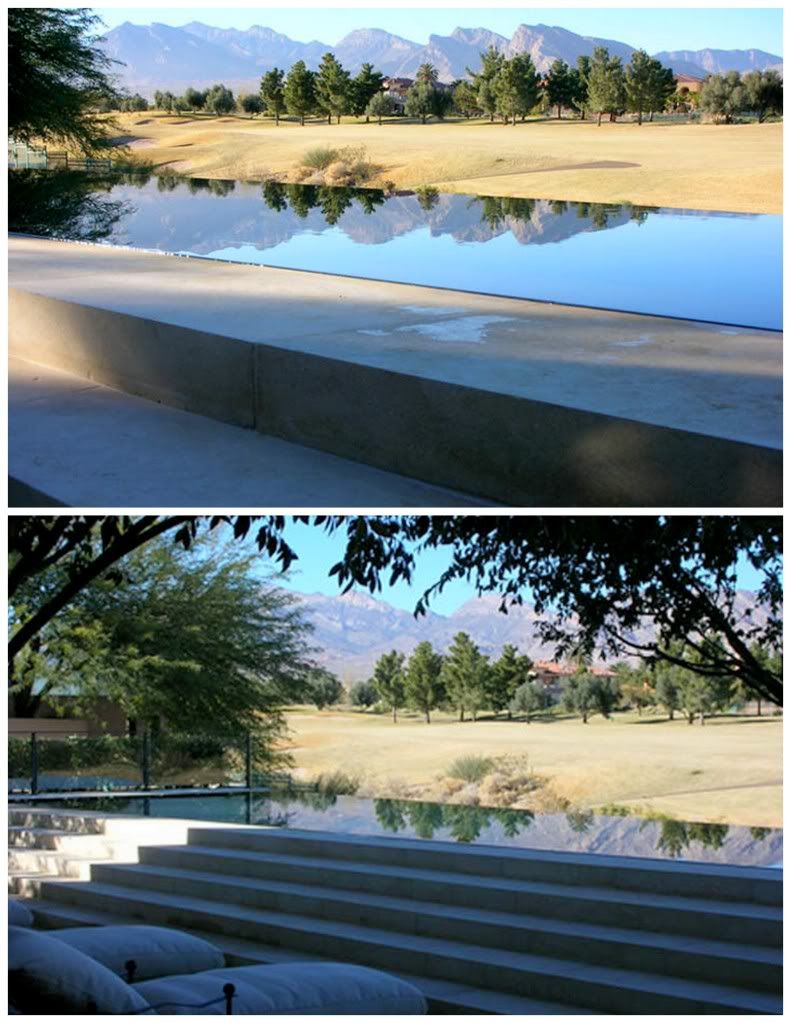 (Richard Arentz Landscape Architect)
This pool of this LasVegas home is elevated which creates a watery, reflective barrier between the home and the desert, implying the home as an oasis
INDOOR POOLS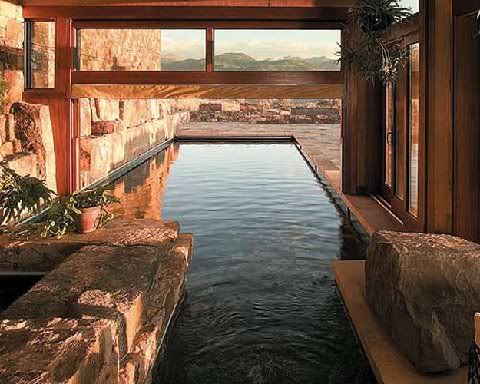 (Source: Elle Decor)
The stunning pool in Arizona has a large teak garage-type door that drops to the waters edge to close it off from the outdoors. The natural stone and boulders make this lap pool feel grounded and a part of the landscape.
(Source: Elle Decor)
This pool in Italy has an inexpensive commercial-grade aluminum glazed roof which allows for all weather swimming. They might want to lighten up on the zebra print...
(Architect: Nasrine Faghih)
This pool in Provence uses all native materials for its structure with steel windows which allows a lot of light into the pool pavilion.
(Mexico)
This small dipping pool is more for therapeutic purposes and water exercises. The simplistic white room with Ipe wood raised deck area and huge glass wall are quite spa like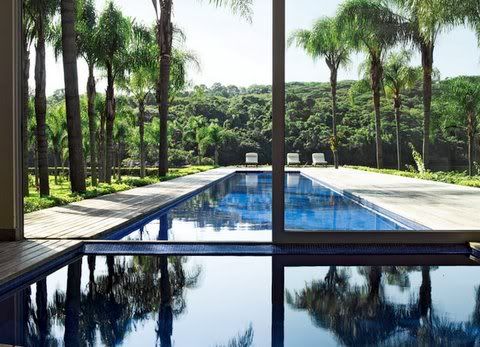 (Brazil: Carlos Miele's home)
This super-sized indoor-outdoor pool has sliding doors that traverse and separate the indoors from out.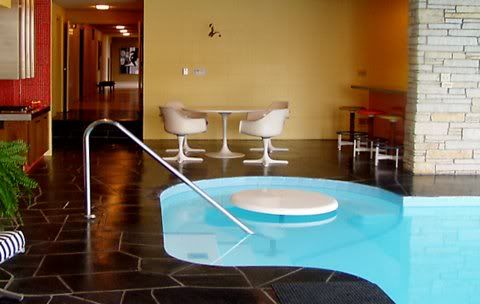 (Source: Unknown)
This vintage early 60's house has a huge indoor pool, but I am only showing you the built-in banquette and table which I think is fun if you have kids... eat or be drowned!
BAD POOLS
In 1958 Jayne Mansfield's then husband, Mickey Hartigay, hand built her this heart shaped pool with "I love you Jaynie" painted on the bottom - they divorced in 1963... Notice the pink patio and pink breeze-block wall...!
These schmucks bought EVERYTHING in the Frontgate catalogue - and then some! Fountains, waterfalls, summer kitchen, firepits, sconces...all crammed into their cul-de-sac McMansion with faux-stone walls and interlocking paver deck...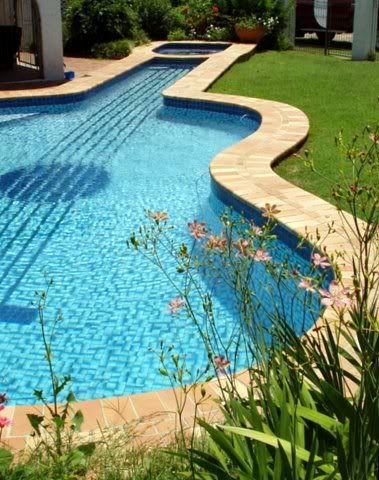 Really? A guitar shaped pool? Nuh uh....not unless you live in Nashville...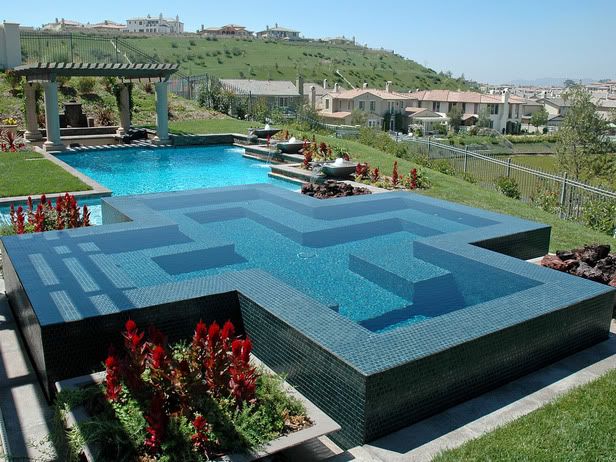 WTF is going on here?
Sunken pergola, dish-fountains, Maltese-cross super-sized hot tub??
Love the fencing and endless views of other architectural heinosities.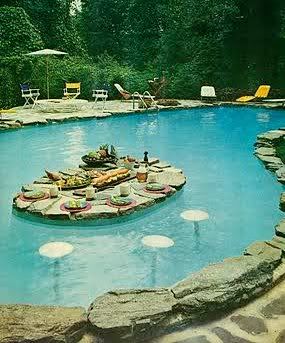 This 1960's pool is so bad its fabulous!
Maybe they shoulda spent a few more bucks on that pool furniture....
Directors Chairs and click-clack sunloungers???
LINKS TO CONTRIBUTING DESIGNERS
Richard Arentz, Landscape Architect
http://www.arentzdc.com/
.
Hughes Umbanhowar Architects
huum.com
.
Hearst Castle
http://www.hearstcastle.org/
.
McIver-Morgan
godwin-inc.com
You can do it, I'm here to help!
You can do it, I'm here to help!
E: jpdsodpb@aol.com