Gray brings to mind everything from rainy days to sexy industrial lofts. The neutral tone has been a decorating basic for centuries. Gray is totally hot now as the intense, crazy, superbright colors of the last decade have exhausted many of us. Gray feels balanced, sorta Zen with something very clean and simple about it which helps us
relax and escape from our often overloaded lives. A peaceful color that's clean and simple and yet amazingly sophisticated.
THE ORIGINAL GRAYS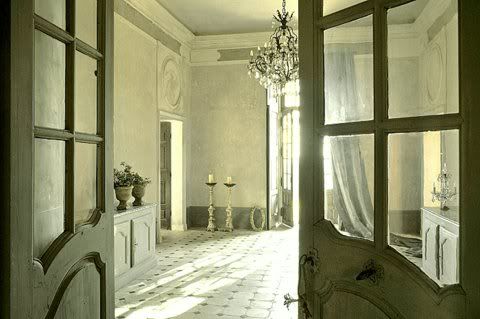 (Chateau de Moissac)
The French, Belgians, Danish and Swedish are best known for their chic use of gray over the past two centuries
NOW, FRESHLY REINTERPRETED
FOR THE 21st CENTURY
GRAY LIVING ROOMS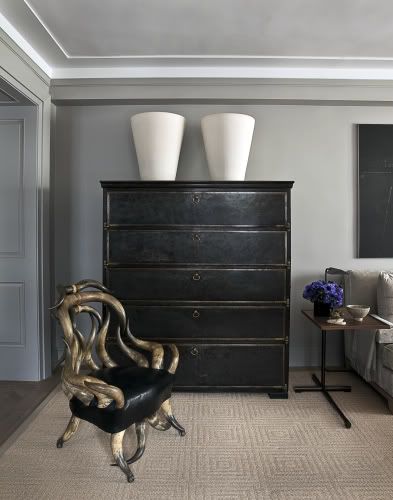 (Clothing Designer: Francisco Costa)
This beautiful, clean lined, contemporary space is the home of the head clothing designer at Calvin Klein. The dove gray walls and matching trim-work are all warmed up with touches of taupe and white.
(Source: Unknown)
A Beaux-arts period
living room is made younger and much cooler with the monochromatic interiors of pure white and pale gray. The natural wooden floors add warmth and maintain the old-world feeling of the space.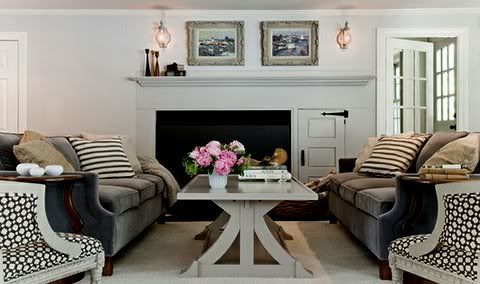 (Source: Unknown)
Country house gets its groove on! The pale gray walls, white trim and slightly deeper gray mantle make this colonial-period home feel fresh. Those two gray velvet sofa's are absolutely stunning. I love the elegance of the Swedish side chairs with the humble cocktail table
(Source: Traditional Home)
This beautiful room with the broad floorboards and built-ins is soooo chic with the lovely French gray paint color. The pale gray linen upholstery, Lucite tables and blue accents are quite smart together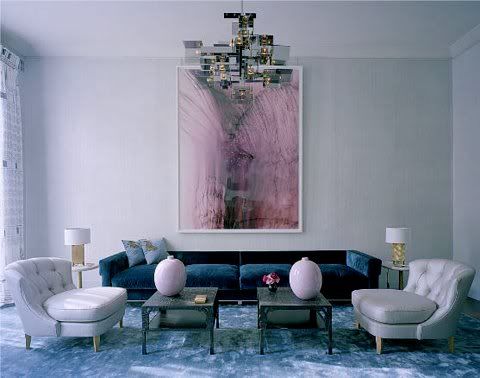 (Designer: David Collins)
The
soft gray walls of this
moderne London apartment provide the perfect background for the muted pastel accents
(Designer: Jean-Louis Denoit, Paris)
This schmancy vignette in Paris with the gray painted boiserie and ebonized floors is the perfect background for the antique gilt furnishings and gold colored curtains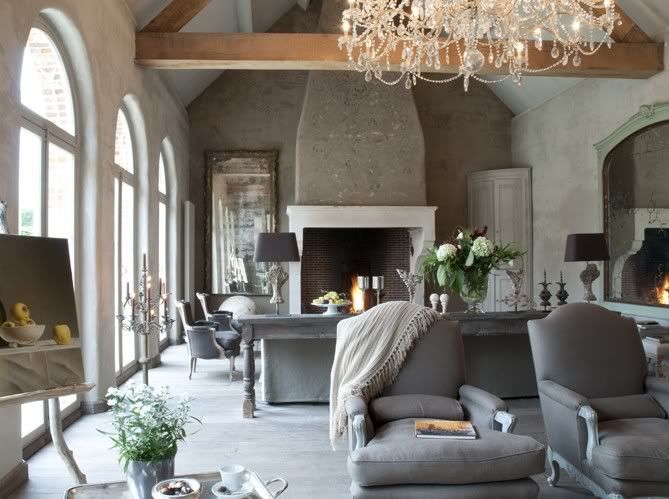 (Source: Decorating Ideas)
An unexpected use of monochromatic grays in this (American) French-country-style home - instead of umber and Brittany blue - is so handsome, authentic and timeless
(Source: Unknown)
An amazing view, cement walls and gray cerused oak floors are all you need.... But this room is jacked up with the beautiful clean-lined upholstery and ethnic carpet
(Designer: Charles Spada Interiors)
Take a good long look here: A Victorian townhouse is made ultra chic with gray walls and white modern and antique upholstery....it's totally Zenchy (Zen + Schmancy)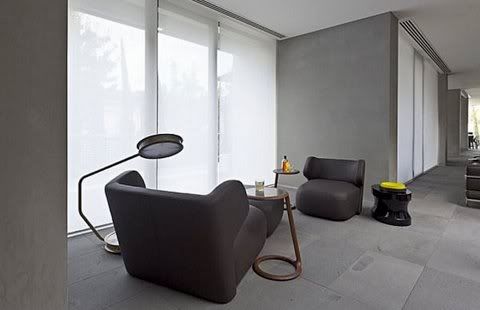 This place is kickin' it!!! The slate floors, leather seating and Venetian plaster walls OMG...HOT!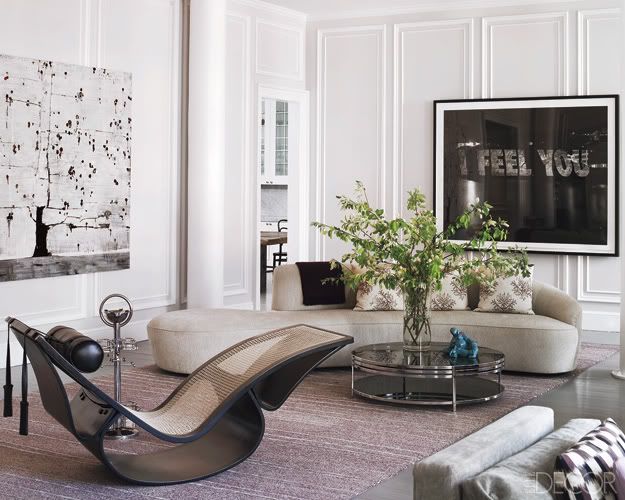 (Designer: Nina Seirafi)
This New York apartment with the two-tone walls and polished gray cement floors is tricked out with killer furnishings and art, which is exactly what it's all about today!
(Designer: Joe Ruggerrio)
Casually and inexpensively designed using tans and gray tones makes this totally restful and fresh looking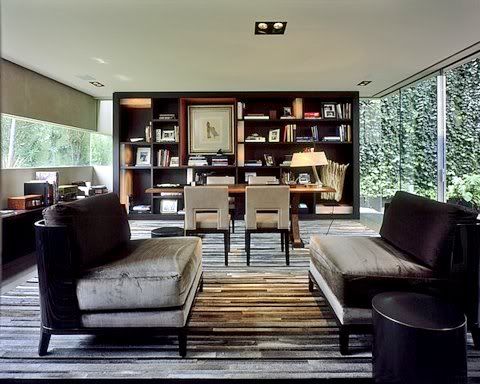 (Source: Fresh Home)
B.O.P.!
The pony-hide carpet drives this interior - when combined with the velour upholstery and dark woods it creates a very sophisticated home
The gray in this casual, transitional space adds warmth and anchors all the white upholstery in the room
(Source: FreshHome)
A modern living room with deep monochromatic grays and blacks is pumped up with the contrasting plum carpet which introduces some levity - sooo comfy looking, right?
GRAY DINING ROOMS
(Source: Belgian Pearls)
This Belgian dining room began with beautiful recycled cabinet doors and blue-limestone floors, so adding the gray-washed table and chairs were naturally a perfect fit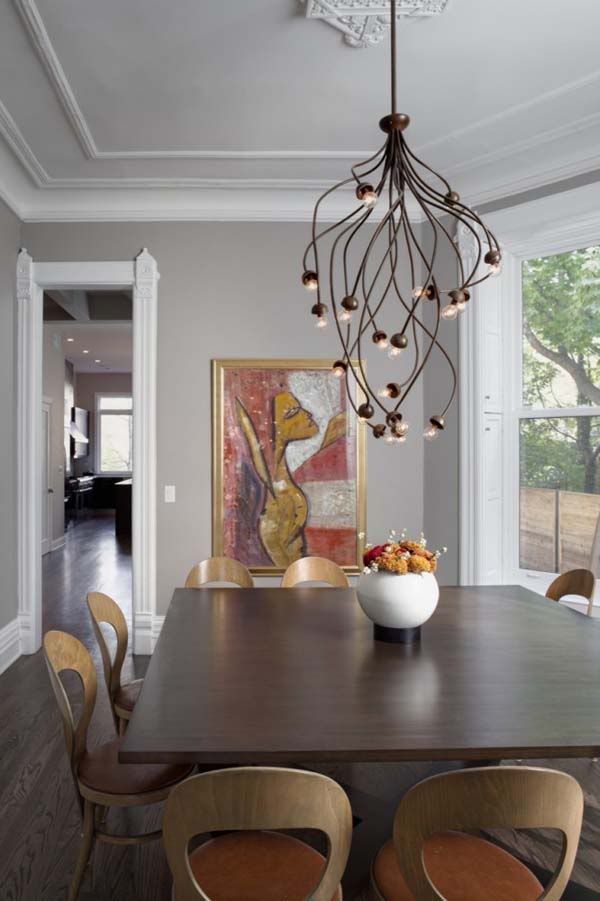 This Victorian dining room uses a soft gray with a drop of beige in it which looks amazing with the dark and light colored woods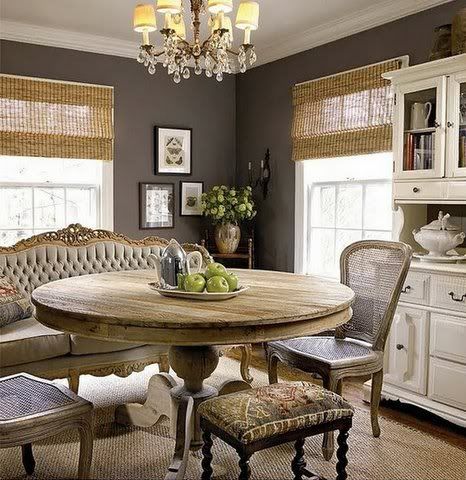 Mish-mash-O-rama! The pieces - some painted, some stained give a wicked designer look for less. A vintage '72 hutch - painted white; two Door-Store French chairs are "pickled" and a ridiculous sofa covered in natural linen all work together for a hot Bourgeois-Bohemian look!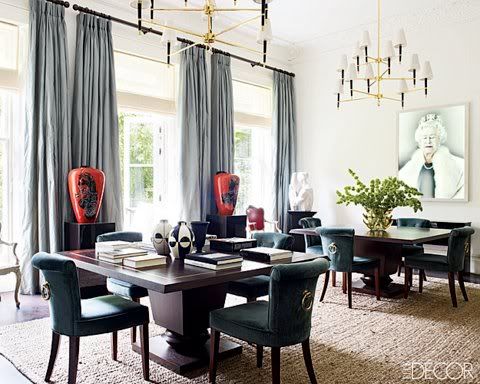 (Designer: Sophia Barattieri)
Her majesty would approve! Cloud gray walls, steely gray silk curtains and teal velvet chairs...GTFO!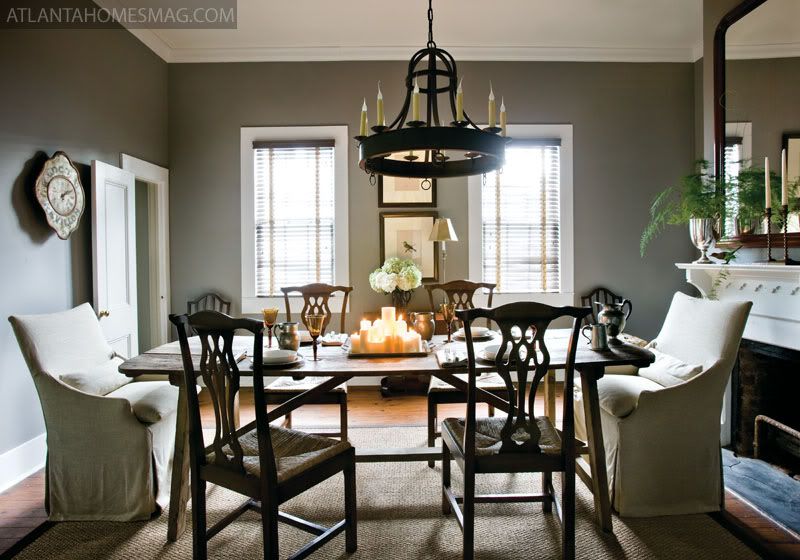 (Designer: Jimmy Stanton)
Country gray with simple period pieces and
BOOM! der-it-is!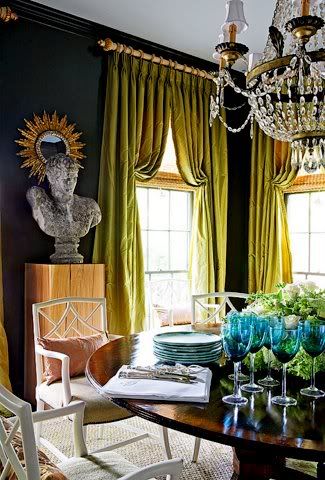 (Source: Traditional Home)
LOVE the deeeep graphite colored walls with the chartreuse silk curtains - they must totally glow after dark....I wanna be invited to dinner there!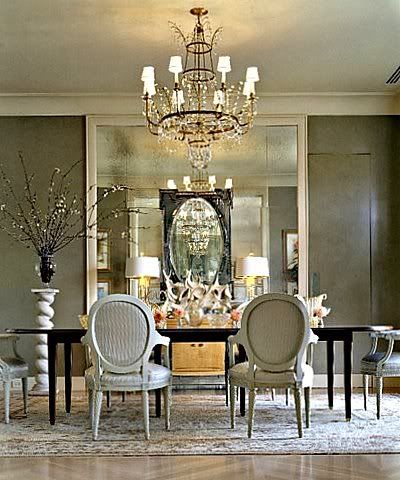 I think I just pee'd a little in my pants...is this hot or what?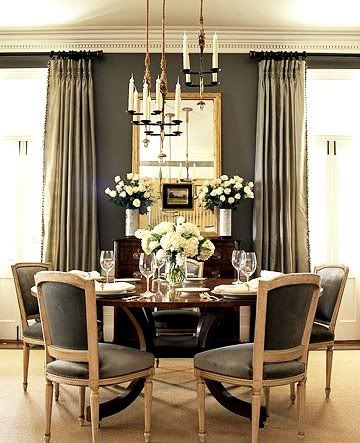 The basic dining room formula ramped up with the newest color! Love the variegated curtains of beige and gray silk and the plain sisal carpet
GRAY BEDROOMS
(Designer: Andrew Rose and Jenny Dyer)
This is designer perfection! Light, bright and perfectly assembled
(Source: Atlanta Homes Magazine)
This handsome restful bedroom is zhuzhed up with the pony hide ottomans. I love the colorful images above the bed too; one little pop of color is important in a monochromatic room
Think gray rooms can only be modern? Think again...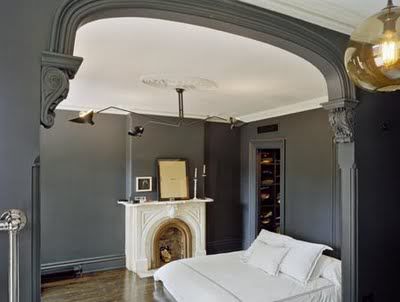 Easy decorating: 1. Have awesome deep gray walls 2. Remove all chazzerai 3. Make up an all white bed = done!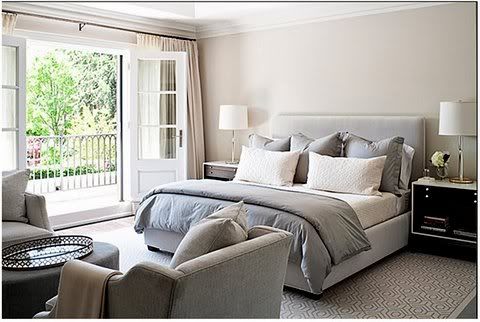 (Designer: Jennifer Worts)
Transitional rooms: A balance between traditional and contemporary is what most of us want now. I'm so diggin' that they didn't put something predictable (like a sunburst mirror) on the wall over the bed
(Source: Hotel Recamier)
This boutique hotel in Paris uses an upholstered headboard with a simple panel as a canopy. The varied tones of gray around the room make it chic and "now" looking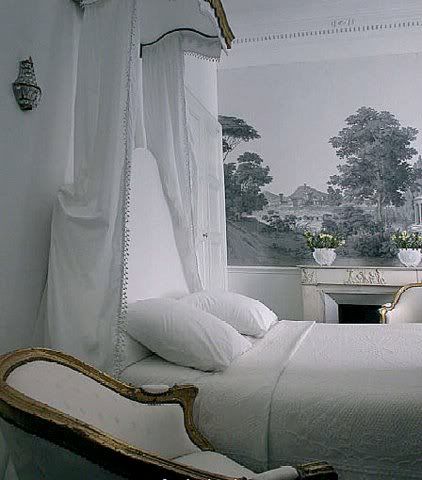 (Source: French Country Decorating)
This French-style wall mural is ramped up with the bright white bed hangings and covers. Notice the warm-toned gilt chair and corona on the bed look so smart against the cool-toned grays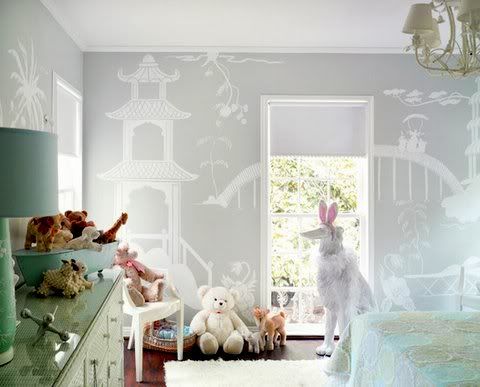 What a precious nursery....these walls would also be killer in a dining room or foyer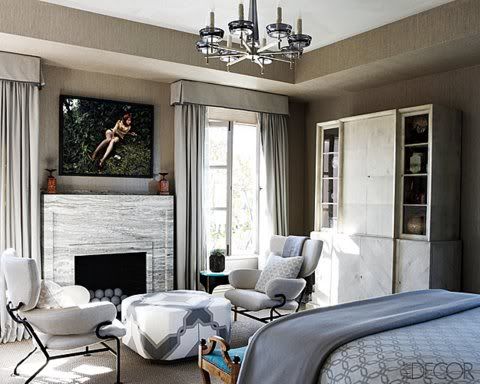 (Designer: Jay Jeffers)
Tones of gray and taupe are harmoniously paired here in this uber-restful moderne bedroom
GRAY BATHROOMS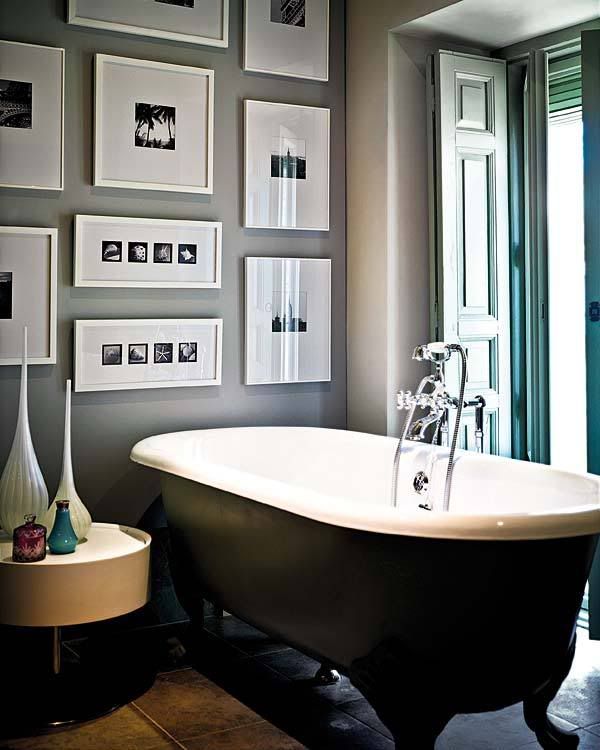 Old house bathroom + black and white photography = restful!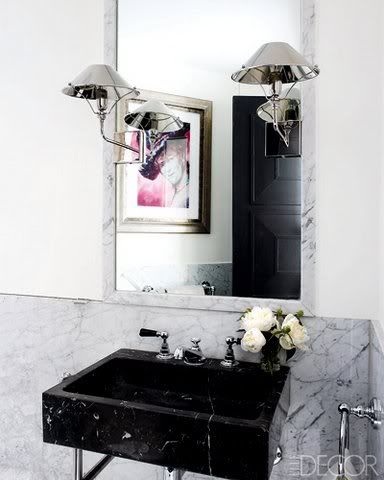 (Designer: Paolo Moschino)
Carrara marble is baaaaack.....
(Source: World of Interiors)
Not all grays are created equal; this one has a couple of drops of green in it, giving it a completely alluring and unexpected tone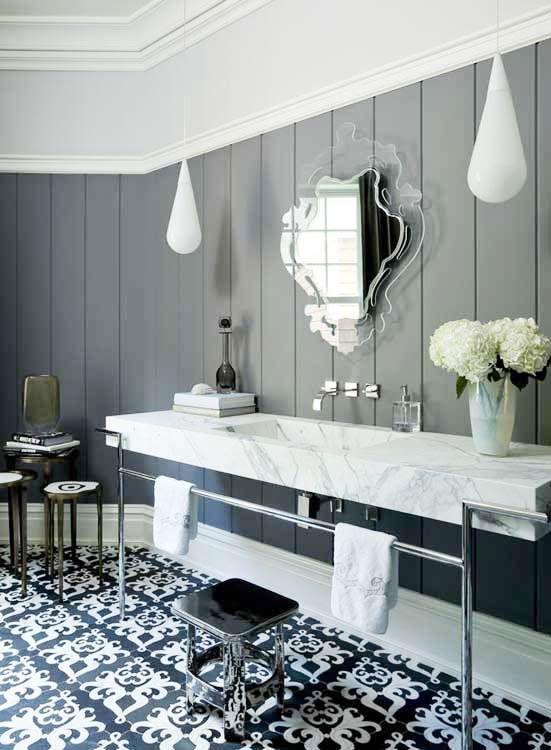 (Source: Modern Declaration)
Rock this! LOVE the solid chunk of marble sink top
Chrome, Lucite and white glass....mmmMMmm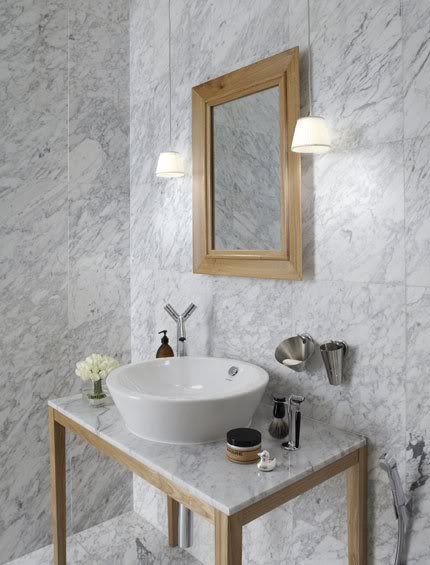 (Designer: Philippe Starck)
Carrara reigns!
(But, I'm tired of vessel sinks!)
This sends me over the edge...so hot and so beautiful...
Love, the slate wall tile with the cement floor, tub and sinks. The ceiling mounted tub filler is just OTT!
GRAY KITCHENS
(Source: Habitually Chic)
Can it get any simpler?
NO nickel hardware, no stone tops, no decorator shit hanging on the walls beside the cabinet
(Designer: Timothy Haynes and Kevin Roberts)
The large-grain terrazzo floors direct the space: Dove-gray leather chairs, white quartz-stone top and black trim - sexy!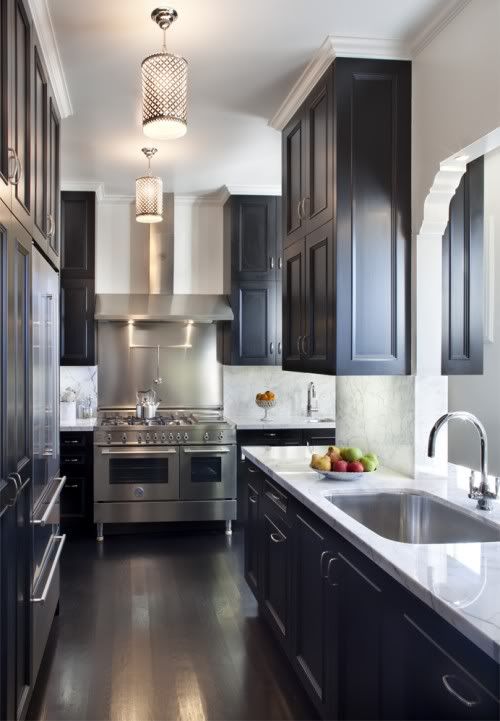 Traditional kitchens get transitioned into cool with a coat of graphite paint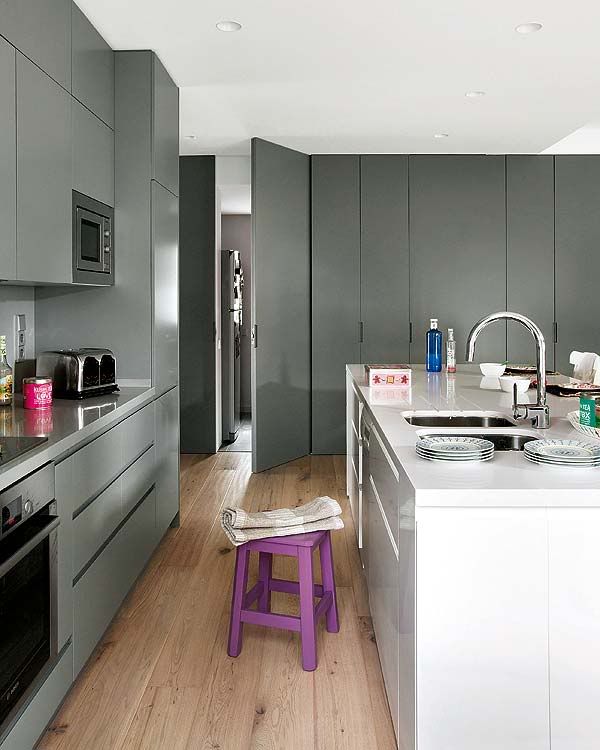 (Designer: Arquitectura, Barcelona)
Contemporary kitchens are never out of style in gray. The white island is perfect juxtaposed with the darker cabinets
GRAY OUTDOOR AREAS
(Designer: Joaquin Torres, Architect)
Tired of all the wild bright textiles for outside yet? You will be....
(Source: Atlanta Home and Lifestyle)
A cabin in the woods gets brought into the 21st century with the graphite upholstery creating a quiet restful vibe
(Source: Fresh Home)
This sleek modern house uses gray upholstery outside which blends in perfectly with the tones of the driftwood colored decking letting the views reign supreme
(Architect: Gil Shafer)
This cozy porch with its light-gray checked upholstery, blue painted floor and gray painted trim-work looks bright and happy - especially with the blue and green accent pillows
GRAYTE WEEKEND HOMES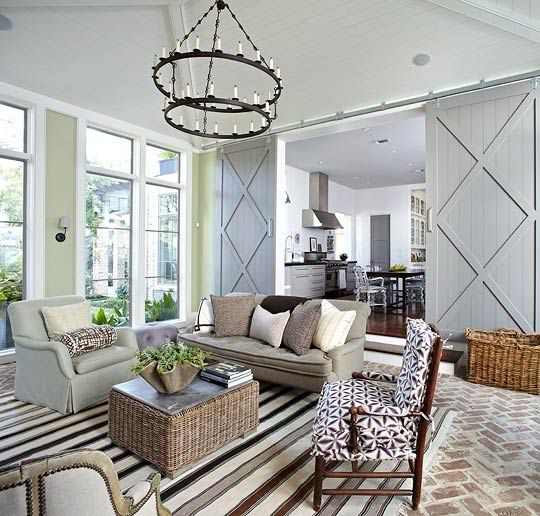 (Source: Designer Home)
Who wants those formulaic cutesy Williamsburg colors these days?...feh!
These natural beige's and gray's are much more sophisticated - and informal
(Source: Casasugar)
Cheap and chic! Used barnwood fabricated into a headboard makes this room feel beachy
Pale gray walls, black and white photos and a few gray accents creates a cozy, easy to maintain guest room
(Designer: Hallberg-Wisely)
Next to the beach the natural sand and driftwood colors are brought inside. The raffia chairs are upholstered in soft gray chenille which doesn't interfere with the view - it compliments it!
I know y'all gotta be tired of that tired-ass linen and white stripe upholstery Angelo Donghia used for beach houses 30 years ago. Gray stripes offer crispness without the twee....
(Source: Elle Decor)
These upholstered pieces in charcoal chenille look great resting on the gray shag carpet in this Malibu Beach house.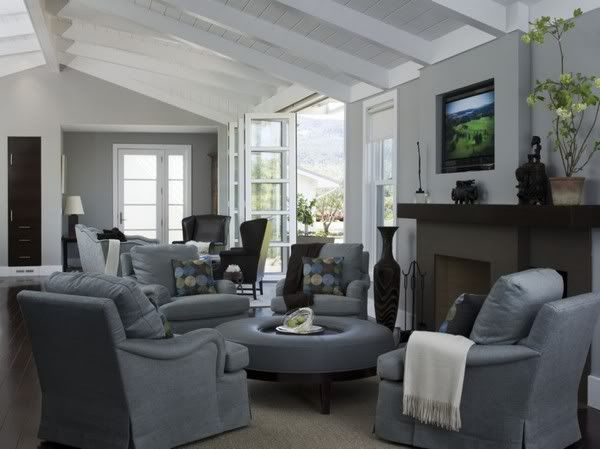 (Designer: Jean Larreta)
This country house has gray cotton fabric on all the comfy
English style upholstery
in this pale-gray living room. The lack of pattern and tsochkes makes this transitional space feel more contemporary
You can do it, I'm here to help!
202.669.8669
jpdsodpb@aol.com