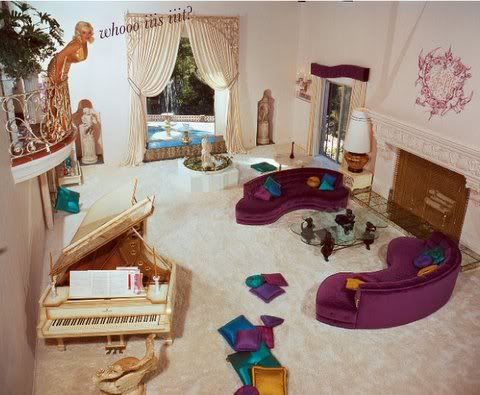 (Jayne Mansfield's Beverly Hills Home ca. 1959)
As people all around the world know - I've never been known to keep my opinions to myself....especially when it comes to really bad interior design. One of the things I find most egregious is an interior trying to look "rich" or imply wealth. Those are the ones I love to rail on the most...but that's just me....
Whilst harvesting photos for this blog I often come across photo's which I'll place in a file called "Bad Examples." Those photos are used for making a specific point with my design advice in forthcoming Master Classes.
I thought it would be fun to share these bad examples with you and explain why they're bad as it's also a good way for you to avoid these mistakes.
Ironically, some of these are beautiful rooms are done by leading designers .... who's mistakes I'm more than happy to point out.....
WWJD = what would Joe do?
THE TOTALLY RIDICULOUS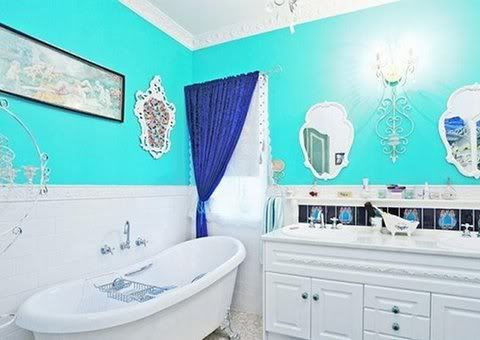 Walmart's top of the line, I assume....
You think that aqua, turquoise and royal blue all works together??Really???
You can't make a room look luxurious that's outfitted and accessorized with crap, SOMETHING has to be of quality!
1. Strike a match...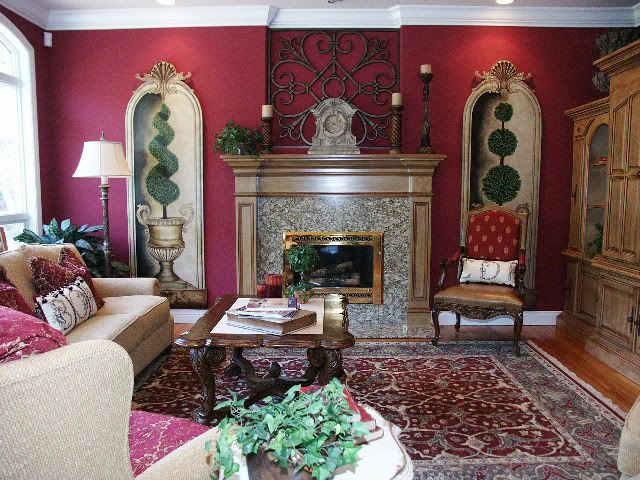 J.C.Penny's "old money" look.....?
Really??? You think that hideous fireplace, cotton Oriental rug o
r those "tromp l'oeil" niches are
making your room look upscale and elegant?
1. Remove the fireplace and place a large (open legged) console on that wall.
2. Place a large painting or mirror over the console.
3. Lose the fake rug - it's too dark and makes the room look small, not cozy.
4. Get a beige and rusty red rug with a slight geometric pattern. The room will look bigger, smarter and less cluttered.
48 hours and $200. (or less)
I can only assume this is one of those rooms that someone did over a weekend and had to use everything from grandma's attic.
Everything's bad, not worthy of comment...
1. Get an Internet connection and see whats going on outside your cul-de-sac.
MODERN MISTAKES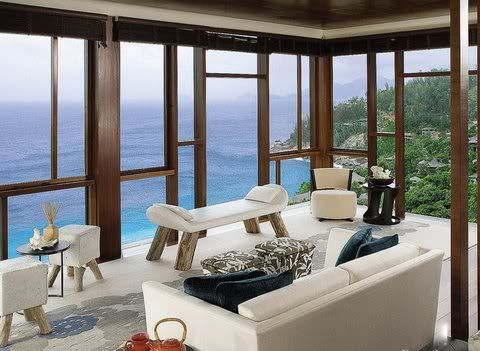 OMG what a view!
But seriously, what's up with that puny furniture? Everything is wayyy too small.
The powerful view demands the furniture feel solid - not timid!
1. Use an "L"shaped sectional facing the view.
2. Use low a chunky table as a cocktail table.
3. Lose the Venetian blinds (drawn up in photo) and replace with soft textural open-weave curtains for softness and to filter the direct sunlight when neccessary. They will add texture and softness.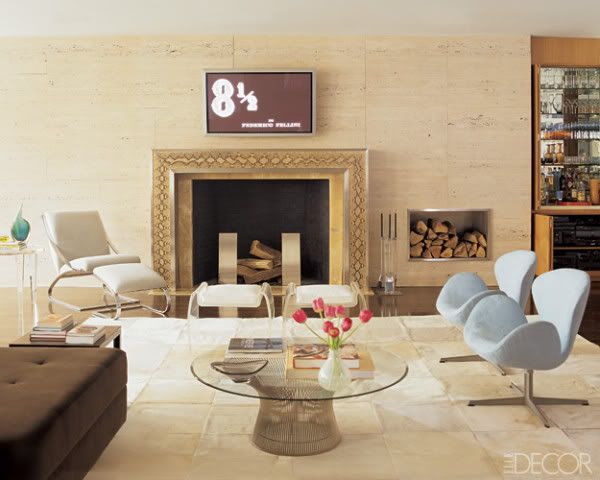 A totally 21st century groove.
Lets say your friend Mike Meyers stops over for a some kawfee tawk.. O
K, well, uh, lets stretch out over here on these cozy, comfy blue
Swan Chairs
and I'll drag that
Platner
glass topped table over to sit our coffee cups on....
It's all for show! The stupid furniture placement doesn't allow
either seat to converse with another.
1. Place a sofa in the space to "ground" all the floating pieces.
2. Pull the chair and ottoman and the two swan chairs closer to the cocktail table.
3. Close the audio cabinet under the bar before taking the photo...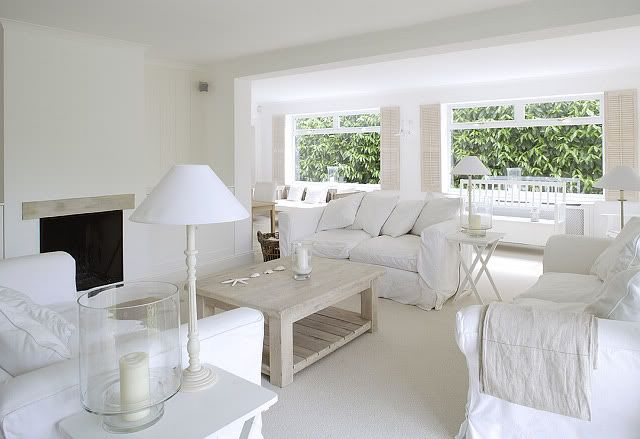 Such a thing as "too much white?"
Yup, here it is...we're naturally attracted to all white rooms....the truth is they're a total pain in the ass as they need to be totally spotless or they'll look dirty.
White should be used as an envelope...not a scheme.
1. Paint the floors with a pastel color, this will help cover soil and create a single plane of color.
2. Accent the room with some accessories in the same tones as the
floor. If the "super white" scheme is preferred pastels can add
zip
without
being a bold statement.
3. Add interest through art or some interesting focus.
4. Bring in a couple of large trees.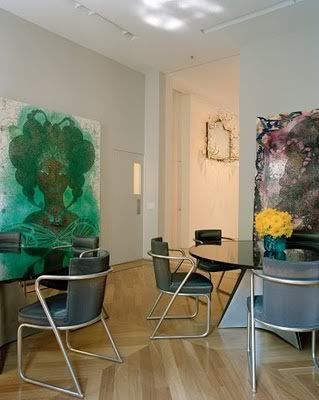 There's nothing wrong with large modern rooms with killer art,
just don't make it look like the executive lunch room at IBM!
Aren't dinner parties supposed to be intimate and put people at ease?
My feeling is this is too frigid to put guests at ease.
1. Use upholstered or "softer" chairs.
2. Consider a large, plain carpet.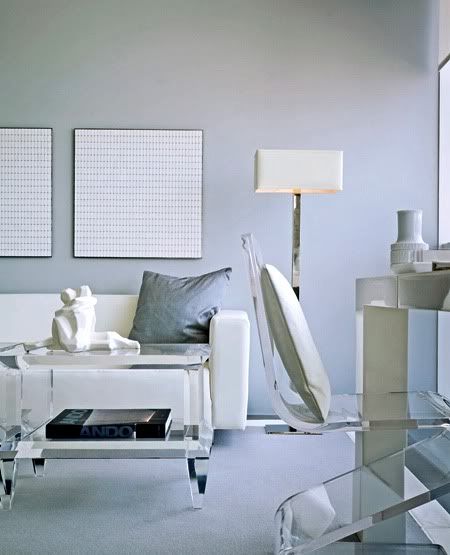 Modern shouldn't mean boring,
monochromatic schemes can be wonderful but they need to have some interesting elements, currently the room has no
dimension or interest.
1. Add a colorful painting over the sofa
2. Throw a black lacquered cocktail table in there
3. Add texture some how, everything is too "slick." Maybe a
Flokati Rug, or thickly woven textiles on some upholstery.
Cool house!
The owner of this 4 million dollar house has a
$150 fake zebra stamped cowhide rug
? Really??? Whaddup wit dat
??
2. Use a plain cowhide in its own natural colors.
Nice Chic Room!
Helloooo over there, can u hear us??
1. Put chairs closer to the sofa.
2. Always have a small table next to chair to rest a drink on.
3. Ottomans are the last choice to sit on during a party as they're not comfortable at all - especially for those over 50.
4. Place most seating within the ideal "conversation distance" of 5 feet from one person to the other.
better throw another log on the fire 'cause that room is freekin' frigid!
One sofa, one chair, one lamp and two pillows? Really???
1. Add a tree. Rooms with lots of floor to ceiling windows need
an indoor tree
to blurr the lines between outdoors and indoors.
2. Add a carpet
with texture.
3. Add some organically inspired things - curvy chairs, or wooden pieces to make it warmer.
Nice clean lines!
But enough already with that 1978 monochromatic shit.
Those three caramel colored pillows don't make it pop - they make it droop...
1. Add some interesting pillow fabrics in either pastels or brights
2. A groovy tree - with big leaves - behind the sofa in the corner would be perfect too.
3. Lose the retail "off-the-shelf art"
TRADITIONAL MISTAKES
Beautiful Wallpaper, Nice Antiques!
at first glance this room looks charming....
Correct a few flaws and it will be charming. The furniture in this room feels so "leggy" and the room
is missing a central focus.
1. Place a larger console or buffet against the wall.
2. Bring the four paintings in closer to the mirror and raise them
slightly to "beef up" the
grouping - 6" off the mirror's edge.
3. Use the Chinese chairs beside the buffet not at the table, makes the room look confusing.
4. Get a larger, less patterned carpet
5. Drop the chandelier down, the bottom should be 30-32" off the table top.
Love the Wall Mural!
The colors and pieces all work well together. I love the sepia-toned mural with the dark floors. The architecture of this older home wasn't considered when the interiors were selected. T
he "chunky" mantle with it's strong horizontal lines makes this room feel squatty and low-ceiling'ed. That problem is exacerbated by the installation of the new oversized crown moulding and painting the ceiling taupe - making the ceilings feel even lower still
1. To make the ceilings feel higher mount the window shades at the
bottom of the crown moulding.
2. Paint the ceiling white.
3. Lose the goofy "lamp tables" on either side of the fireplace and
replace
with two floor lamps. The lampshades should be solid,
not silky or see through. If the lamp shades are brighter than the
chandelier they will be the focus, not the main attraction. Solid
shades provide light furtively.
Gorgeous Stair Hall, Amazing Architecture!
Architecturally, everything is awesome, but this foyer is too small to have a center table. You're actually forced to walk half on the carpet and half on the floor - not good. And WTF are those stools doing directly in your walkway?
1. a: Add two opposing consoles.
b: Add
a console on one side and a large bench on the
opposite wall.
2. Lose those two stools in the middle of the main walkway.
Never create an obstacle course...
3. Add a lamp on the console so you can have soft light in the
f
oyer - not bright, general light drifting down from two floors
above.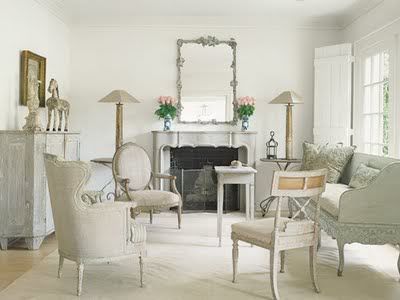 Pretty Antiques!
Pretty room, but impractical unless you're some old Swedish dowager.... There's nothing practical to sit on! There's too many chairs and table legs, and no personal items. (Straight) Men would hate this room.
1. Add two fully upholstered chairs to anchor the room.
2. Add some books or a live plant.
3. Add a gilt framed mirror over the fireplace, it will make the room sparkle and pop a bit more. It's very "flat" now, without any punch.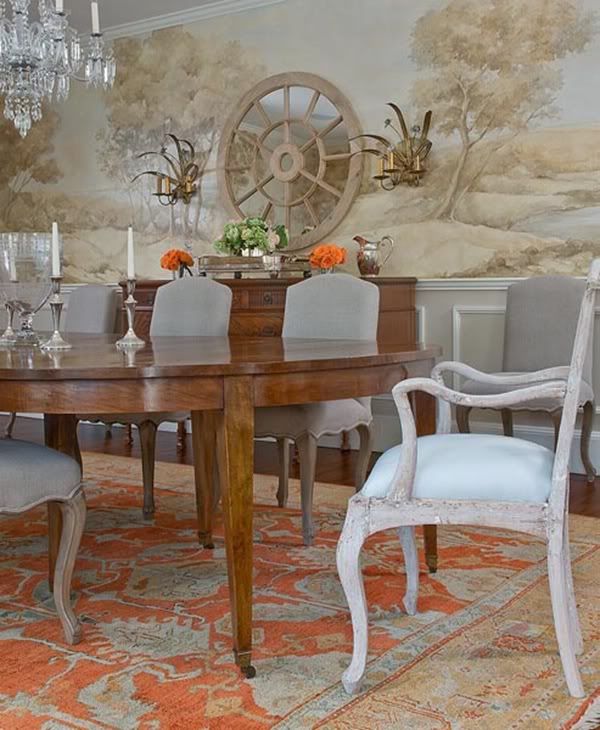 Nice Colors and Furniture Finishes!
The furnishings are all nice and appear to be the right scale for this room, h
owever.....
1. The arms of the dining chairs don't tuck under the table top, not a crime but not great.... it limits some people getting close enough to the table.
2. Get rid of that stupid puny "wagon-wheel" mirror over the buffet. I assume they probably didn't want to cover any of their wall mural, but there should be a huge-ass mirror or painting over the buffet.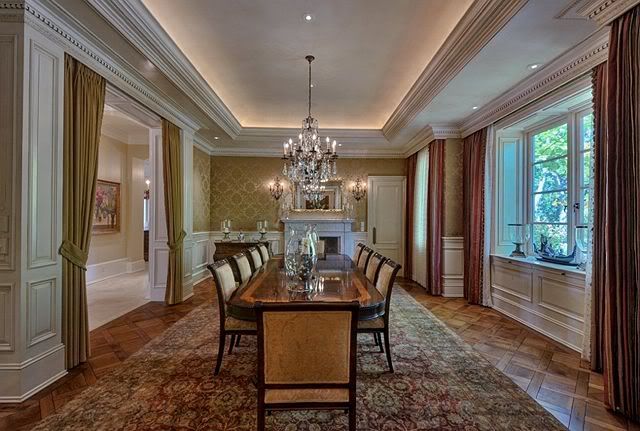 Nicely Scaled Dining Room!
But it looks like a private dining room at a hotel.
This is a case of "over building." This space has wainscoting, parquet floors, cove-lighting, fireplace, curtains everywhere, silk wall-coverings, etc, etc.
That big-ass Oriental carpet and the board-room style furniture is just so pedestrian...the whole room is trying to imply "success" too hard.
1. Cove lighting
always
looks commercial.
2. There needs to be more furniture in the room, maybe a settee
under
the window.
3. A light colored or sisal carpet would take the pretentiousness off the space.
4. Chairs with a less rigid design would soften the space, take away

the boardroom look

.
5. Some nice art on the walls would be great.
6. This room could handle two round dining tables.
7. Lose the curtains at the door - you're not at the Paris Ritz, you're in a tacky gated community.
8. Nothing on the windowsill, ever! Unless it's a plant.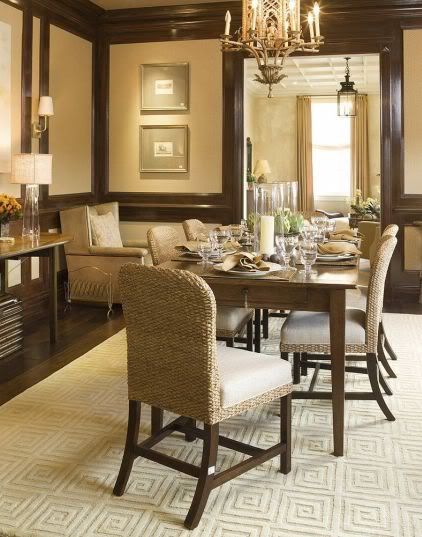 Stunning Room!
Whats that lounge chair doing in the corner of the dining room???
It's got a magazine rack next to it too..really???
1. Lose the chair and magazine rack.
FYI: Maybe a chair or settee in a bay window, but never in the corner like that...it's goofy.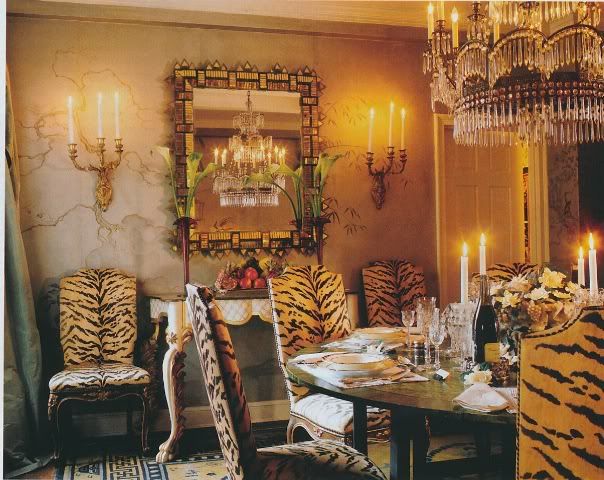 I Love's Me Some Silk Velvet Tiger Fabric!
Talk about gilding the lily...I think this decorators motto is "no surface left behind." This well proportioned dining room is overwhelmed by the layers of decoration. Each of the pieces are lovely and look like quality.... But, somethings gotta go...
WWJD?
1. Lose the Chinese rug, it's just too busy for this room and the
bright yellow gives an odd tinge to the silver-leaf Chinese
wallpaper and silver-gilt accents.
2. The
tiger velvet upholstery or the handpainted wallpaper deserve center stage, but you cant have both
.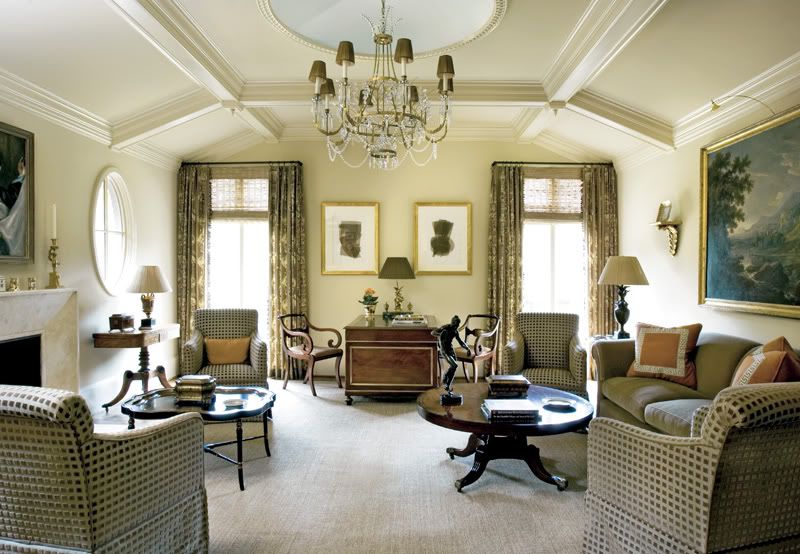 A Smashing Room!
What a pretty space, well-proportioned and comfortable. Howeverrrrr.....For a traditional room it's all too stiff.
1. Lose two of the four identical club chairs - the plan is too rigid with four of them.
2. Get two different pairs of club chairs. Using two squarish ones with two roundish ones, or one large chair, one small chair and two matching chairs.
FYI: Four matching chairs in a contemporary setting looks great sometimes, in a traditional setting it looks very "lobby-like."
A Handsome Mediterranean Room
Pretty space. Nice floors, table, chandelier but crappy faux-formal dining chairs.
1. Get
upholstered back,
less formal dining chairs.
2. There's too many hard surfaces; add casual, soft off-white curtain panels.
3. Add a carpet; a round sisal one would be casually chic.
Nice Architecture!
But how boring can you get with all that sepia-toned printed linen everywhere...ugh.
1. Add some burnt orange or French blue to make it pop, cause it
ain't poppin' now...
2. Lose some of that upholstered stuff, it's just too feminine looking.
3. Get some art that isn't color coordinated, that sepia-tone flower
is beyond heinous.
4. Have something fully upholstered in the room, now everything
has exposed frames from all different periods...not good.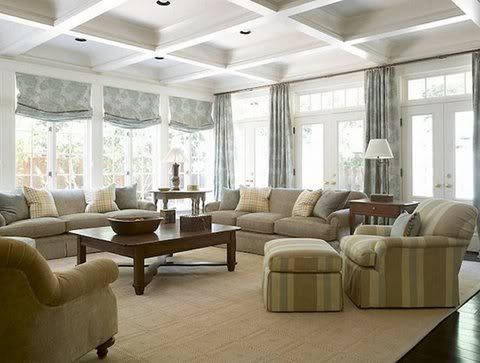 Love the Architecture and Palate
A good arrangement, attractive pieces and lovely textiles b
ut....
1. Use all long hanging curtain panels; the London shades look
stupid on one wall only. P
ick
one
style and stick with it -
regardless whether they're doors or windows.
Roman blinds on doors aren't easy to use, so all windows
should've had full length curtains on poles.
2. Wheres their "stuff?" No tsotchke's or books makes it feel so
sterile.
3. A tree is needed in the corner too!
A Truly Grand Room!
The perfect table, handsome wainscoting, a glorious wall mural, pretty curtains and great mirror....
1. I'm
loving the antique white finish on the dining chairs paired
with the mahogany table, but that tired-ass 1980's tapestry
fabric just totally wrong. A beautiful "antiqued" russet colored
leather or small "French" geometric pattern would've been
perfect.
2. Lose the tiebacks on the curtains: Never use tiebacks...they're sooo Park Avenue 1976.
FYI: The tapestry fabric competes with the beautiful walls. ONE thing needs the be the focal point.
A Pretty Bedroom
at first glance.... but, its got issues...
1. Get a larger carpet
2. Don't install the curtains on the face of the window casing - in a bay window, they should almost always be mounted at the ceiling line.
3. Don't install curtains that look like they're from Sears Home Catalogue... Swags and jabots are soooo passe'....ugh...
4. Bed-side wall lamps should usually be installed about 40 - 46" high....not 6' high as shown.
5. The ceiling should be white.
6. The chairs look cheap and uncomfortable, they're in the MBR, they should look comfy.
7. Another color accent would compliment the room, there's too much blue which makes it boring.
FYI: Wall-to-wall carpeting is often the best in a bedroom, it helps with the acoustics and makes a room feel larger.
Hmm, can't think of something positive here....
The architecture is absurdly amiss and over-reaching. That huge chimney breast with that teeny-weenie firebox looks retarded. The windows, built-ins and doors each have different header and sill heights....then, the four pieces of furniture in that huge-ass room are totally the wrong scale...
1. Call a Realtor, or a demo team
Great Wallpaper,
but, that's where it ends...
1. They've done something silly by installing the wainscot to
coordinate with the wallpaper pattern - which makes the
chair-rail
wayyy too high. If t
he wallpaper went
from
floor to
ceiling without a wainscot it would be perfect.
2. The crappy wainscoting has been painted three different colors
which highlights its poor quality and attracts attention to it
instead of the good quality wallpaper.
Rooms this size shouldn't
have wainscoting at all as it makes a room look small.
3. The mirror over the buffet should be vertical, never horizontal!
4.

The low-quality dining chairs shouldn't be upholstered in two different
fabrics, it creates visual clutter.
The room would be very pretty
if the chairs were
painted antique
white and
upholstered in
the green geometric
pattern only.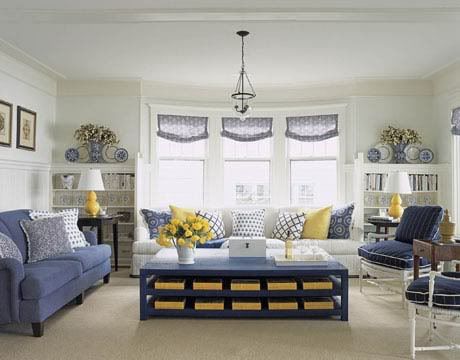 Great Beach House Living Room!
This house has a personal feel - like a real home. Touches of yellow are helpful and happy.
1. Lose the National Geographic magazines stacked up for their yellow color is just too cutesy - regular books would be better. Too many color-coordinated accent pieces are never good.
2. Don't fill bookshelves with plates and iscellaneous junk just because you don't have books. Go to the Salvation Army or thrift store and buy a hundred books at 50-cents each and fill the shelves, leaving room for the occasional plate or tsotchke.
FYI: In a beach house such as this, old books are read by guests who forgot their book or finished the one they brought. With 50-cent ones around they can take the old Ann Rice, James Patterson or Dan Brown novel home and it's OK!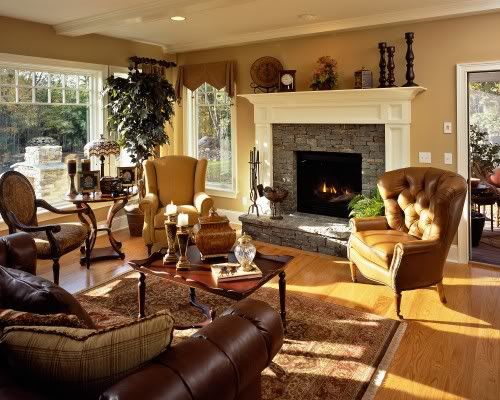 But sooo many decorating mistakes...You cant even get a painting above that mantle its so huge!
Master Class of September 19th on Fireplaces)