CHOOSING THE APPROPRIATE HOUSE NUMBERS
How many times have you tried to find someones house at night and their house numbers are 2" tall on a post under a hedge?
I find it funny that people will buy or build an expensive home and be amazingly persnickety about certain things (e.g.: granite, paint colors, doorknobs) and then go to their local ACE Hardware and buy peel-n-stick house numbers and think it's fine....
Well, it's not - for many reasons:
Deliveries, mail, taxicabs and other drop-offs need to see your house number - easily

When you entertain, especially at night your guests need to see the house numbers, so they don't go to the neighbors home -who weren't invited

The fire department and police may need to find your house in an emergency

Many towns and states have a "visible display" code which you may be in violation of (see bottom of page)

Why would you cheapen your homes appearance by using tacky, inexpensive house numbers?
HERE'S SOME IDEAS ON HOW TO IMPROVE VISIBILITY AND UPGRADE THE OVERALL QUALITY OF YOUR HOME
Please click on
pink
or orange highlighted text for more information
WHAT STYLE IS YOUR HOME?
Italian or Mexican ceramic plaques with the numbers artfully painted look stupid on a colonial in New England, or bronze cast plaques look dumb on Adobe style homes in Santa Fe, and so on.
If you live in a mobile home then get the peel-n-stick plastic, aluminum or reflecto numbers, but if you live on Swanky Stuff Boulevard you'll need to pony up and make the numbers apropos of the address they represent!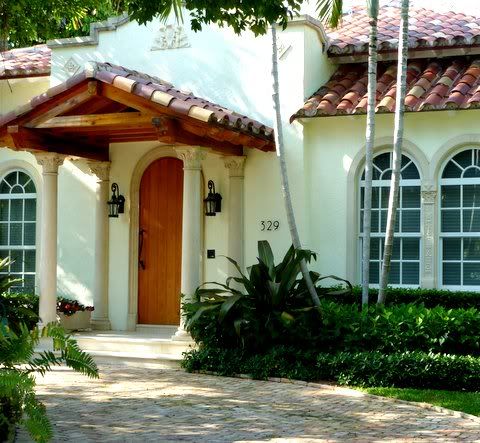 This beautiful Mission Revival style home has five-inch contemporary Neutra-style numbers placed on an exposed wall - clearly visible to the street.
The contemporary numbers don't interfere with the homes style and are easy to read.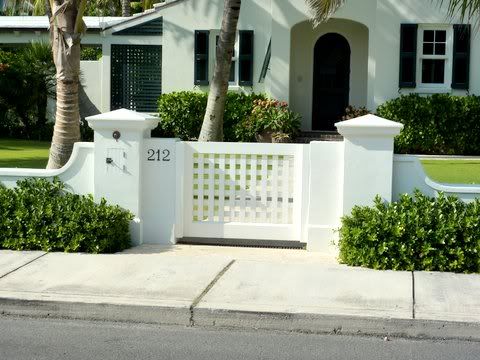 This beautiful Cape Dutch style house has plain black numbers on their gatepost. They're simple, visible and not a "decoration"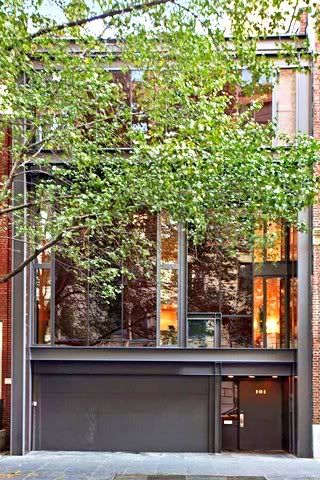 Paul Rudolph designed this townhouse in NYC for Halston; it has large, thick block numbers in stainless steel on the door.
Totally visible and perfect for the house....how else would Liza find the place in her drunken stupors....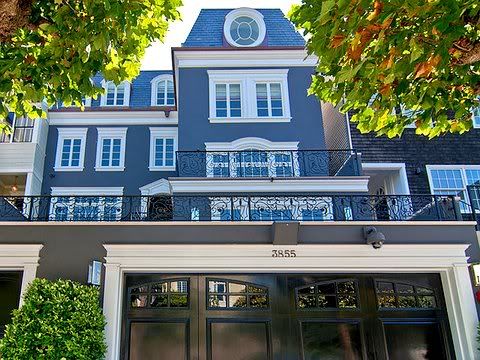 This San Francisco home high on a hill has their five-inch numbers legibly over the garage door, at street level - not up by the front door where you can't see it from the street
My own Bermuda-style home in Florida has black 5-inch 'Neutra style' numbers which are clearly visible from the street fifty feet away.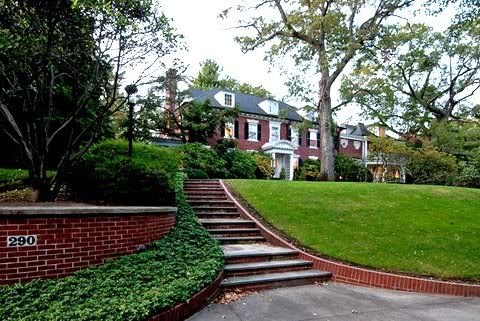 This estate-style house has a simple plaque with applied numbers. Visible and not flashy - perfect.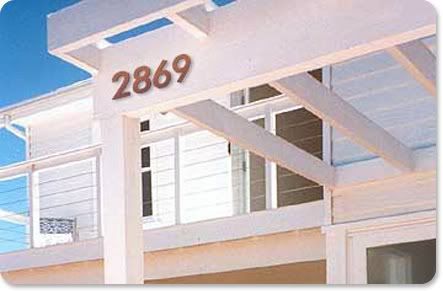 This California contemporary has 8" bronze, plain contemporary numbers applied to a very prominent spot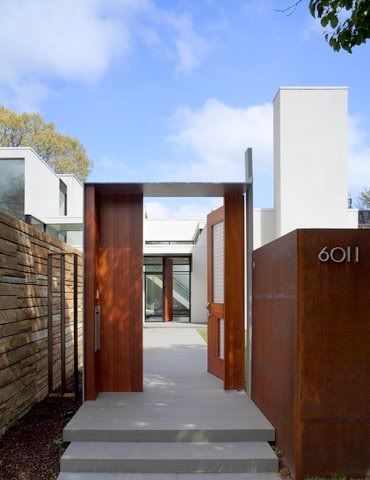 This modern home in Maryland has the Richard Neutra Numbers which are clear and well placed
DIFFERENT WAYS OF
DISPLAYING NUMBERS CORRECTLY
The number one consideration is how far is your house from the street. If close, small numbers will suffice; if it's thirty feet away you need a 5-inch number; sixty feet away you need 6-inch; 100 feet away you should have them at the end of your driveway.
ON THE HOUSE
Old Victorian Houses look nice with them painted on the transom above the door or on the pilaster beside the door. The numbers should be in either a 'period appropriate' lettering or a modern one - not colonial or a Mexican ceramic plaque
Mid-Century Modern Homes look best with mid-century style numbers (duh). They can be artfully places in vertical or horizontal positions - never diagonal
These Craftsman Style bungalows are both displaying 'period appropriate' style and size numbers in good positions.
Left: The green home has 6-inch Craftsman style
Right: The yellow home has 5-inch Caligraphic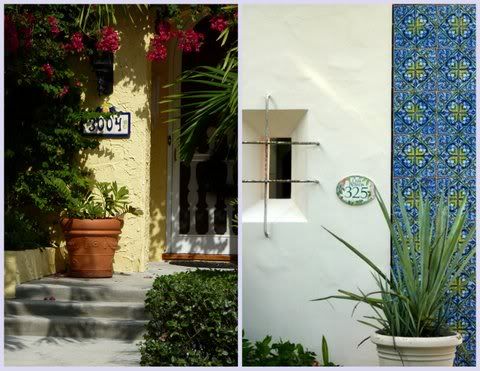 These Mediterranean style homes have ceramic plaques which are perfect. The problem is usually those are too small to see from the street.
These modern numbers look great on these traditional homes instead of those hideous Home Depot off-the-rack type.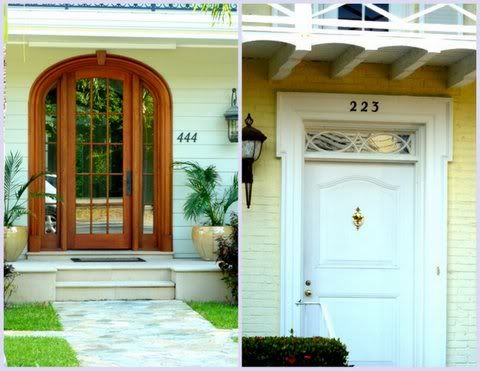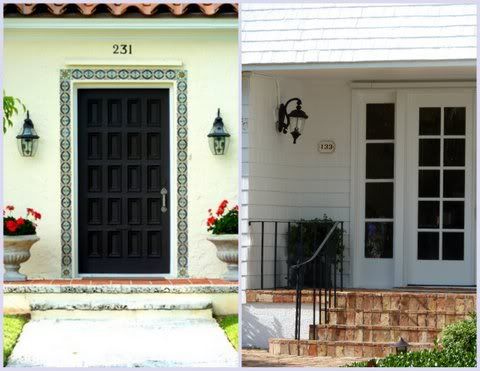 These homes have large visible numbers in practical locations - visible from the street
ON THE DOOR
I'm not a fan of numbers on the door as I think it clutters up the door too much; knockers, handles, keyholes, etc. It also reminds me of apartments. But, sometimes it's the only choice
These two beautiful entrances are using 6-inch numbers well-matched to the hardware and overall aesthetic.
Left: Black hand-painted ones on the blue door match the hardware; they look chic and add a higher-quality look.
Right: Brass ones on the black door are simple, understated and visible - also a quality look
Hand-painted six-inch Caligraphic numbers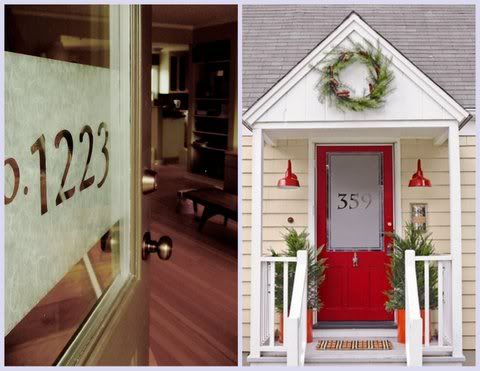 These two doors have etched/frosted panels with the numbers left clear. It's extra large, different and visible day and night due to light conditions
ON A WALL, PIER, PLAQUE OR GATEPOST
Often beautifully done - but just as often too small or illegible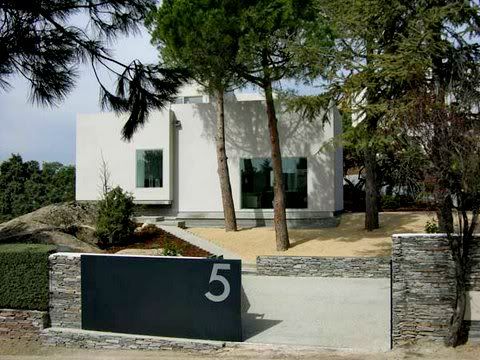 This beautiful contemporary home has the house number in its sliding entrance gate; visible, architectural and simple!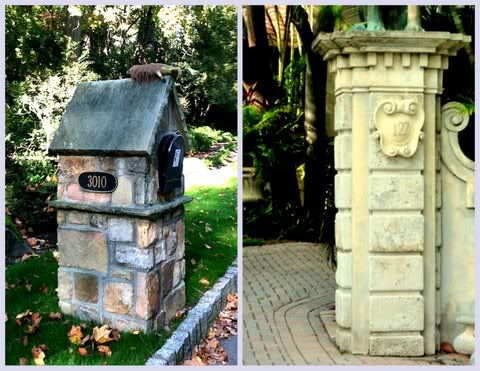 Left: This two-tone brass and black plaque is easily read and placed on the mail box where people naturally look for house numbers.
Right: These Beaux-arts entrance gates have a cartouche with the house number carved into it. The inscriptions needs to be painted inside or it will be absolutely unreadable to the passersby.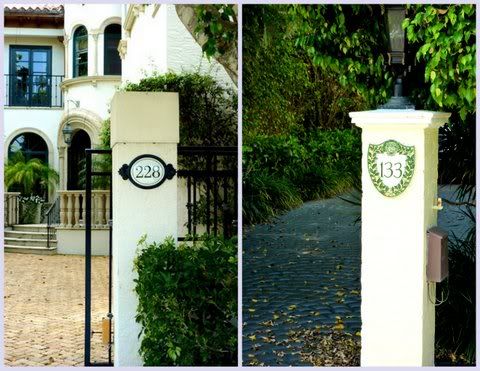 Perfect house numbers!
Left: A
metallic-enamel plaque with 6-inch numbers
Right: A ceramic
"cartouche" shaped
plaque with the hand-painted 5-inch numbers.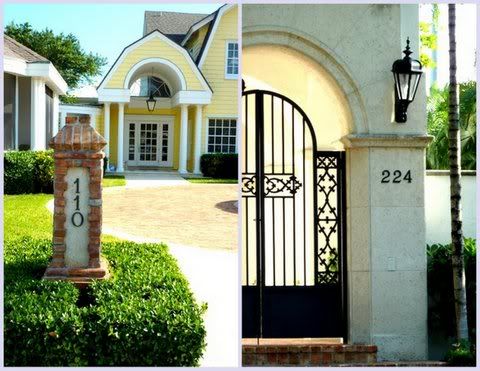 Left: A pylon of brick and stucco with the 5-inch metal numbers clearly applied to all four sides
Right: The column of this entrance colonnade has 5-inch blackened numbers applied to the front for easy identification from the street.
These contemporary homes have their modern numbers applied on their privacy walls. Both starkly exposed and clearly visible from the street. Subtle and low-key, but smart looking.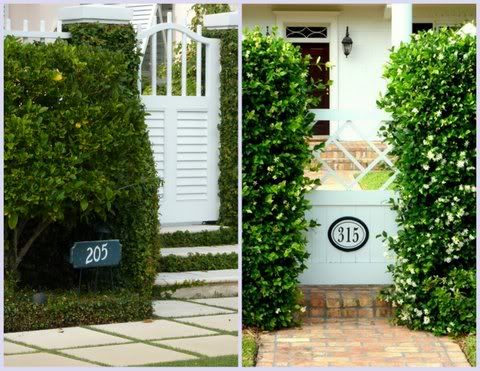 These two placards are both the correct size but both are too low and would be obscured by any parked vehicles.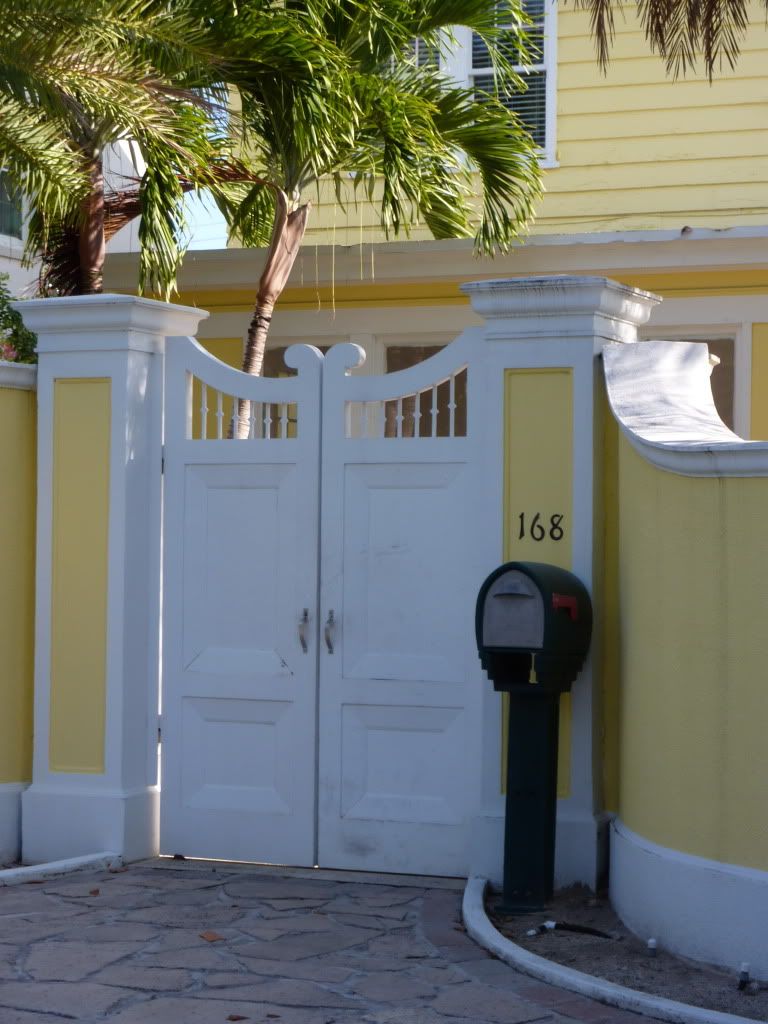 Here's a missed opportunity if ever there was one....
A stunning entrance gate with wonderful scale and details, but really WTF is up with that plastic mailbox and those 1968 house numbers?? A perfect place for an enamelled plaque or hand-painted numerals...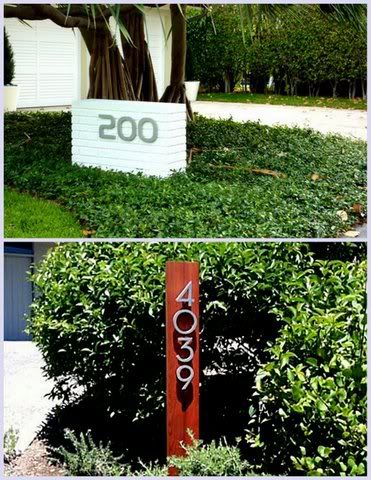 Pylons built specifically for the identification of the home.
Top: Brick with the large 12" stainless steel numbers is modern and adds architectural interest to the front of the house.
Bottom: Contemporary redwood post with the stainless numbers is very cool, visible and different too
TYPES OF NUMBERS
The good the bad and the ugly
ENAMELLED EUROPEAN PLAQUES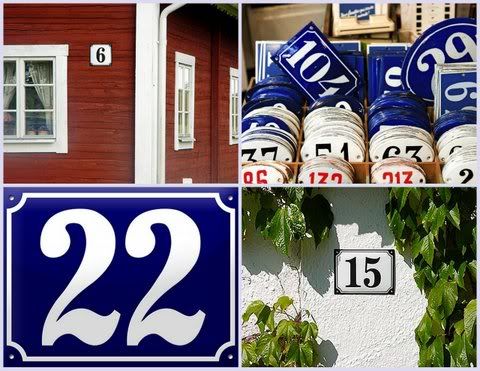 These small European style numbers are great - however, many European countries require homeowners to place the same style number (color, scale, manufacturer, etc) on the exact same place on their home as everyone else in town. This makes it easy as everyone knows where to look and what to look for. Also, houses are usually closer to the street and people approach by foot, so seeing them from long-distance isn't an issue.
SCRIPT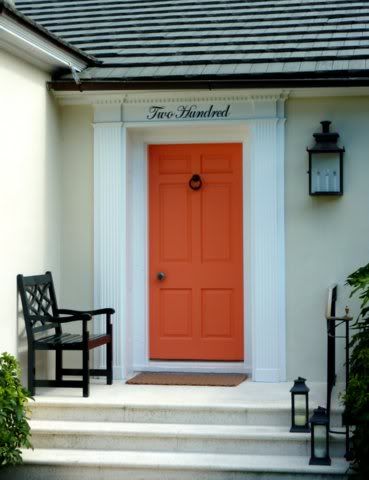 This is truly such an elegant way to display your numbers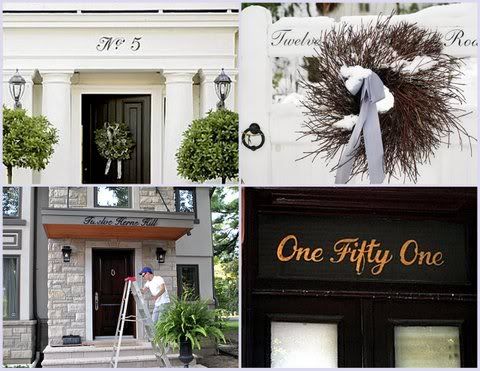 They just need to be clear script, good size, not overdone with flourishes and doodads, and in a contrasting color which is visible from the street. Script numbers should be written out:
Two Hundred Seventy Three,
NOT
Two Seventy Three.
You do not need, nor should you write the name of the street as well - it's too confusing. (eg: Two Hundred Seventy Three Lansdown Street, Northwest)
EMERGENCY NUMBERS
Many municipalities will paint your numbers on your curb (then send you an invoice)... But, that's for emergency use. Often cars are parked in front of them and most people don't look at the curb for house numbers, you still need something by the house which is visible day and night
ILLUMINATED NUMBERS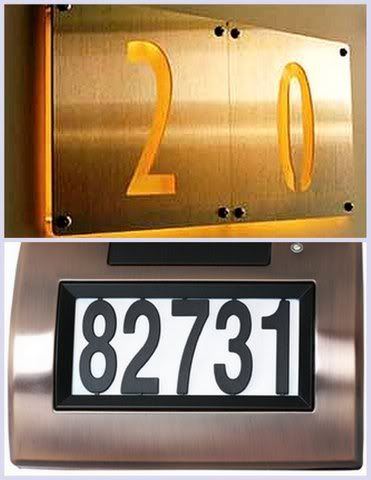 Illuminated numbers are practical - if they work. My experience with the type that affix to the wall is they're too damn small or the type face is too skinny to see from the street. If they're too large they look commercial
BUILT INTO THE ARCHITECTURE
I love these - but what if they ever reassign house numbers
you're F#&$ed
MODERN & HISTORIC NUMBERS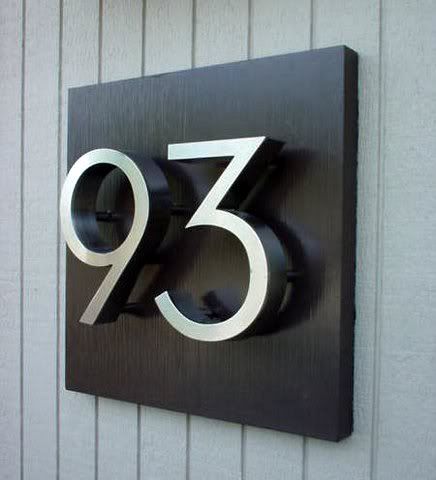 EICHLER STYLE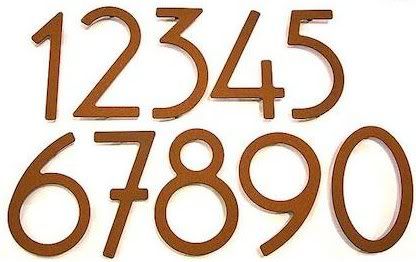 EURO STYLE
ARTS AND CRAFTS STYLE
LAGUNA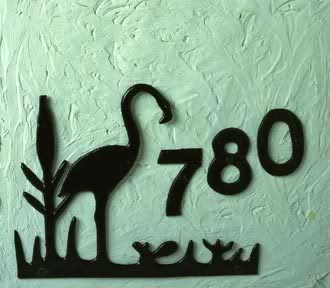 VINTAGE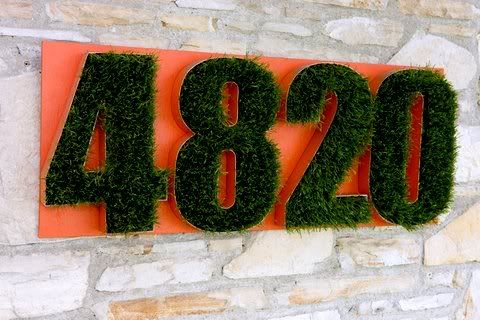 CUSTOM "ART"
HAND PAINTED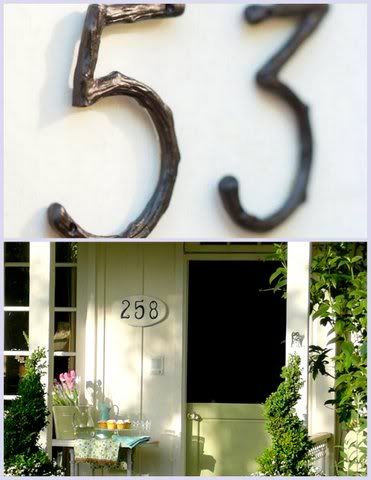 ARTISAN - HANDMADE STYLE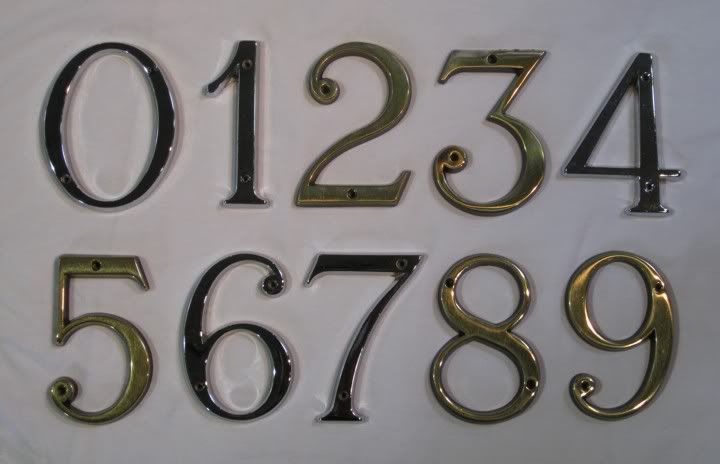 TRADITIONAL
NEUTRA NUMBERS
BAD HOUSE NUMBERS AND BAD PLACEMENT
TRUTH: All three of these heinuosities belong to homes in Palm Beach, each worth over 8 million dollars!!! Can you imagine an ocean front home with one of these beauties out front? Really, you think that's something that doesn't need attention???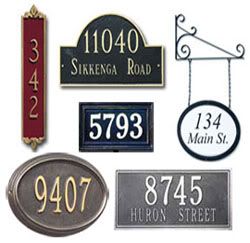 These aluminum plaques from Frontgate or Restoration Hardware
are just
sooo everywhere
now. I think they look cheap and not very special whilst trying to look upscale
This is the same thing as saying:
"Oh yeah, just stop by I live at blahblah04 Maple street"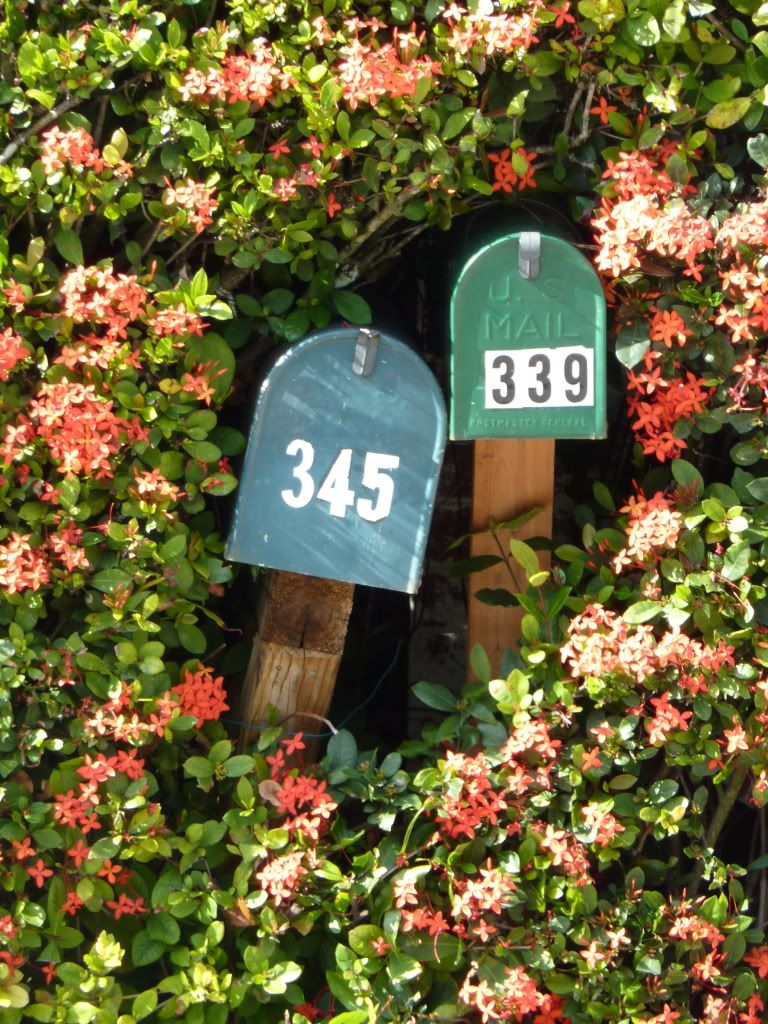 Awwww, ain't dat purty...
Peel-n-stick numbers on a $15 mailbox on a unfinished 4x4 post shrouded by bushes....and you cant figure out why your Jenny Craig deliveries are always delayed...
Top: Peel-n-stick are for vinyl-sided homes only!
Bottom: Home of the bored housewife who just redid her backsplash - you really think someone can read that from the street?? I can't read it lookin' directly at it... NO, its not cute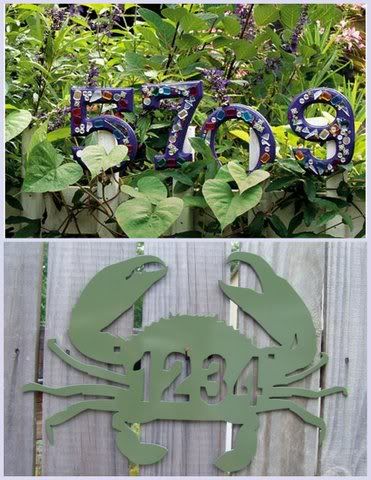 Top: For the craftsy stoners garden. Too bad your supplier couldn't read your stupid-ass numbers and went to the wrong house and got busted delivering your shit.
Bottom: From grandad's workshop with love - yah we can read it from the street gramps, really... ok, bub-bye
Why waste the limited space on these plaques with the street name? And, aren't you already on that street if you're reading the sign??
NEVER put your name on the outside of your home, unless you live in a trailer park... It's bad for security - I need to tell you this?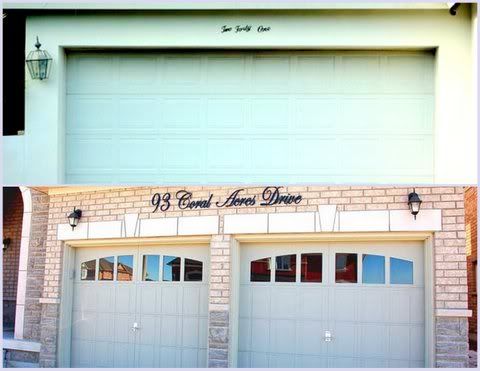 Top: FAIL; Really, you think that plastic script is legible from the street, let alone attractive and in scale???
Bottom: FAIL; huge-ass custom script lettering looks like a condominium - again, you don't need your street name
Left: FAIL; too high on the door trim so its hidden by the front porch ceiling...double duh!
Right: FAIL; think those 2.5" numbers on your security gate are legible from the street? Wrong!
For all you big spenders... Bronze is barely legible in the day, so it sho ain't legible at night...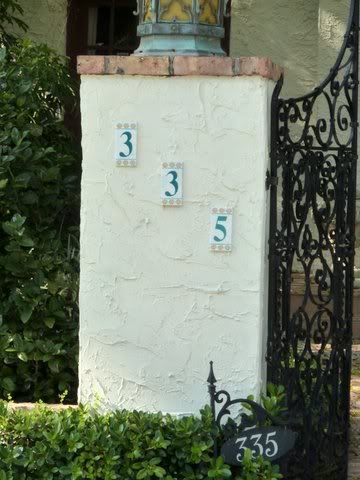 Never, ever put anything on the diagonal. It was a decorating trend in the late 50's and I cant believe people still do it...
Dontcha just love the one stuck in the bushes below too?
I always think of looking under the front door for the house numbers, especially on a rainy foggy night....
RESOURCES FOR HOUSE NUMBERS
HOUSE NUMBER RESOURCE
OnLine Advice on House Numbers
House numbers should be clear enough so that police, the fire department, paramedics, etc., can quickly locate properties in an emergency. House numbers are often the only way that first-responders can identify their intended destinations. A number of jurisdictions have begun enforcing laws through strict fines for homeowners who do not comply with laws that impose requirements for house numbers.
Local Regulations
Many municipalities and counties have implemented ordinances requiring property owners to standardize the display of house numbers on buildings. The city of St. Martinville, Louisiana, for instance, is considering requiring its citizens to display street numbers in block numbering that is at least 4 inches tall and is either illuminated at night or has a reflective finish. If the ordinance is passed, the city will fine offenders $200, plus hundreds more in court fees. In Florida, the cities of Clearwater, Largo and St. Petersburg have begun enforcing their own municipal codes that regulate the visibility of house numbers, imposing fines for violators.
In order for house numbers to be visible from the street, InterNACHI advises that they should:
Be large. Jurisdictions that regulate the size of street numbers generally require that them to be 3 to 6 inches tall. Many jurisdictions require that the numbers be of a certain thickness, such as 1/2-inch, as required by New York City;

be of a color that contrasts with their background. Reflective numbers are usually helpful because they are easier to see at night than numbers that are not reflective;

not be obscured by any trees, shrubs, or other permanent objects;

face the street that is named in the house's address. It does emergency workers no good if the house number faces a different street than the one the workers are traveling on;

be clearly displayed at the driveway entrance if the house is not visible from the road.

.
The numbers assigned to houses by the municipality occasionally change, and homeowners must adjust their house numbers accordingly.

The trees or shrubs in front of the house have grown so much that the number is no longer visible. House numbers installed in the winter may be visible during that season but become blocked by budding vegetation by spring or summer.

House numbers will require maintenance when they get dirty. Numbers may not be reflective or contrasting if they are covered in mud.

Snow piles created by snow plows during the winter may be high enough to cover the number. If this happens, the number should be raised so this situation does not repeat.
In summary, house numbers serve a critical function for emergency personnel and should be clearly displayed.
You can do it, I'm here to help!