THE FINE ART OF EDITING
Since my very first home guests have always said "your house makes me want to go home and get rid of everything."
I guess because I'm not hidebound to "stuff" and hate superfluous crap around, especially if it has no meaning to me or doesn't offer the room any interest.
The phrase "Less Is More" coined by Mies van der Rohe means exactly that, "simplicity and clarity lead to good design;" the idea is you'll have greater impact by limiting the ensemble to the bare essentials needed to convey the message or idea
How to look at a room and decide what needs to go, or what's missing!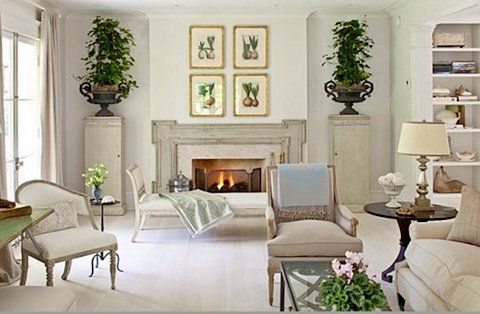 OVERALL IMPRESSION: Beautiful room! Well proportioned, evenly furnished; simple pretty palette. However, not especially "special."
ISSUE: Feels a tad cold and a bit too feminine.
SUBTRACT ITEM: Throw the 'throw' on the chaise out, it looks too staged (only one throw per room, please!).
ADD ITEM: A beautiful Ushak carpet in soft pastels or a sisal carpet would warm up the space and give cohesion to the seating area.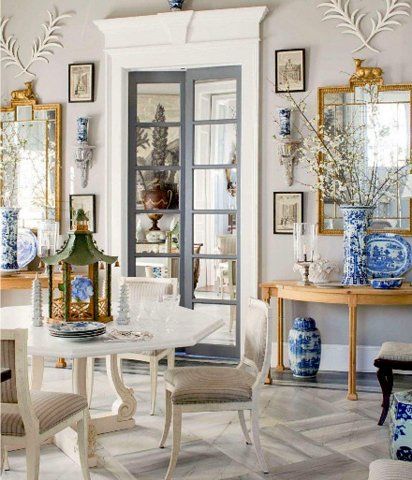 OVERALL IMPRESSION: Chic Room!!! Very elegant without being stiff.
DISTRACTING ISSUE: Too Much stuff, has a 90's granny feel.
SUBTRACT ITEM: The prints on the walls by the door make the room look cluttered and don't match the flavor of the space.
ADD ITEM: No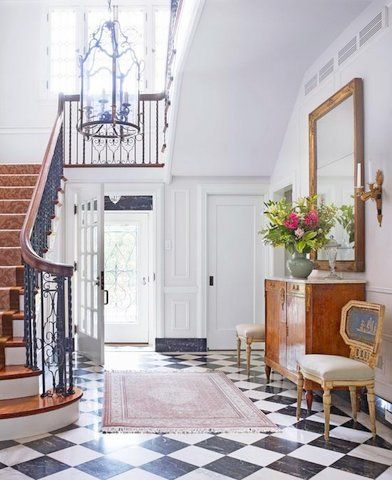 OVERALL IMPRESSION: Lovely Grand architecture, but odd furniture choices and no color scheme.
DISTRACTING ISSUE: Small, finely woven carpet on bold patterned floor looks wimpy. Chest is too high and too prissy for this grand room, and the chairs are gorgeous but don't work with the chest - at all.
SUBTRACT ITEM(s): Lose the chest and carpet, and that heinous Holiday Inn stair runner.
ADD ITEM(s): Large masculine console table or large/low chest, maybe in black lacquer to add some spunk and balance the architectonic stairway and floor. Use a solid color stair carpet like cranberry-red, or Pompeii-blue to match the chair backs.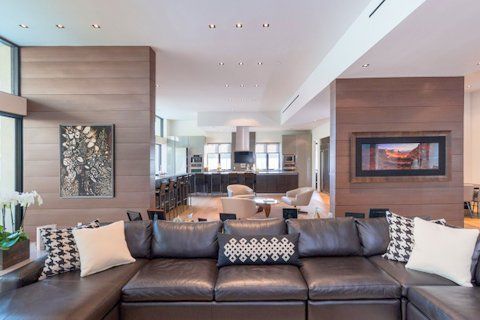 INITIAL IMPRESSION: Handsome, well-designed space with clean contemporary architectural features
DISTRACTING ISSUE: Everything looks tailored and up-market, and then they added cutesy, cheap-ass pillows from Home Goods on the sofa.
SUBTRACT ITEM: Pillows
ADD ITEM: Beautiful large pillows in antique Suzani, Moroccan or artistic textiles which will add interest.
INITIAL IMPRESSION:
Charming, bright and airy country-style dining area.
DISTRACTING ISSUE: Whaaat, buffet napkins as cafe curtains??
SUBTRACT ITEM: Napkurtains
ADD ITEM: Slightly gathered, unlined linen cafe curtains installed on brass rods
between window jambs. Shutters could also work.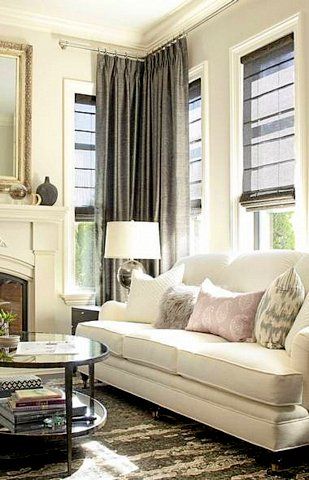 OVERALL IMPRESSION: Clean, bright room.
DISTRACTING ISSUE: It's a small room and those tacky gray curtain panels look totally useless and visually take up space.
SUBTRACT ITEM(s): Lose the panels and rods and the room will feel larger. The Roman shades are perfect as is. Lose the wimpy pillows on the sofa, they're just too West Elm.
ADD ITEM(s): Two large, richly-colored pillows to bring in the darker tones of the rug and shades.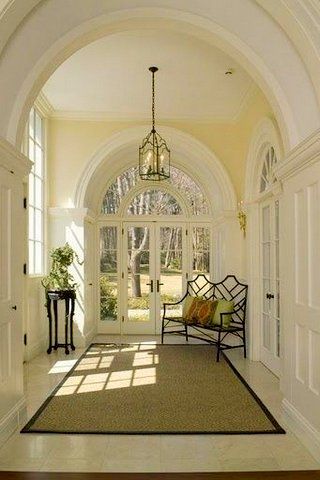 OVERALL IMPRESSION:
Elegant, appropriate architecture; nice bright welcoming foyer.
DISTRACTING ISSUE: Cheap-shit Chippendale knock-off bench, catty-cornered (never put anything catty-cornered!!) with 'outlet' pillows on it...WTF is that about?? This is not an inexpensive home, get off your wallet. The Pottery Barn sisal carpet is the wrong size and the black banding is bad.
SUBTRACT ITEM(s): Lose the bench and the carpet.
ADD ITEM(s): Get a custom sized sisal with no highlighted banding, perhaps a round one. Place a large, tall tree in the corner in a beautiful pot or good quality basket and boom, der it is!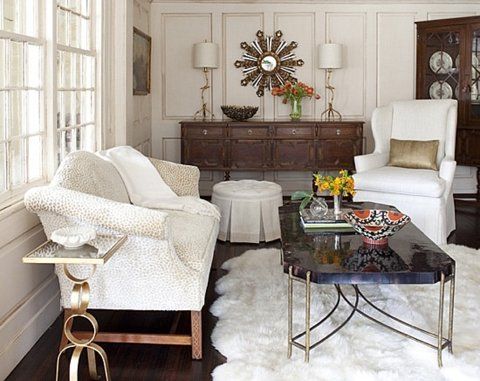 OVERALL IMPRESSION: A little schitzo, but a clean, updated traditional space. Looks like they updated a colonial home and tried to use as much of the old stuff as possible - which is OK, sometimes....
DISTRACTING ISSUE: Poor choices on new tables, lamps and accessories.
SUBTRACT ITEM(s): The coffee table is too big for the room and too slick (slick and Colonial don't work together, ever.) The end table is too small and just looks cheap. The lamps - we'll let ride, but that Thrift-store sunburst mirror has got to go! (sunburst mirrors give me agita! They're the most overused items in the entire decorating world)
ADD ITEM(s): Smaller brown-wood or lacquered-linen Chinese, or glass, modern-style coffee table; Add an end table with a porcelain lamp or an iron floor lamp next to sofa where gold table is now. Put a piece of contemporary art where that ghastly mirror is now.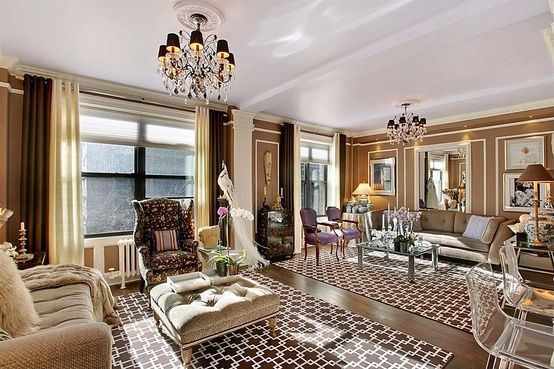 OVERALL IMPRESSION: Too much going on!!
DISTRACTING ISSUE: Patterns, prints, chrome, crystal, brass and Lucite all in one room.
Aint nobody got time for that!
Also,
the dirty windows look out into another building.
SUBTRACT ITEM: Paint the walls solid cocoa, don't highlight the mouldings - ever, too distracting. Lose the cheap looking curtains from Target.
ADD ITEM: Install either Plantation shutters which will reflect the light back into the room and obscure the not-so-good views, or get solid white, full curtains.
OVERALL IMPRESSION: Cheezus Christ, totally schizophrenic! Super-large, modern kitchen with every upgraded appliance known to the modern world...accented with incongruous historic references. It looks like a nouveau-riche "housewife decorator" with a taste for Pinot got wild....
DISTRACTING ISSUE: The tin ceiling is beyond hideous, and that Art-Deco lantern above the Mid-century modern table and chairs looks tooootally ridiculous! And whats up with those tied-back curtains and blue velvet sectional in the kitchen???
SUBTRACT ITEM(s): Oy, where do I begin.... lose the deco chandelier; un-tie the curtains (let them flow naturally).
ADD ITEM: S
heetrock over or laminate some attractive wood over that shitty tin ceiling; slipcover the blue velvet sofa in Belgian linen; lower all the "bee-hive" lights to about 48" above the islands; replace the deco light with another beehive light above the dining table, 30" above the top of the table.
OVERALL IMPRESSION: Cozy, handsome, eclectic, masculine, rigid/stiff, cluttered.
DISTRACTING ISSUE(s): Too much light! All those 'perfect' leather-bound books take the chic-ness away from the room. They look staged and pretentious. And, those plaid wing-chairs look too country-fried with the other smart looking pieces.
SUBTRACT ITEM: Wing chairs
ADD ITEM: Mix in some regular books, if you don't read go buy a load of them at Goodwill or a thrift store and mix them in with the fancy ones. Replace the existing wing chairs with two solid black or graphite clean-lined upholstered club-chairs that will match the carpet.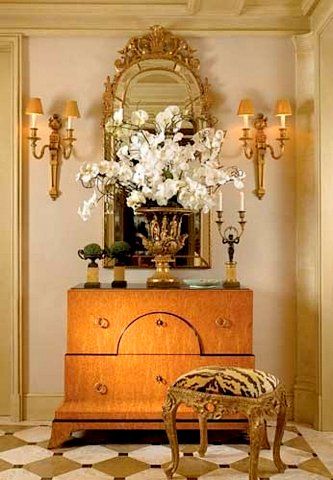 OVERALL IMPRESSION: Glitzy and outdated, looks like they're trying too hard...
DISTRACTING ISSUE: Sconces are too large and not needed; stool is superfluous; 'glazed' walls and woodwork look outdated; nothing contemporary to breakup the seriousness.
SUBTRACT ITEM: Remove stool and sconces, and remove the orchid extravaganza.
ADD ITEM: Add a recessed pin-spot in ceiling to light the chest top; paint walls and trim in "straight" paint (no special techniques). Use smaller more tasteful flowers.
OVERALL IMPRESSION: Nice room! Pretty palette, nice upholstery and carpet, feels good to be in!
DISTRACTING ISSUE: Too 'bubbe' looking; too many accessories (6 accessories on the coffee table!).
SUBTRACT ITEM: Take away two-thirds of the chazerai. Take three pillows off of the sofa. Lose that frail, junky gold table next to the yellow wing chair.
ADD ITEM: Place more books on the coffee table, several stacks each 4-5 high. Place a solid, thick drum or table next to the yellow wing chair (like the Vietnamese garden seat in foreground). Paint inside the ceiling coffers pale-pale peach. Get a large round, flat basket and place it under the coffee table and fill it with magazines.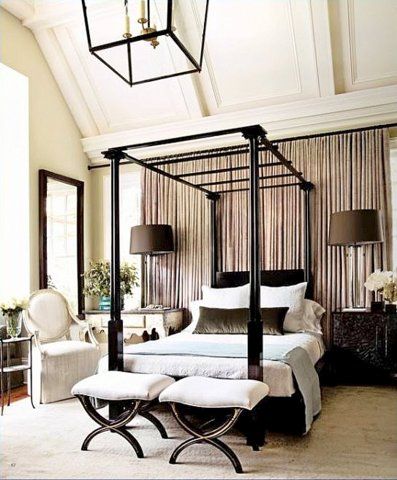 OVERALL IMPRESSION: Handsome, well-designed "new-traditional" style room with restful colors.
DISTRACTING ISSUE: Looks cluttered in the corner.
REMOVE ITEM: Remove large, dark-framed mirror from corner.
ADD ITEM: No.
INITIAL IMPRESSION: Looks like a Chinese ceramics seller lives here
DISTRACTING ISSUE: Too much ceramic shit piled in one area; stained interior wood door looks like a tract-house.
REMOVE ITEM: Take away seven of the nine ceramic pieces.
ADD ITEM:
Paint the front door and sidelights the trim color. The front door should be finished like all other doors inside!
INITIAL IMPRESSION: Stunning old-world architecture and magnificent views.
DISTRACTING ISSUE: Feels lifeless with the all-white upholstery and whitewashed walls
REMOVE ITEM: No
ADD ITEM: Tall green tree in corner next to huge window to make the outdoors and indoors blend together. A tribal style carpet in front of the fireplace wouldn't hurt either...
OVERALL IMPRESSION: Nice, well-designed room; good upholstery and use of color.
DISTRACTING ISSUE: Everything is pulled into the center of the room which makes an already small room look even smaller.
REMOVE ITEM: I'm not in love with that American Indian style carpet, I don't think it's sophisticated enough for this rooms ensemble.
ADD ITEM: Move the sofas back to the sidewalls; swing the white and black arm-chairs around (90 degree angle to sofas) facing the fireplace; put the coffee table on one side with one sofa and the ottoman on the other. Use either a larger antique carpet with a bold pattern in the same colors of the room, or a gray low-pile, borderless carpet to keep it more contemporary.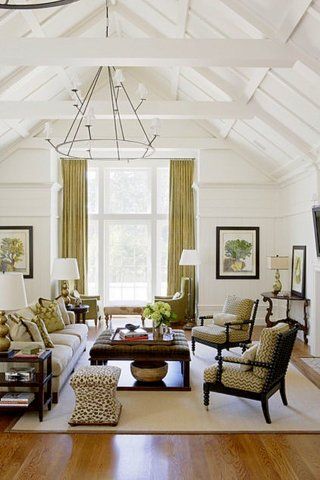 OVERALL IMPRESSION: STUNNING, I love everything about this room! Well-scaled, good placements, cozy colors.
DISTRACTING ISSUE: Feels dead
REMOVE ITEM: No
ADD ITEM: Huge-ass-tall tree in corner in wonderful basket - Voila!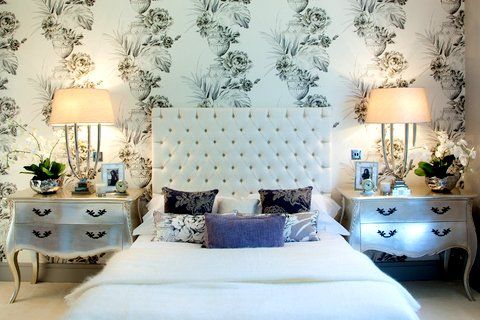 OVERALL IMPRESSION: Awesome, very retro-glam-chic!
nice palette, interesting assemblage.
DISTRACTING ISSUE: Height of bed is wayyyy too low, looks like a freekin' futon.
REMOVE ITEM: Wimpy throw pillows on the bed
ADD ITEM: Higher bed-frame which brings mattress up to a minimum of 25"high; add some hot pink or bright purple Euro-square pillows to bed.
OVERALL IMPRESSION: Cute feeling with the wallpaper and coordinating accessories. Feminine.
DISTRACTING ISSUE: T
he bed looks forced, dark and heavy with the other lightly-scaled, feminine pieces.
REMOVE ITEM: Big brown bed!
ADD ITEM:
Either get another bed (without a footboard) or paint this one white.
INITIAL IMPRESSION: Sexy, moderne, well-designed mix of items.
DISTRACTING ISSUE: T
oo many tsotchkes - its distracting from the clean, architectural lines
REMOVE ITEM(s): All that shit on the table (don't accessorize your dining table with random items, it looks stupid)
ADD ITEM:
One killer art-piece, an important bowl or object in the middle of the table.
DISTRACTING ISSUE: L
ooks abandoned, no personality at all. Needs some personalizing.
REMOVE ITEM: Puny sconces on wall
ADD ITEM: Replace wall sconces with 300% larger candle-type lanterns; find some coordinating pillows for the sofa in warm earth-tones; a
carpet between the upholstery would be nice and would soften the look; get a wicker tray and fill it with magazines and place on the table along with a lantern and a potted plant. A tree on one side of the fireplace would be nice too. Bring the garden onto the porch!
INITIAL IMPRESSION: Smartly updated traditional living room. Nice upholstered pieces, pleasant palette.
DISTRACTING ISSUE:
Too symmetrical.
This reference may be too old for some of you, but those two ottomans remind me of the
Dick Van Dyke Show
opening scene when he trips over a poorly-placed ottoman.
And, there's wayyy too many pillows on the sofa which creates visual clutter.
REMOVE ITEM: Those two ottomans should be pushed under the piano; remove all but two pillows on each sofa (two is all you ever need per sofa, trust me).
The portrait, albeit funky and fun is too small for such a primo spot.
ADD ITEM: A fun painting or handsome mirror over the fireplace with the small portrait leaning against it would be nice. Move the pair of flower vases to one side and the bronze to the other, make the mantel asymmetrical.
INITIAL IMPRESSION: I like this room very much, everything about its order and quality - but its cold looking.
DISTRACTING ISSUE: Absolutely nothing personal about it, it needs life and art.
REMOVE ITEM: Goofy vase of flowers on dining room table.
ADD ITEM: Huge-ass chandelier over the table, could be Venetian glass or a Japanese paper lantern or an old iron one.
A pair of trees along the opposing side walls; Add some flat art or sculpture to give it a personality.
INITIAL IMPRESSION: This fun, playful foyer shows u have major cajones!
DISTRACTING ISSUE: Too cluttered with those dumb looking frames which detract from that fabulous-n-funky portrait.
REMOVE ITEM: The gold frames.
ADD ITEM: No
INITIAL IMPRESSION: Did they just move in today?
DISTRACTING ISSUE: A random clutter-f&%k of furniture.
REMOVE ITEM(s): Remove that octagonal table in front of the sofa; remove the zebra hide and all the shit on the mantel.
ADD ITEM: Large, subtle carpet which will hold all the various items in the room together; Curtains which will make the windows appear related and add softness to the space.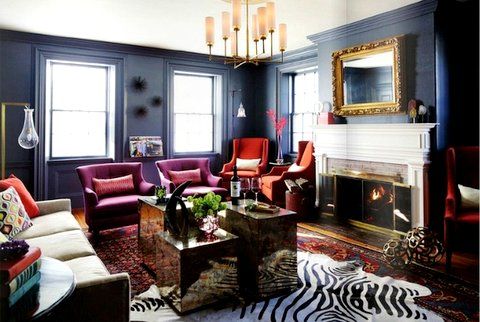 INITIAL IMPRESSION: Cozy room, groovy colors, but too much furniture!
DISTRACTING ISSUE: Too many vignettes and "things" around.
REMOVE ITEM(s): Lose two of the four orange wing chairs. Lose the fake zebra hide and remove the tacky brass fireplace doors.
ADD ITEM(s): Add a tree; rotate mirror so its vertical; place orange wing-chairs on either side of fireplace.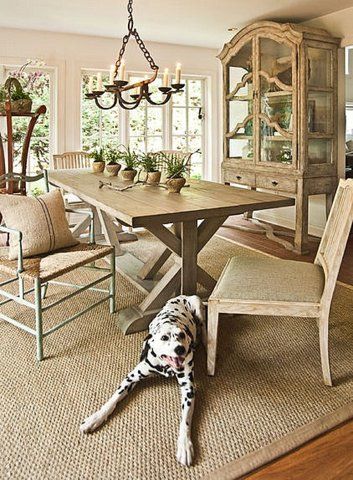 INITIAL IMPRESSION: Nice, restful tones; casual feeling.
DISTRACTING ISSUE: Scale issues: Steroidal breakfront and plant stand look as if they were purchased for another house and you were determined to make them fit here.
REMOVE ITEM: Remove breakfront and plant stand
ADD ITEM: Add smaller buffet without a top piece, add a colorful painting or mirror above.
Replace plant stand with a tree.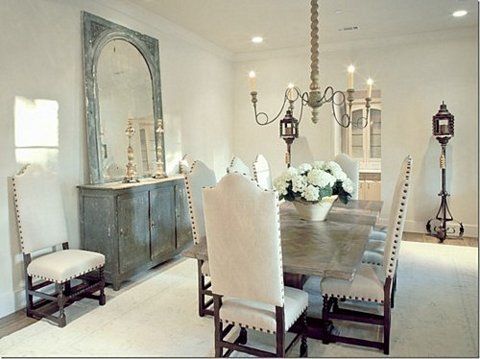 INITIAL IMPRESSION: Some pretty pieces, but zero personality ! Looks like "furniture in a room."
DISTRACTING ISSUE: Very cold looking, no creativity.
REMOVE ITEM: No
ADD ITEM: Wall color (other then blue) would add a lot of warmth. Creamy-taupe Wallpaper in a 'faux-bois' pattern would be awesome.
You Can Do It, I'm Here To Help!