ALTHOUGH KNOWN FOR THEIR GREAT ACTING, AMAZING VOICES, ATHLETIC ABILITY OR DESIGNING GORGEOUS CLOTHES...
MANY CELEBRITIES HAVE HIDEOUSLY BAD TASTE WHEN IT COMES TO THEIR INTERIORS...
Rooms That Scare Me!
TV, RADIO & STAGE
Dick Clark had this ridiculous stucco menagerie built in the desert to "blend in".....with what, the moon?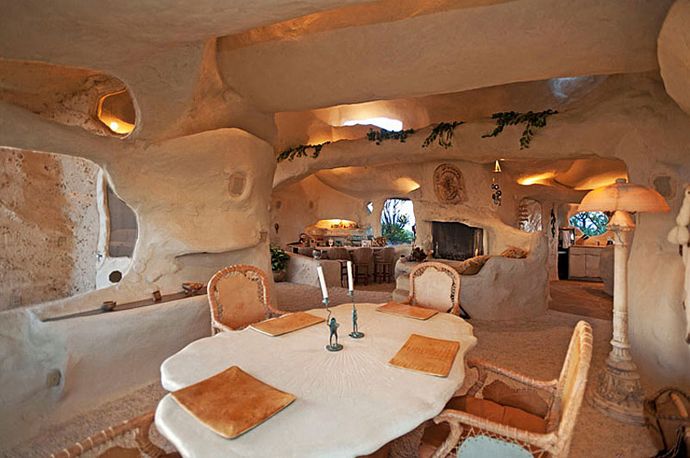 That silk ivy hanging over the fake rock cliff scares me...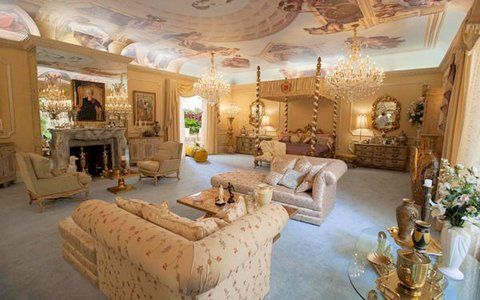 Here's a funny twist....
Zsa Zsa Gabor's house in Beverly Hills is so 70's tacky they used it for the movie "Behind the Candelabra," the Liberace movie...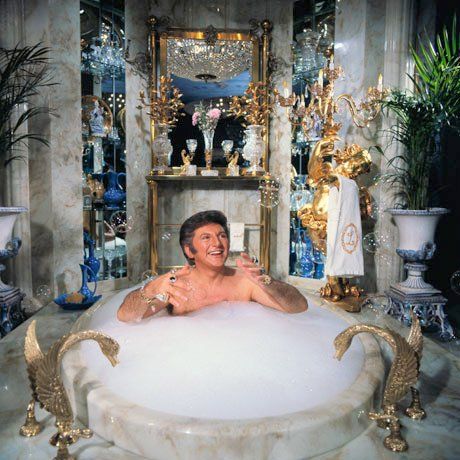 Liberace in his own tub at his home.
What's scarier, seeing Liberace in the tub or the bathroom itself?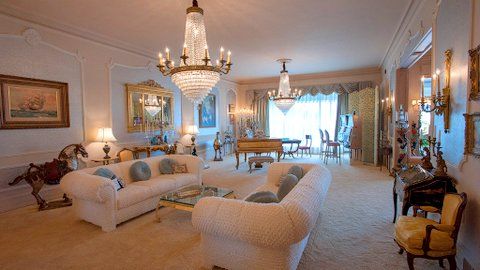 Zsa Zsa's living room had all SEVEN portraits of her removed for the making of "Behind the Candelabra"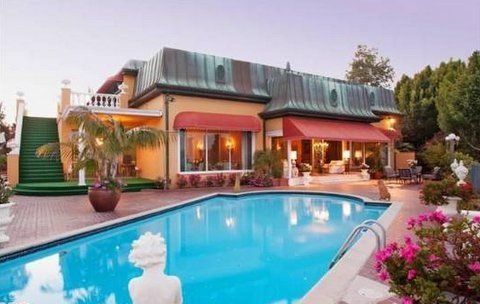 Zsa Zsa's pool before they zhuzhed it up for "Candelabra."
Scary Astro-turf with rust colored awnings says it all....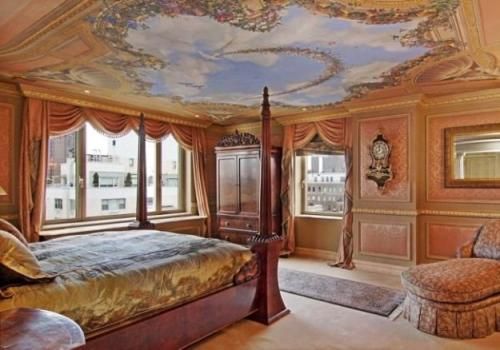 What's more scary - imagining Rush Limbaugh boinking his wife in that bed, or the twee ceiling and pink silk upholstered walls of his NY apartment....
(that's a rhetorical question, don't answer!)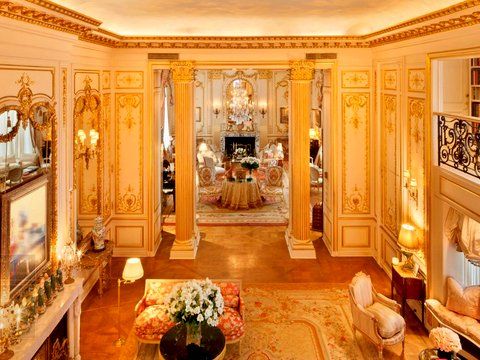 In her movie "Piece of Work" Joan Rivers gave a tour of her apartment shown here and said: "Marie Antoinette would've lived like this - if she had any money!" Now, that's scary!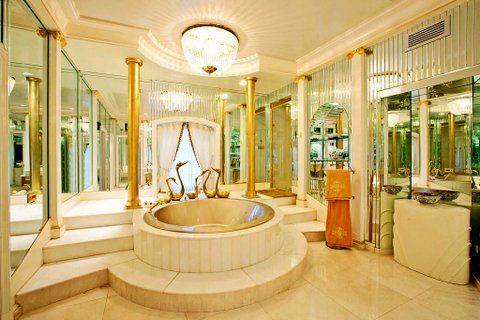 I think Joan Collins' Beverly Hills bathroom would be scary if you were Joan Collins with all those beveled mirror strips everywhere..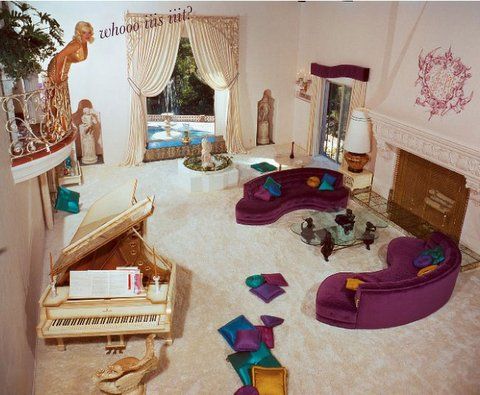 Jayne Mansfield's living room was carpeted in pink wall-to-wall
as was her bathroom....top to bottom...
Scare-eeee!
Elvis' Graceland is still as it was when he died.
Wait....Elvis is dead ????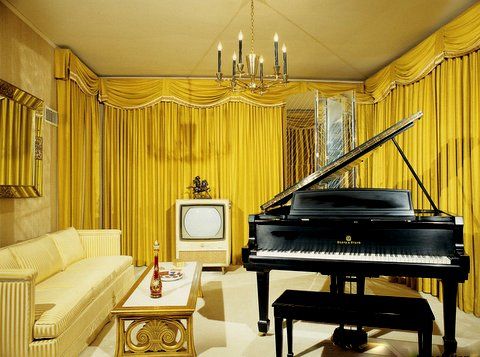 It's horrifying what 150 yards of canary yellow polyester silk can do!
Elvis' Jungle Room, it has green shag carpet on the floor AND ceiling.... now that's some scary shit!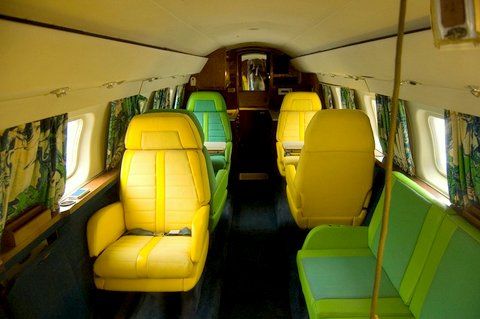 And just when you thought it couldn't get any scarier...
Elvis' plane the "Lisa Marie"....
BOO!
That's enough to scare you any night of the year!
Elton in Liz's bedroom...
You just know Kirsty Alley makes cutesy heavily-iced pink cupcakes with huge smiley faces and sprinkles on top for her trick-or-treater's after seeing her kitchen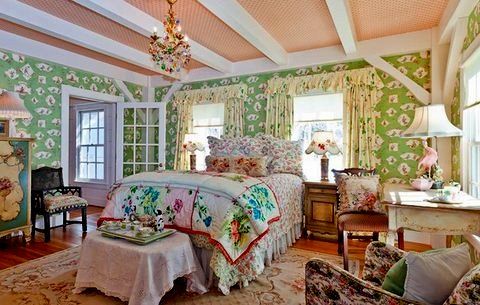 I'm sure men are lined up to get in that bedroom....
Not!
Knowing he's bitten the head off of a bat lessened the surprise that Ozzy and Sharon decorated this living room themselves!
Their bedroom reflects their macabre attitude toward pastels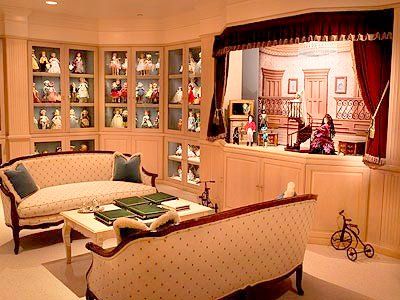 How scary is it that 68 year old Candy Spelling has a "doll room" and working theater for her doll collection???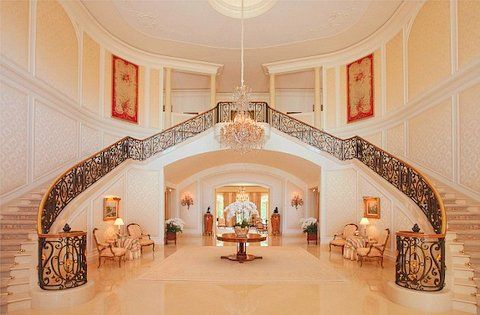 This is Candy's foyer...Now that's freekin' scary, right?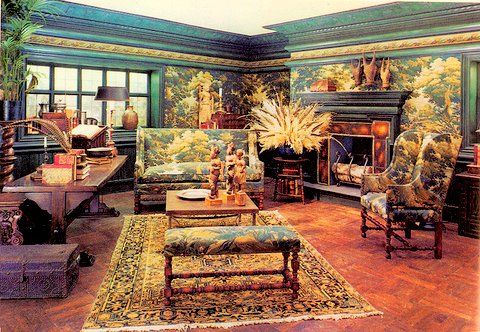 Regis and Joy Philbin must've liked that tapestry-patterned fabric as they used it everywhere in their Den-Of-Horrors.
Bert Lancaster's Palm Springs bathroom would scare the shit out of anyone...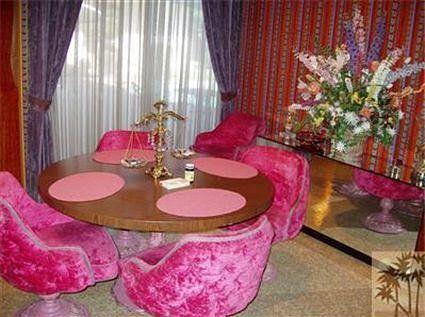 even if eating at that table didn't induce it....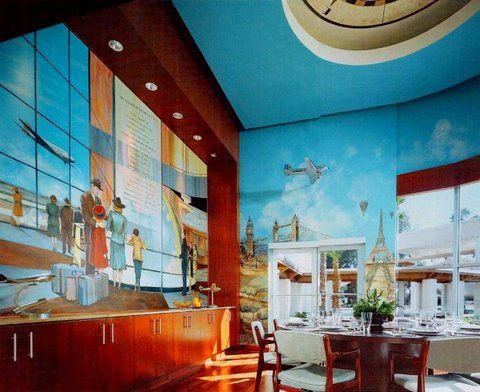 John Travolta's dining room feels like the diner at JFK with those airport murals...
If you look carefully you can see his Boeing 707 out of the window, sooo what's not scary about that?
I'm scared of schizophrenic rooms!
Obviously, the three different patterned area rugs doesn't bother Matt LeBlanc...
I'm horrified that Bravo's runaway "Housewives" shows are such huge hits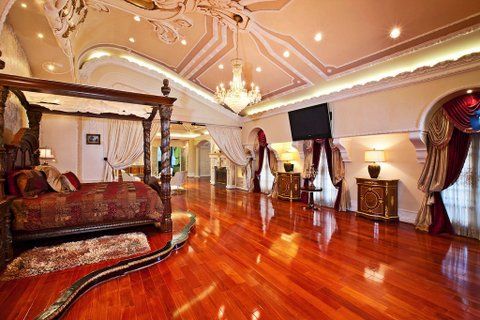 Housewives of Dubai on line three!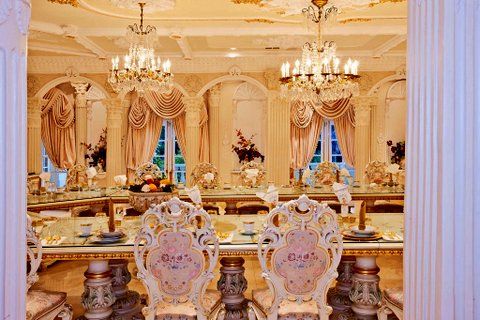 The polychrome table is actually an octagon with an open center.
Is that where the scary belly dancers perform, maybe?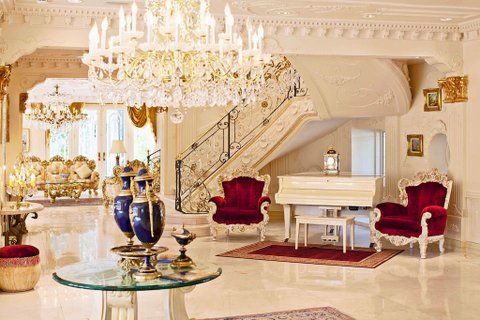 Trick-or-treater's pee will their pants when the door to this foyer opens and there's a freaky housewife with scary plastic surgery.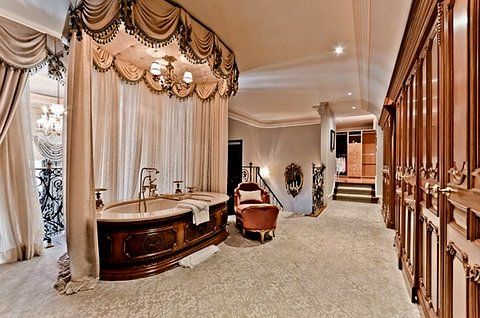 This is where one of the Beverly Hills Housewives puts her scary costumes on.
Lisa, one of the Miami Housewives successfully created a haunted house effect with her display of lifeless plants and flowers
Melissa, a New Jersey Housewife has gone for the "completely dead look" for her family room.
Another NJ Housewife successfully makes her home look like a 19th century funeral parlor.
This Beverly Hills Housewife created a spooktacular living room.
I'd be scared to sit in there, wouldn't you?
Xaviera Hollander was happy to know her freaky home was purchased by a Bravo Star...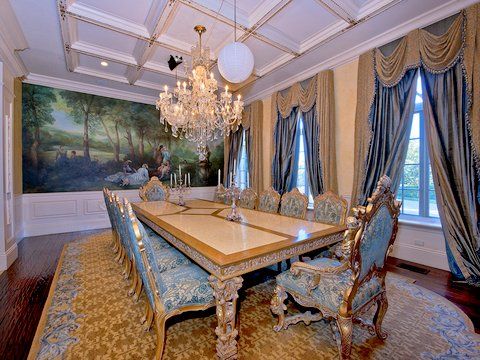 Taylor's Beverly Hills dining room is perfect for Seance's...
pity they don't communicate with a dead decorator...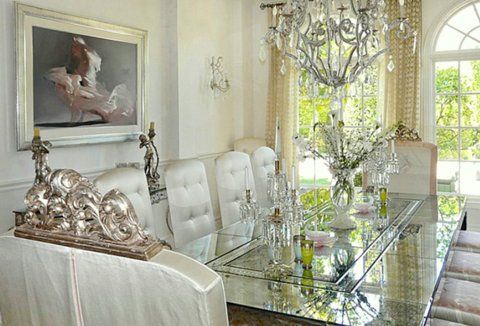 Khloe Kardashian eats scary amounts of food at this table...
When the Munsters series went off the air Kim Kardashian was thrilled to buy their old stuff...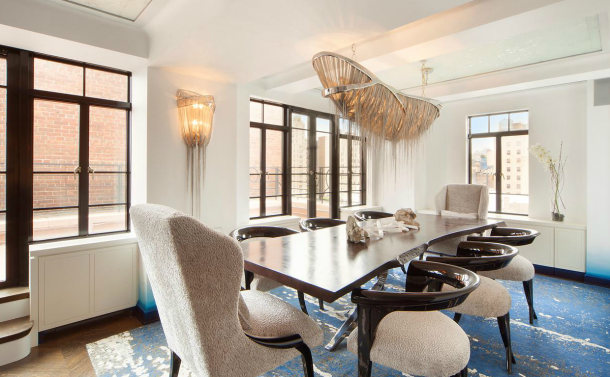 Yikes,
Rosie O'Donnell's designer created a spooky dining room for her NY apartment, check out those ghostly/ghastly light fixtures.
CELEBRITIES OF "SOCIETY"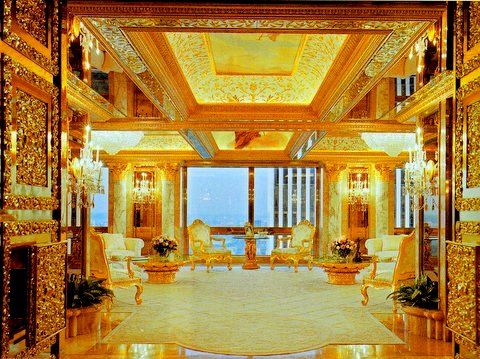 Ah yes, we have the biggest monster of them all living in the penthouse of his eponymous "Trump Tower."
Clearly the casino mogul believes in bringing his work home with him...
A fifty foot long living room with a nine-foot high ceiling scares the hell outta me, guess it doesn't bother the Hilton's...
Howard Slatkin - the candle king - creates hauntingly similar rooms to old-moneyed ones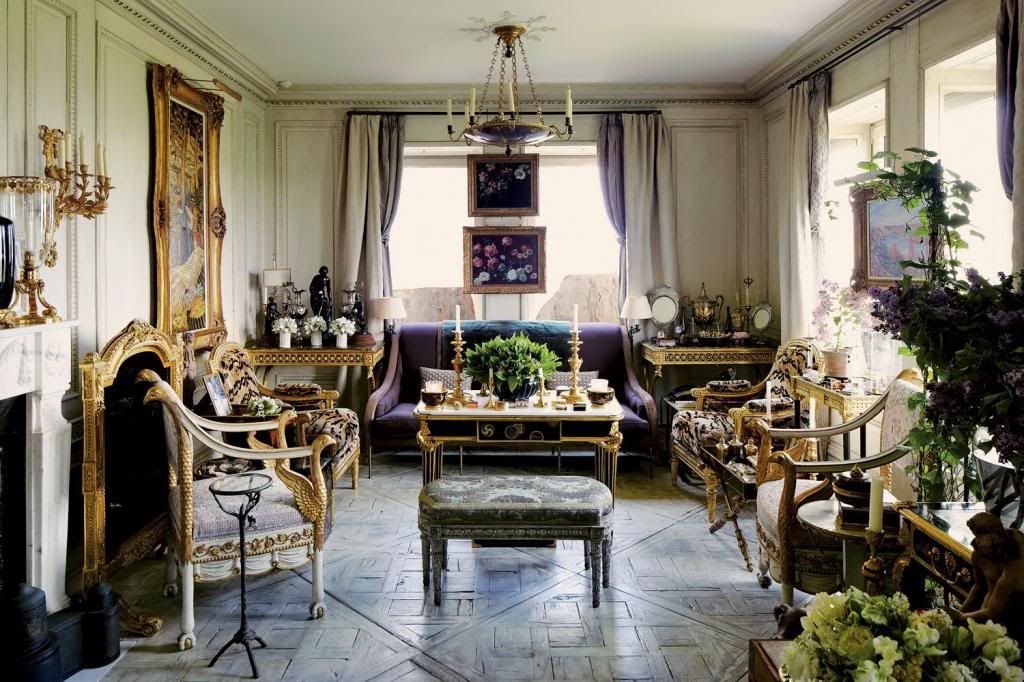 It's a frightful sight to see arriviste's spend so much money and appear so twee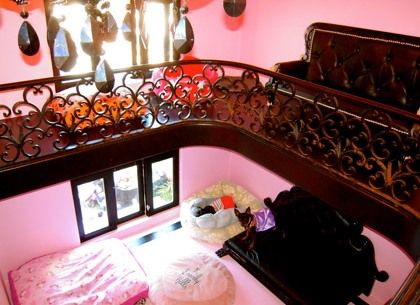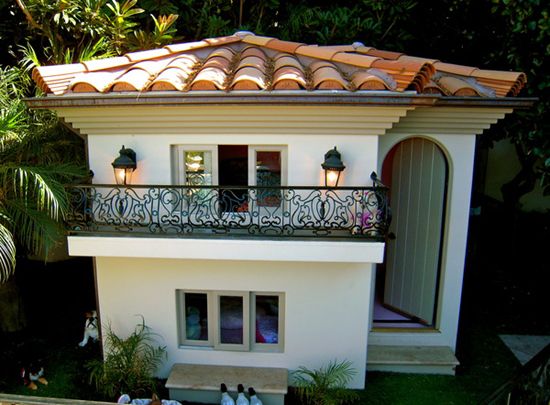 Paris Hilton's dog house is a true horror...
tormenting her dogs with Pepto-Bismol pink and black crystal chandeliers...
CELEBRITIES WHO DRESS US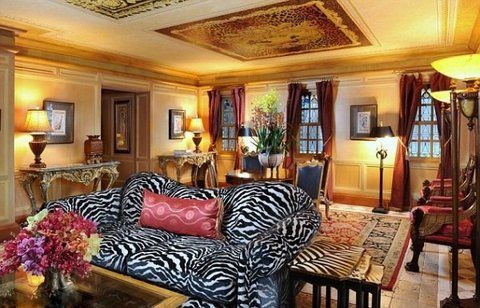 Gianni Versace, created a world-famous house in Miami which now, in retrospect, looks like one of the greatest haunted houses ever!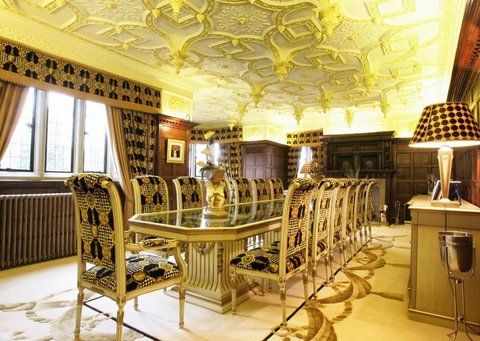 The morgue where bodies of young men were inspected over dinner.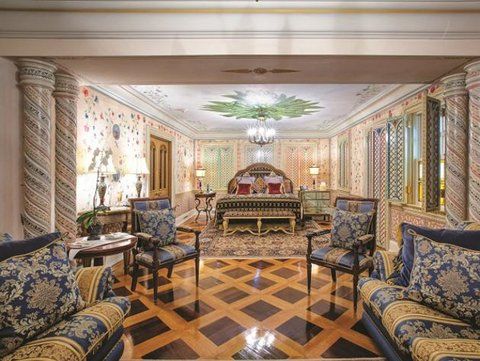 The torture chamber where young men were lured with hundred dollar bills....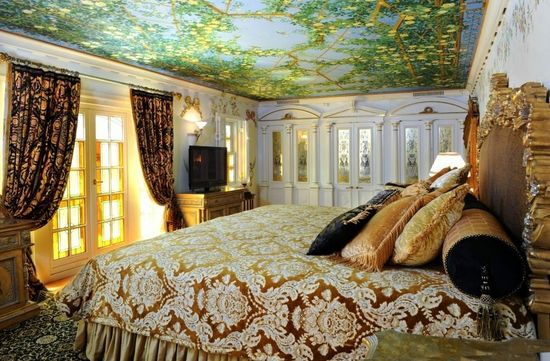 Guests were kept awake all night by rustling leaves in the trompe l'oeuil ceiling
Others were kept awake all night by loud echoes and synthetic fabrics.
Wild birds and poisonous flowers surrounded these guests instilling fear of designs gone awry.
Valentino's home mimic's the the great homes used in murder mysteries where dead bodies were dumped behind the decorations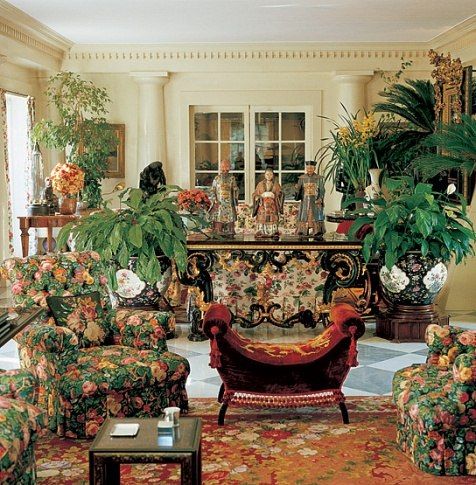 Valentino's Little Shop of Horrors...
Iris Apfel (whom I adore) surely has a body or two hidden in that mysterious mound of chazerai...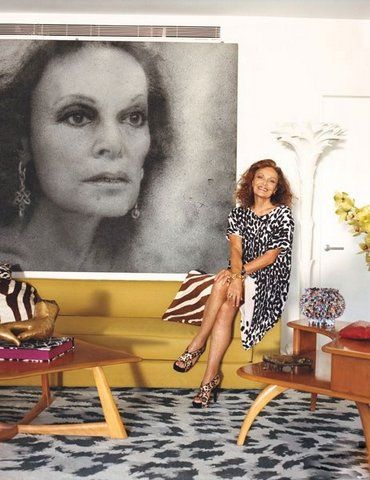 Run for your lives, they're everywhere!!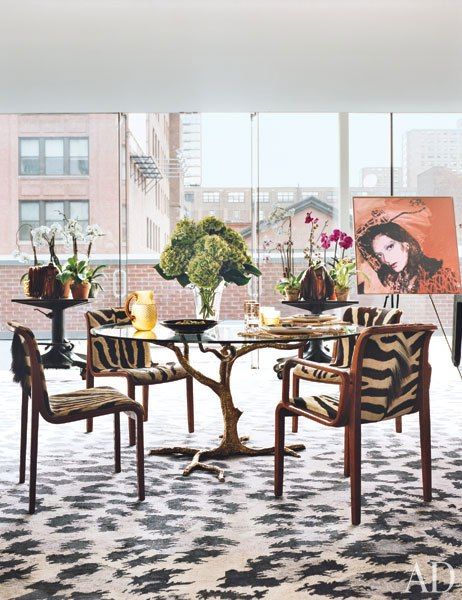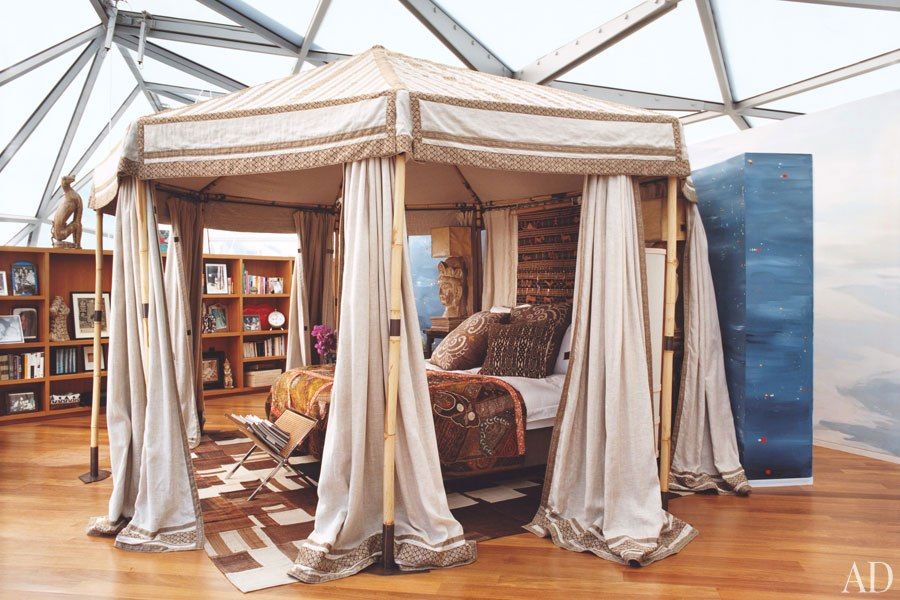 To flee the flesh-eating portraits of herself everywhere Diane Von Furstenberg sleeps in an invisible cloak in her yurt...
The owners of Lucky Brand Jeans, David and Patrick did the scariest thing ever....they decorated themselves...
Nothing like retail furniture to scare off demons - and why is there a potato under that console?
"The Garden in Hell"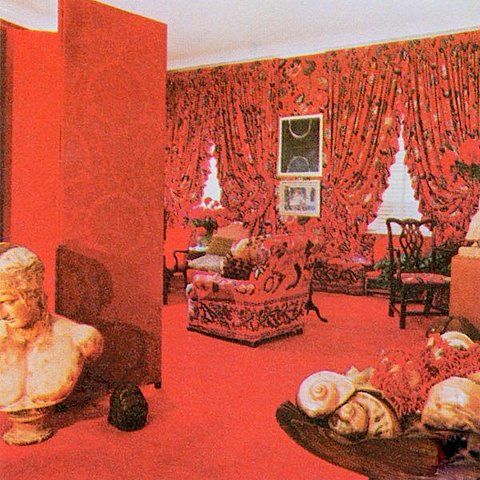 Diana Vreeland's own interpretation of her apartment done by designer Billy Baldwin (I'm thinking this was a wicked vendetta!)
How scary is it that Betsy Johnson's apartment looks like Paris Hilton's dog house?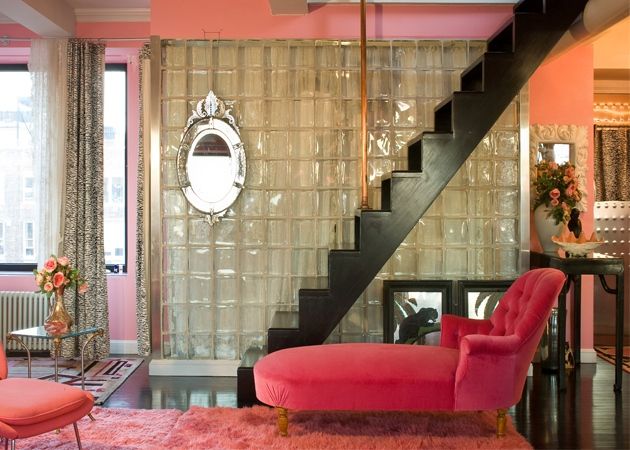 Glass block and attic stairs - now that some scary shit!
MUSIC WORLD CELEBRITIES
Celine Dion channels dead French royals for their advice when she builds a new home
Wasn't this Norman Bates' mothers bedroom furniture?
Even after she struck it rich Loretta Lynn "stayed country poor"
Surely a nightmare for the rest of us...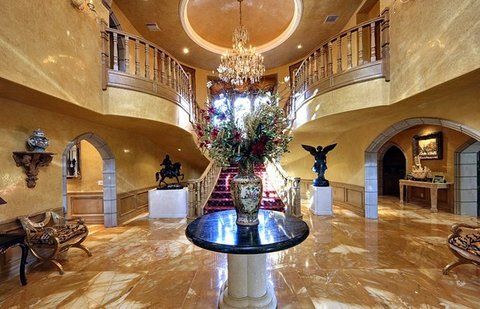 One of my greatest fears...White trash with money
Brittany Spears' "Macabre Manor"
I guess the "pot-passers"are out of the shot?
Ain't no wonder she can't keep a man when her bedroom looks like
an ice-crypt.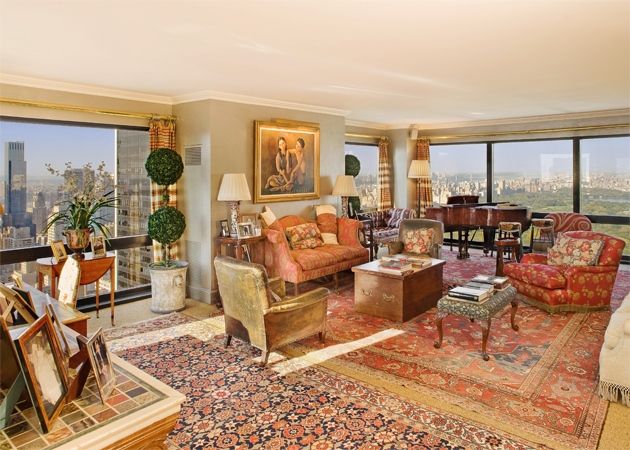 A decorators worst nightmare - Andrew Lloyd-Webber - worth 1.2 billion and he decorates his NYC penthouse like a cottage in the English countryside with bits-and-bobs....
Wayne Newton's Vegas home - m
y version of hell!
Baby blue with old lady French furniture and
everything else gilded!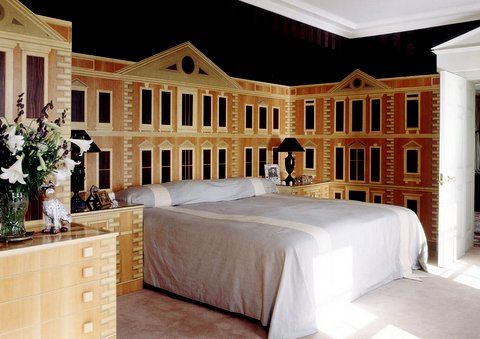 Whats scarier than two adult men sleeping inside a dollhouse?
Elton John and David Furness living in Atlanta, I guess??
Brad Paisley's purple crushed velvet living room has me mortified!
The only thing missing from Christina Aguelera's foyer are black-lites to create the perfect haunted house.
Only one thing scarier than a pool table in the living room and that's pinball machines: Check.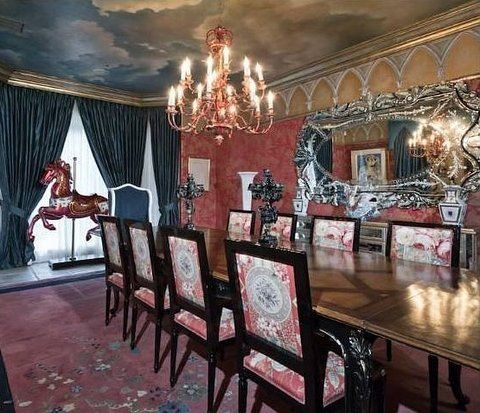 Christina rents her dining room out for Murder-Mystery Parties.
The people who leave, leave petrified!
I'm scared speechless!
CELEBRITY ATHLETE'S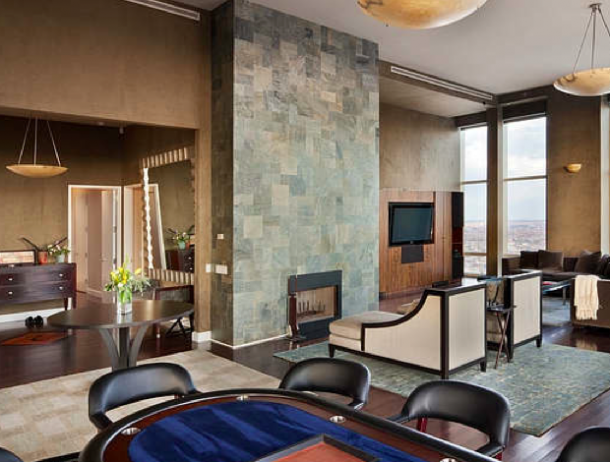 Derek Jeter's sense of scale is frightening...
What scares me the most is I think Barry Bond's wasn't doping, I think he was doing hormone replacement therapy to join Bravo's "Housewife" series...
Low-end furniture in a high-end neighborhood scares the f*&k outta me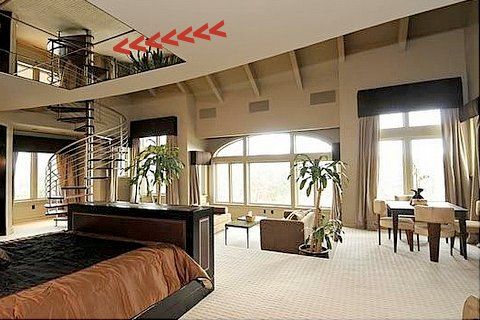 50Cent's bland, cavernous bedroom with mirrors above the ceiling scares the crap outta me!
How scary is it that 50cent knows the lyrics to Fiddler on the Roof's "If I Were a Rich Man"
There would be one long staircase just going up,
And one even longer coming down,
And one more leading nowhere, just for show.
HAPPY HALLOWEEN!
You can do it, I'm here to help!